We are sure that you can't find a file format like PDF, which could be accessed in most of operating system through corresponding software (free).  Yet, the bitter fact is that most people are not aware about the creation or editing of PDF documents, and especially the latter task. While you can create PDF documents using the OpenOffice or some plug-ins for Microsoft office, the editing task seems to be a tedious one unless you do have a good PDF editor with you. Here, we would like to review a superb PDF Editor – iSkysoft PDF Editor – that will help you to edit your office documents without spending that much time. we review Windows-based version of the mentioned tool, and results may vary in the Macintosh version.
iSkysoft PDF Editor – A Foreword
This is a powerful tool from iSkysoft, which is a provider of different kinds of utility software. As we said earlier, you can use this software to edit PDF documents and create PDF documents from Microsoft word or other files using the ultra-simple user interface of the tool. You have two options to check out the tool; you can either download the free trial or buy the whole software. According to our experience, this tool is quite powerful as well as intuitive, and you can use it for both personal and professional requirements. Now, we will move to the detailed review of iSkysoft PDF Editor. We will start with the installation process.
Installing PDF Editor for Windows
Regardless you are going to test or buy the software; you may click on the 'free trial' link on official site to download the setup file of this software. If you have a powerful internet connection, it will not take much time to download 33MB-sized setup file of PDF Editor. Likewise, the installation process is quite simple.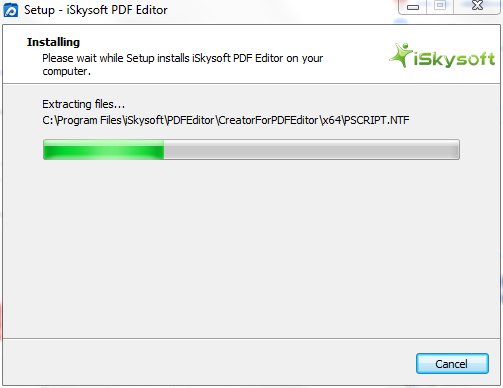 After the installation, you have to either enter the license details, such as email address and serial key, or click on the corresponding option to use free trial. After the selection, you can see a window as shown in the below image. Now, we will check out major things you can do using this PDF Editor.
Editing PDF Documents
You can edit different kinds of information in a PDF document including essential ones. The editing process seems to be quite easy as well. Once the cursor appears in the desired area, you can use the keyboard to make changes to the text. In addition, in the 'Format' tab, you can change the font, font size, bold, italics etc of the text content.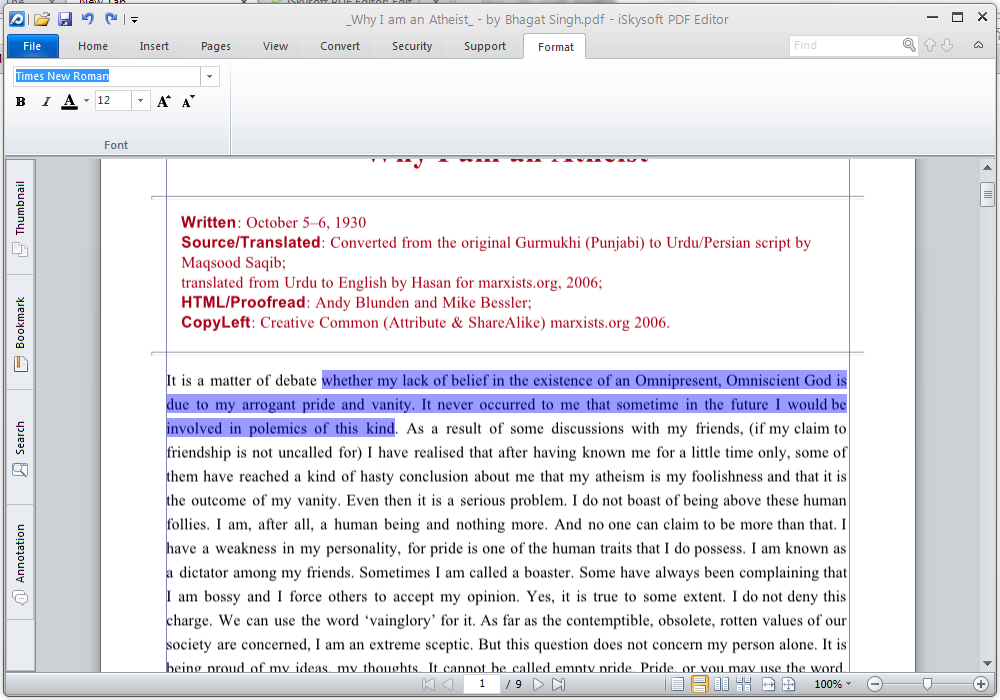 At the same time, through the 'Insert' tab, you can add additional information, such as text, picture, bookmark, link, watermark etc, into the PDF documents. Among these, the addition of watermark seems to an awesome feature, as it will help you while handling confidential information.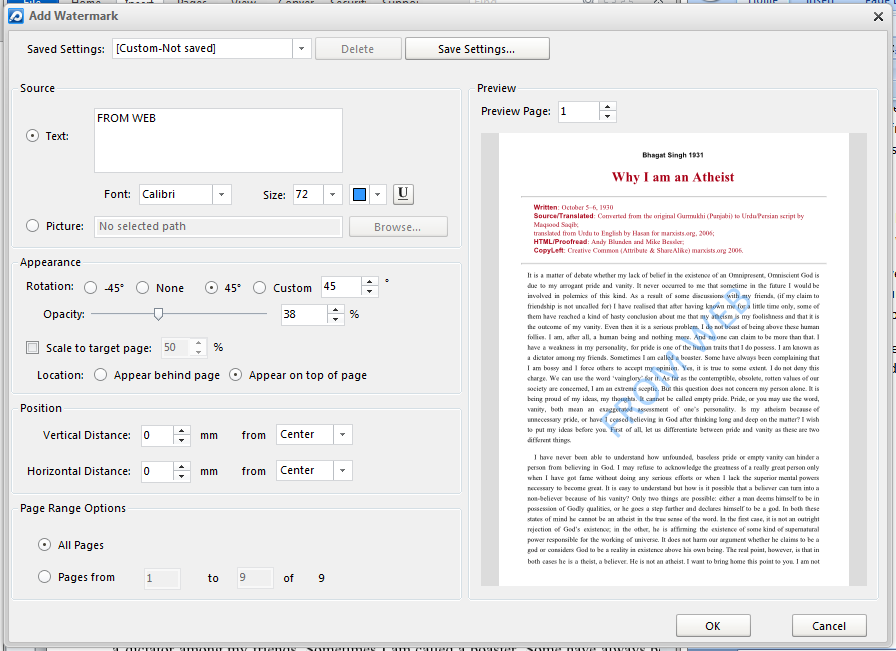 In addition, there is an option to manage pages of the PDF document, which makes enough sense. You can delete, crop, and rotate pages whereas you can merge two documents together as well as splitting on document. We hope these features are equally productive when it comes to a busy office environment. Perhaps, this is best PDF Editing experience you can get in current situation.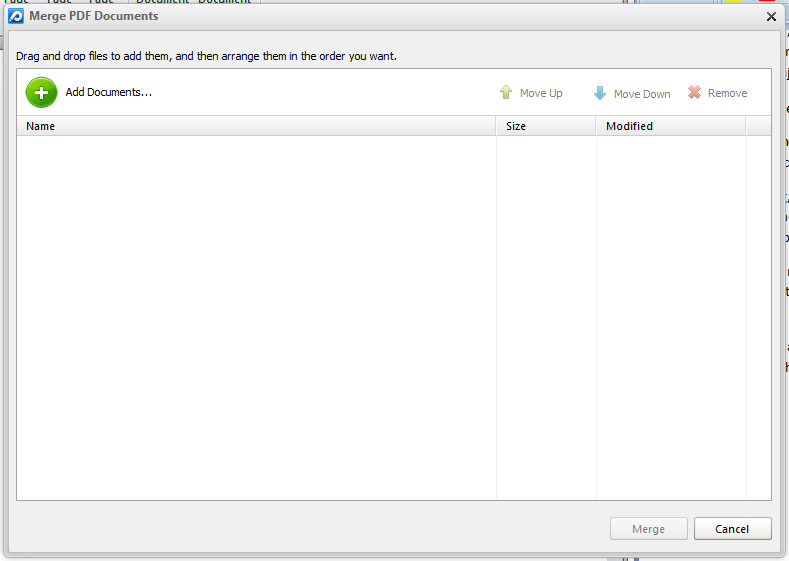 Converting or Creating PDF Documents
Creating PDF documents from other document formats and converting PDF documents into other documents format is a simple task when it comes to iSkysoft PDF Editor. To convert the current document, you have to select desired file format from convert tab. Several formats, such as MS Word, PowerPoint, image, HTML, txt, are available.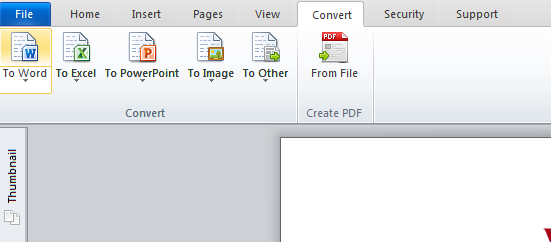 Likewise, you can create a PDF document using another document format. It supports most of popular formats such as Microsoft Word, PowerPoint etc. Both these features are incredible and make enough sense for a professional.
Miscellaneous Features
In addition to the underlined ones, iSkysoft PDF Editor has some other features. Major ones of them are as follows.
Protect PDF Documents with password
Annotate (add notes) PDF Documents
Create PDF using scanned documents (OCR plug-in should be purchased separately)
A Word on User Interface
User interface of iSkysoft PDF Editor resembles that of Microsoft Word. Thus, we take the benefit of stating that the tool is quite easy to use. The tabbed user interface helps us avoid the clumsiness while using the tool whereas simple UI makes any kid use the tool without any issues.
Final Verdict on iSkysoft PDF Editor
Our experience says that iSkysoft PDF Editor is quite useful for both professional and personal needs, and the tool fits both business and personal environment, while considering the impressive performance and speed. Other users of the tool have the same to say! So, what do you think about iSkysoft PDF Editor? We are waiting for comments.