Are you a Mac user? And simultaneously looking for a way to download YouTube videos into your media library? If you're a Mac user, you're probably aware that you can't download videos from YouTube, Dailymotion, or Vimeo on your Mac. Fortunately, VideoDuke has aided you in overcoming this obstacle.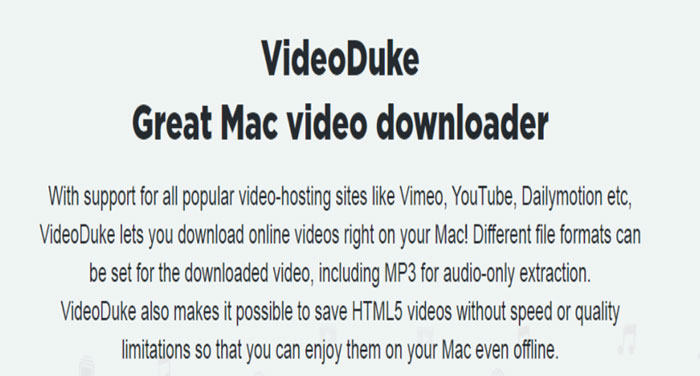 VideoDuke is the ideal video downloader for Mac. You can securely and conveniently download videos from the most prominent video streaming sites like Dailymotion, YouTube, and Vimeo on your Mac with this powerful app.
It doesn't just end with Youtube videos. You can download MP3 audio files, movies, cartoons, music, and TV shows.
You can facilitate downloading your favorite shows, movies, or Youtube videos into your Mac device with all safeguards in place through VideoDuke!
VideoDuke is a safe and reliable youtube video downloader for Mac. With the facility of downloading video and audio in various formats and quality, VideoDuke has shot to success very quickly. The most desirable thing while watching a YouTube video is being able to watch without annoying commercials. VideoDuke makes that possible for you!
Steps to download YouTube videos on Mac
VideoDuke is the best solution if you are looking for youtube video downloader mac. The steps to download are straightforward and extremely simple as well as quick.
The first step is to find the video you want to download. You can even browse videos through the VideoDuke app. Once found, you need to copy-paste the video link into the search bar if you were searching directly on YouTube. Select the format and quality you want your video to be in. Hit download and enjoy ad-less videos.
Advanced features
The above download process is included in the simple feature of VideoDuke. But advanced features of this app are worth reading about!
Oh, the amount of choice you get with the advanced mode! Every file associated with the YouTube video can be downloaded. The thumbnails, captions, audio files, etc., are available at your fingertips with just one click. VideoDuke is a powerful YouTube scrapper for Mac that can extract any tool from the website code. This gives you absolute control over which files you save — or save them all!
Even SRT transcripts for independent films can be saved individually or as part of the YouTube file, ensuring that you don't miss something when downloading a lecture, a movie, or other videos.
Additional features
You have the option to bookmark your favorite videos or pages to turn back to them when you are ready to download. The fact that you don't need to open youtube and browse and then copy-paste. So hectic! You can do the searching and download directly through VideoDuke due to the built-in browser. This makes things so much easier.
You can track your downloads through VideoDuke easily. You have the option of choosing between simple and advanced mode, along with a choice between the format of videos and their quality. Fancy!
Pros
No country restriction and available all across the globe
So many choices between every little thing: format of the video, quality, simple mode, advanced mode, only extract audio files, etc
Download whole playlists at once
Enables video download with subtitles
Intuitive user interface.
Videos can be converted into audio.
Compatible with more than 1000 video streaming websites
Availability of integration with web browser
Cons
Not a free solution
Only available for Mac users
Pricing
It is a priced, high-quality solution free of questionable advertisements, irrelevant links, and other distractions. It's a straightforward paid solution that does exactly what you've bought it for.
Customers can choose between two sets, and a lifetime license can also be purchased.
$19.95 a year for a personal license.
$39.95 a year with a Family Pack (for three Macs).
If you pay $9.95 (Lifetime Upgrades Guarantee), you will get a lifetime license. If you are a customer who will need assistance regularly, you can upgrade to the Urgent Support Plan for an additional $15.00.