Music Player is probably the piece of software that you open first and use the most in your PC. It's been the personal scenario for many years. The reason is simple: when you're working, music is something more than just entertainment. As far as I've known, Music has been one of the most effective driving factors of fruitful working environment. That having said, if you need the best music-listening experience, it's necessary to use one of the best music player apps, so that you can organize, manage and play your favorite tracks with ease. When you're using Windows, however, it's not really a superb idea to stick onto the default media player – which is the Windows Media Player.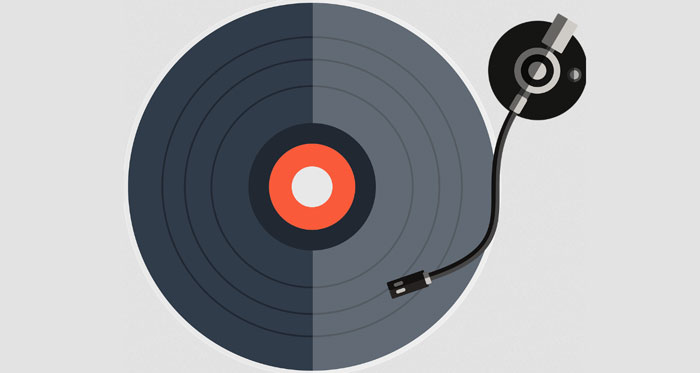 We don't mean that Windows Media Player is completely ineffective. For those who don't need third-party apps in their PC, WMP is still a viable option. When you're enthusiastic and crazy about music, though, it will not be the case. To help you with that situation, we've created a list of the 8 best music player software for Windows PC. If you think you need something better than WMP, you can count on any of these tools. We're not really sure how many of you would actually pay for a music-playing software. Keeping that in mind, most of the software we added are free to use, costing nothing. Some of them are even open-source, in case you are interested in customization.
When it comes to software, we believe in minimal design, and that's why Dopamine takes the first position, in this list. We don't know how many of you are familiar with Zune, but Dopamine starts again from the exact place where Zune left off. Simple, lightweight and easy-to-use are the terms we'd use for Dopamine app for Windows. It can be installed in no time, also giving you an option to choose a theme and accent color. There are no complaints but praises if you are looking for a software to easily manage your music in Windows. Just a quick-look at the screenshot is enough to understand the user-friendliness of the software UI.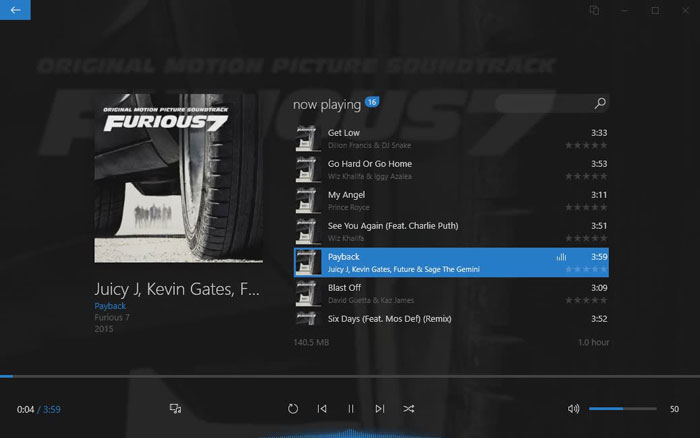 Dopamine easily handles the popular audio formats like MP3, AAC, FLAC, OGG, WMA and WAV. All the tracks can be arranged in a big list of songs, or according to criteria such as Artists, Genre and Albums. Last but not the least, there is also Cloud support if you want to stream music. Another feature we loved in Dopamine is its support for different player interfaces: such as Cover Player, Nano Mode and Micro Mode. We also noted that the software works seamlessly with your Windows PC, along with native Notification support and those integrated controls. It's highly recommended for those who love minimalism and music.
Winamp is perhaps one of the oldest but currently the best music player software for Windows. It's available for Mac as well, but in Mac, we've better options — apparently. Despite having some troubles on the road so far, the current version of Winamp is working perfectly fine. Design-wise, it's completely opposite to what we saw in Dopamine. You will be getting a somewhat clumsy interface, which is full of columns and additional sections. That having said, if you need different kinds of information in one page, along with easier controls, look no more than at Winamp.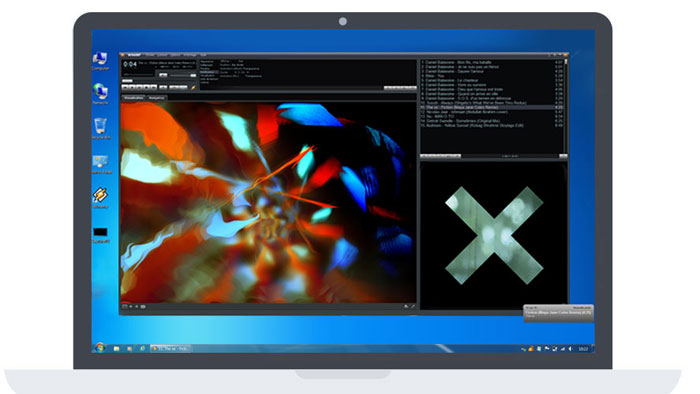 Being a trusted player in the world of music player programs, Winamp has some impressive features to offer. For instance, you can even import your existing playlist data from iTunes. There are also a bunch of plug-ins and add-ons you can integrate, for additional productivity. If you are interested, Winamp will also suggest a few new titles according to the current taste. Last but not least, Winamp integrates very well with your PC. Considering all these points, you have more reasons to try Winamp as an alternative to WMP. It's free to use but also offers a version named Winamp Pro.
MusicBee is another wonderful music player software that's exclusively available for PCs running Windows. It supports all the Windows versions from Vista to Windows 10. Once again, we have a program the promotes minimal design and User Interface. When we consider the plethora of features, MusicBee becomes one of the ultimate music-playback software too. Because it uses the native abilities of Windows, you can get a feel of playing the music within the system. Like the many tools we have covered above, a simple look would tell you about the effectiveness of MusicBee Music Player for Windows.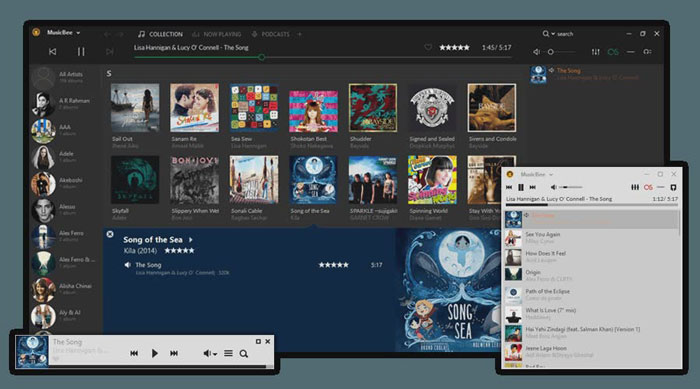 It comes with two sets of equalizers — 10-band and 15-band — so that you can optimize the audio quality. If you have high-end audio cards in your system, MusicBee will make use of it in time. Along with these, we can count in Winamp add-on support, 5.1 Surround audio support and intelligent audio scaling features. All these make sense, especially when we consider that MusicBee is a lightweight program too. Other notable features of this free program include CD Ripping, Last.fm support and tagging tools. We repeat what we said earlier, MusicBee is the ultimate music player for Microsoft Windows.
MediaMonkey is another trusted names when you want to play music via your Windows PC. When compared to the other software we have covered here, MediaMonkey offers an extensive set of features. You can use all of those features to arrange tracks better and play them with ease. It's highly recommended if you happen to have a huge library of music. Thanks to the intuitive interface, MediaMonkey makes it completely easy to arrange your tracks and even edit them for extra-easy management. There is no compromise on the side of performance, as MediaMonkey has complete support for all the audio formats.
Even some uncommon audio formats are easily managed and transcoded by MediaMonkey, offering mostly the best level of compatibility for your media playback experience. Talking about the playback interface, it's something simple and user-friendly. Advanced Playlist Support is an awesome feature if you love to have a bunch of playlists instead of one. It's not completely free, as there's a Gold version with advanced features. While it's completely up to you to pay or not, the paid version of MediaMonkey can provide some awesome features like Automated Playlists and Music Collections.
Don't freak out, because we are talking about the Windows version of iTunes here. You would already have this program in your PC if you own an iPhone, iPad or iPod, but not a macOS device. Even otherwise, it feels awesome to arrange and play music using iTunes for Windows. Thanks to Apple's design, the UI doesn't need any introduction. Once you have downloaded and installed this free program, you can use iTunes for easier song management. You don't necessarily need to have an iPhone or iPod with you. Even before shifting into macOS, iTunes was my favorite for playing music.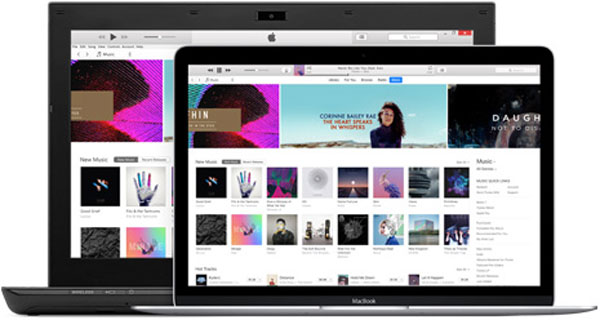 The power of software can really be seen in iTunes. Using the best resources from your Windows PC, you'll have best audio-playback quality as well. Then comes the scenario of media management, where iTunes has more to offer. It can categorize your music according to metadata, and even help you find the best music via Apple Music and iTunes Store. And, if you have an iPhone or iPod, you can easily sync your favorite tracks as well, between multiple devices. Last but not least, iTunes offers support for Cover Player, Mini Player and Full Screen Player interfaces.
The Other Worthy Mentions
You can count on the following three music player software if you need something beyond the 5 best ones in the above-mentioned list.
AIMP Player is a simple yet effective solution to manage and play your favorite tracks. Compared to most of the other programs in list, AIMP features are pretty minimal. You don't have bigger screens or layouts to talk about. If you need a program that you can launch and start playing music with, it's certainly a good decision to go with AIMP.
Clementine is a multi-platform app for music management and audio playback. It's available for Windows & Mac, so that you can have the same experience in both devices. The interface is pretty simple and sometimes it feels like rudimentary too. There are many features of Clementine that are advanced, such as Visualization and CUE sheet support. It also supports internet radio services along with most of popular audio formats.
VLC cannot be forgotten when it comes to music playback. Despite being old and following the same design for decades, VLC is something effective when you want to play music. You can create different playlists and deal with them in VLC, offering smooth playback. While there are not many advanced features, you're using one of the best open-source music players for Windows.
Concluding
Well, these are the 8 best music player software for Windows. As you can see, we've gone detailed into the best ones, covering almost all the aspects. Even the other 3 ones are pretty satisfactory when you need one seamless and unparalleled music-playback experience. All the programs we've covered are free to use, but there are premium versions if you're interested in paying more for extra features. Unless that's the case, it makes sense to stick onto the free versions of these music players. We hope this list helps you find the best type of music player you're looking for — ultra-powerful, ultra-simple or the perfect blend!