Managing your account books is one of the toughest tasks when running a business, no matter how small or big it is. While there are so many accounting software solutions in the market, most of them do not address the dynamic needs of a small or medium business. To make things even more difficult, these tools lack basic support for portable access or integration with other solutions like Microsoft Office.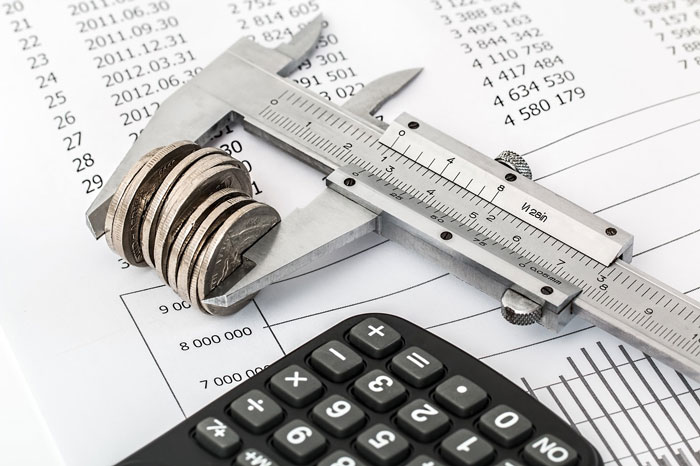 This is why Sage 50cloud Accounting becomes a one-of-its-own accounting software that can rocket-launch your business, income channels and overall management of accounts. In this article, we have a quick review of Sage 50cloud Accounting and how it helps you keep your business account books clean and clear.
What Is Sage 50cloud Accounting?
Sage 50cloud Accounting is a desktop-class accounting software that brings the best of cloud computing to the commons. Specially designed for small and medium businesses, the tool creates an intuitive interface to manage your accounts, reengineer account book management and offer enhanced control over both small and big data. Once installed, Sage 50cloud Accounting keeps everything synced to the secure cloud systems. That way, you can avail amazing features like remote access and integration with services like MS Office 365.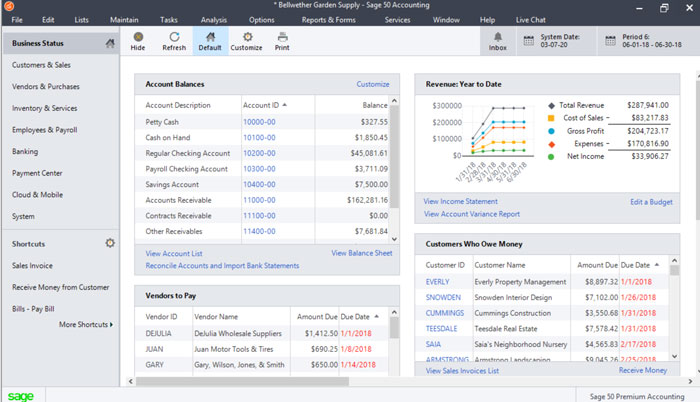 Now that you have the basic idea, shall we see what Sage 50cloud Accounting offers in real-life scenarios?
Getting Started with 50cloud Accounting
Compared to the tough process that most accounting programs follow, it is an easy task to set up your books with Sage 50cloud Accounting. It should be noted that we are getting a fully-fledged desktop program with sufficient modules and an intuitive design. Depending on the size and network of your company, you will be able to create multiple columns, sections and data filters. And, we have UI that resembles the Microsoft 365 suite. So, even if you are new to accounting management, it becomes a piece of cake.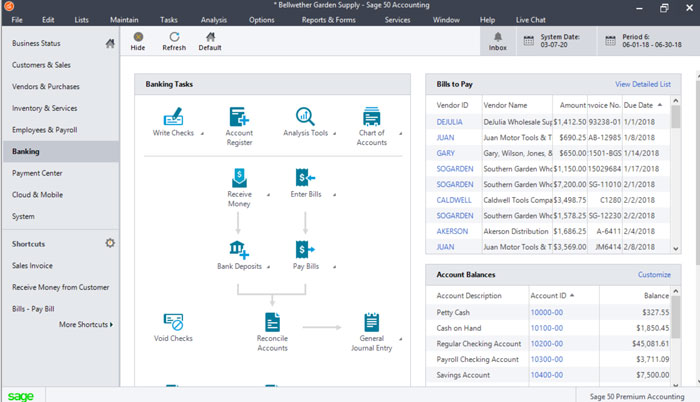 Sage 50cloud Accounting also lets you migrate data from existing accounting programs. All this while, you'll be able to avail top-quality and consistent support from the dedicated team. There are also enough learning materials to walk you through the different processes.
Top Features in the Package
Here is a quick look at the awesome features that we loved in the Sage 50cloud Accounting package. We did find all of them to be simplifying the process of account management.
Financial Reporting: This section of the tool helps you keep track of your business health in real-time basis. You will be able to not only generate financial statements but also analyze different types of metrics from the unified dashboard.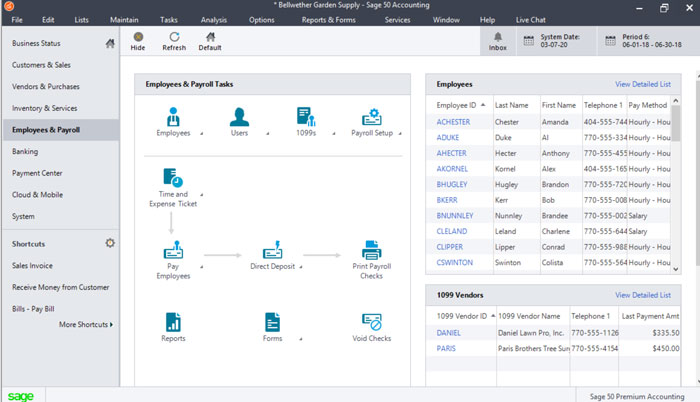 Invoicing and Payment: If you have Sage 50cloud Accounting, you don't need another tool for getting paid or sending invoices. Going in sync with the other data that you have stored, the solution allows you to create invoices and integrate credit card payment systems for ease of use.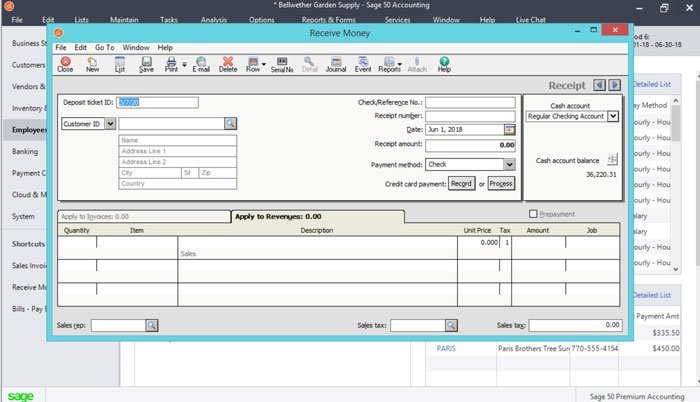 Remote Access: One of the features that make Sage 50cloud Accounting a cloud-powered system is the support for remote access. You can access your data from your laptop and enable collaboration if you have set up the Sage Drive system.
Bank Reconciliation: This is where Sage 50cloud Accounting establishes the connection between your existing payment options. Given that you have a compatible bank, you can connect your account and enable an easy exchange of data with complete effectiveness.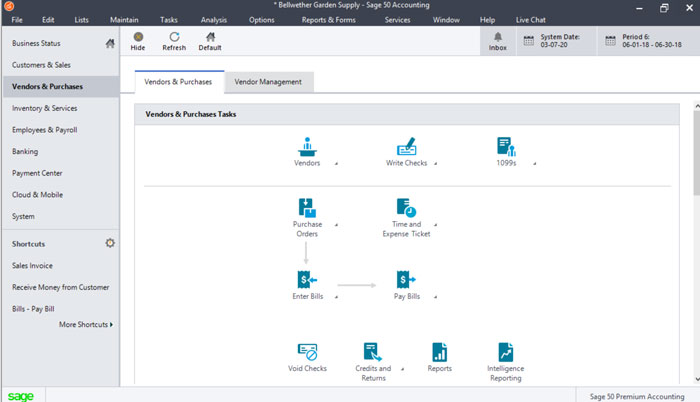 Integrations: As we mentioned earlier, you can integrate Sage 50cloud Accounting with a number of popular services like Microsoft Office 365. This means you can not only enable easy access but also improve the remote access options that you normally get.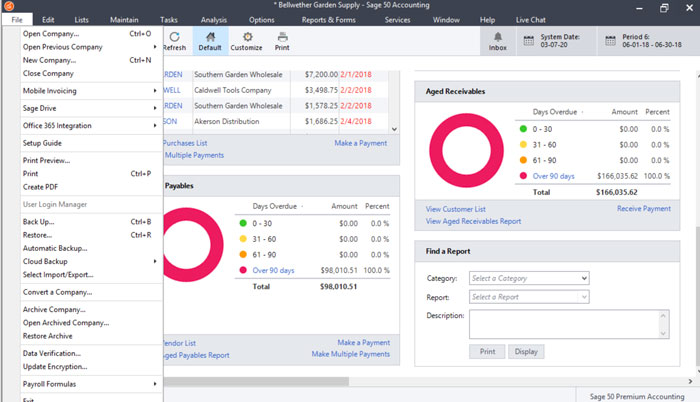 Last but not least, Sage 50cloud Accounting can also offer you a number of customizable features.
In addition, you get the standard benefits of cloud-based systems, such as on-time backups and global access if you have a good internet connection. You can't go wrong with Sage 50cloud Accounting if you are looking for advanced scalability among others.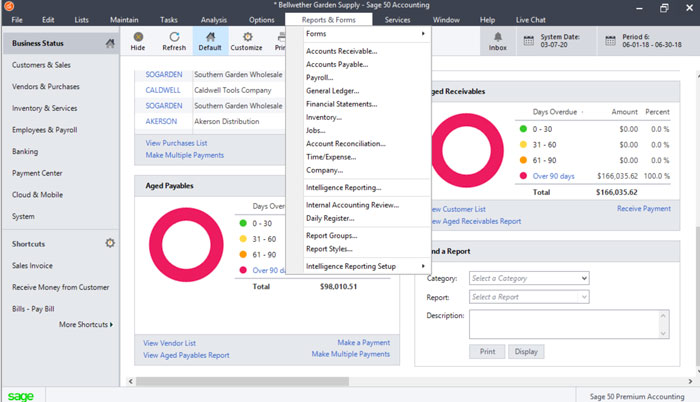 Pricing
Sage 50cloud Accounting could also be one of the most competitively priced accounting solutions in today's market. First things first, you are saving a lot of money due to the abovementioned features. In addition to that, the company is offering flat 40% discount for 12 months straight if you are a new user. With this cool offer in effect, the pricing is quite affordable as well.
Pro Accounting variant of Sage 50cloud Accounting starts at just $299.95 per year while the Premium one, which enables multi-user capabilities, would cost you $465.95 per year. Compared to the features that are being offered, this is truly amazing. It should be noted that basic features like after-sales support and online data backup are available in all versions.
The Bottom Line
In light of our experience, Sage 50cloud Accounting is surely the best accounting software for small as well as medium business ventures. The creators have managed to include sufficient features and extra modules so that you don't need many external tools. And, when we consider the potential for integration, the pricing becomes quite impressive as well.