Businesses nowadays cannot thrive without obtaining essential information about their industry, making business intelligence a requirement. To forecast future trends, BI evaluates both historical and current data. Using business intelligence tools, you can determine whether or not your company is headed in the correct direction.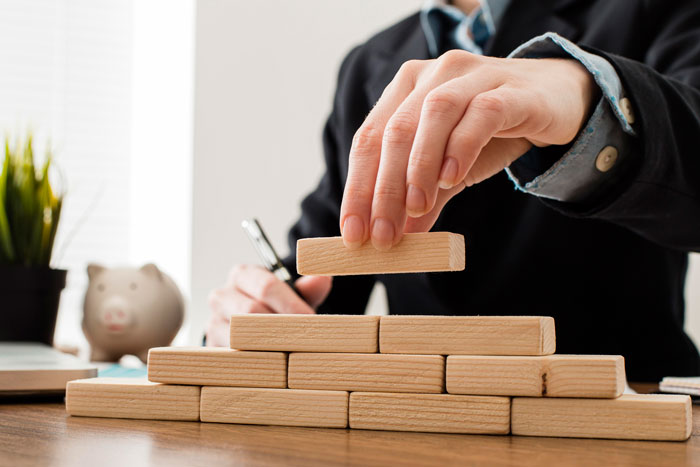 A business intelligence service provider integrates internal and external data to give firms a variety of insights, such as when to launch a product, which market to enter first, and an analysis of their marketing campaigns. BI serves as a road map to guide your company to success.
Now that you are aware of the significance of business intelligence tools, let's move on to learning how to put a successful BI plan into practice.
Steps to implement a successful BI Strategy
Think long-term
Recognize that BI won't produce immediate effects. Before you start seeing real results, like with any system, you will need to establish numerous changes in both people and processes. Avoid the temptation of expecting quick outcomes since doing so increases the risk that the incorrect tools will be used in the wrong situations.
Have clear objectives
Knowing your goals is crucial before putting a BI plan into action. You must have a distinct understanding of how your business intelligence approach will affect it. Your point of view should be inclusive enough for everyone to comprehend it.
Analyze the current state of data
Examine your current data sources to determine which ones will be most useful in developing a solid BI strategy. Recognize that not all of your data sources will be useful in your search for the ideal BI solution. To choose the finest data sources that will be useful, you must first identify the best data sources and give them a close examination.
You must consider how the data is exchanged and stored when doing the analysis. You might need to be creative and consider fresh storage and data-sharing possibilities. To ensure that everyone is on the same page, you should also clearly define the meaning of the data sources. Your staff members need to have a common knowledge of the BI system's terminology.
Establish a team of experts
The next stage would be to engage a capable team of subject matter experts to carry out the process of BI installation once you have specified the present status of the data. Data-driven professionals from a variety of areas, including finance, marketing, production, customer support, HR, and IT, should make up the team.
Choose a BI leader to serve as the team's captain. The team maintains a balanced mix of members from various departments while integrating. Recognize that while the IT team is an essential component of the mix, it shouldn't constitute a sizable portion of the BI implementation team.
Identify the important KPIs
You must choose the crucial Key Performance Indicators so that you can assess your performance fast and accurately in order to properly implement the BI plan. This is crucial since a KPI will reveal whether or not your development is on track. Choose KPIs in a way that they are consistent with the company's overall goal. KPIs like the following would be suitable examples:
Monthly sales;
Sales growth;
Amount of new customers;
Social media traffic;
Cost per lead.
Make sure to use KPIs that are simple to grasp when making your selection. Recognize the value that these KPIs will provide to the user. Instead of fussing over creating an extensive list of KPIs, focus on beginning with the most crucial ones first and adding the others as you go.
Break the process into phases
You can keep on track by segmenting the BI implementation process into manageable steps. Additionally, the members' motivation will remain high since they would perceive some advancement.
You will inevitably run across problems like BI tools that don't work and deliveries that are delayed if the BI implementation project is large. Breaking the project into smaller stages can help you avoid these problems since frequent meetings amongst the project team members will enable you to address any problems as soon as they arise.
Trial with few KPIs first
Try an experiment using simply the most important KPIs, and then work your way up the plan. Obtain input from the company on how well the BI approach is performing with these few, crucial KPIs. It will spare you the problems that come with implementing a BI plan that includes all of the KPIs.
Build a feedback loop
The outcome of a continuous feedback loop might make or ruin the project. Regular meetings with the stakeholders are necessary to discuss the project's present state and prevent it from veering off course. You can completely remove any chances to make a mistake by demonstrating the present condition of the job to diverse stakeholders. In addition, if there are any mistakes, the stakeholders may spot them right away.
Conclusion
Any form of change is challenging, especially when it involves a significant difference. Some individuals will embrace the opportunity for change in the SAP BI Solution right away, while others will be more averse to it. The BI plan will be executed without a hitch if you follow the aforementioned stages.