We have collected five top-rated sports apps for Android and iOS. Each of them has its advantages, but they all are the best sports apps for those who need to stay tuned to their favorite teams' and players' news, scores, and other updates. Written in collaboration with: https://superbetting.com/
If sports is not just a hobby for you, and you need to have the latest news and more features on your mobile device, here are the apps that will allow you to be up-to-date wherever you go.
TheScore Sports app
As developers claim, this is 'the only sports app you need.' We will not believe it on the say-so: let's check out what it offers to members and how it can help sports fans, viewers, and punters. The app is available in Android's Play Market and AppStore for iPhones and iPad and works just fine in both operating systems. A side note: the app is highly rated by both platforms' users, and this inspires confidence.
Overall performance
Some reviews say that the app runs slowly. It might be so during the significant events, for instance, March Madness or the other leagues' finals. However, using it when no big games are in progress is just fine. It does not crash or lag and is fully compatible with several latest iOS and Android versions. The only thing that can be annoying is the ads that pop up from time to time, but they do not distract you from the main content.
Functions and interface
It turns out to be fully customizable immediately after you download the app. It offers you to choose your favorite sports leagues, sports teams and enable alerts you need: breaking news, game start and end, and scores news.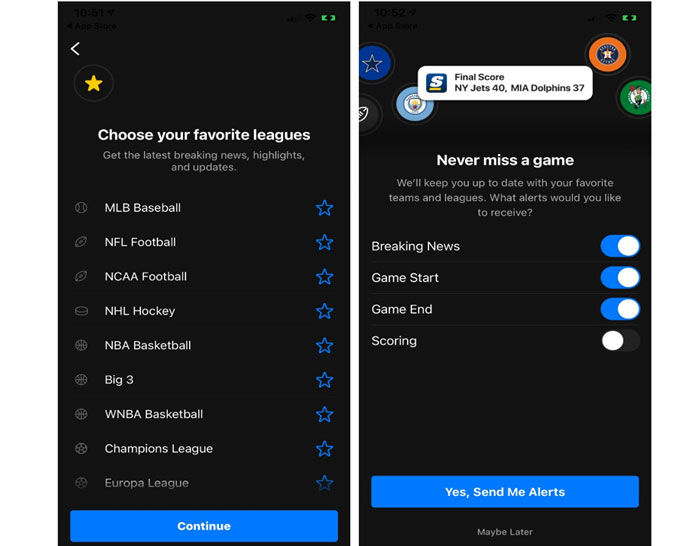 After you finish personalizing the app, you can read all news or only be dedicated to your chosen leagues on a separate tab. You can also select a particular league to exclude the others from your news feed in the general news section. It is also possible to search for information by keywords.
Users can check the Scores section that provides you with score charts for matches within the past eight days. A featured tab called 'Discover' gives you access to different videos with insights and sports discussion.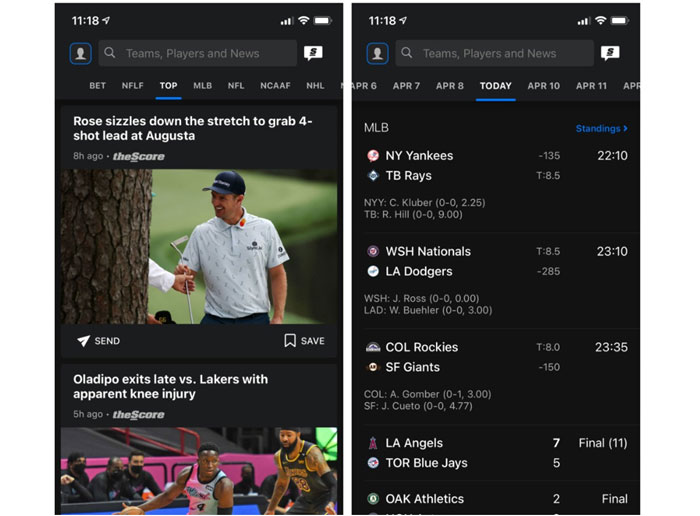 All in all, it is elementary to find anything you want to: every page of the app has a search bar, and the interface is not overwhelming at all. The sports coverage can not be left unmentioned, too: all the major leagues are included in their selection.
Betting functions
TheScore Sports has a separate app for betting purposes. However, if you bet on different sportsbooks and don't want to swamp your phone's memory with dozens of additional programs, you can use theScore Sports' updates on the latest betting trends and odds. They regularly publish visual tables and expert information to make valuable wagers. Besides, there is a chat where you can talk about sports and gambling with the other enthusiasts.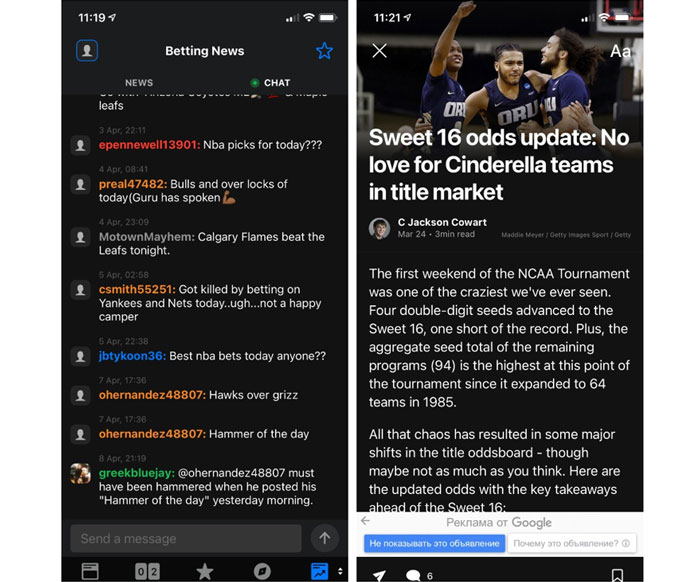 Yahoo Sports app
Yahoo sports features live streams for a plethora of leagues. Besides, there are sports news and scores, statistics, and picks. Their rating in AppStore and Google Play is relatively high. Though there are a few complaints about the country's limitations, the overall performance still seems excellent for most users.
Overall performance
Live streams, which are the main perk of the Yahoo Sports app, overload the traffic, but no significant issues arise. Streaming works perfectly fine, provided your Internet connection is stable. When there are no live games, no bugs ever appear.
Functions and interface
The interface is plain and straightforward; there are almost no tabs on the main page, but if you choose a team or a league, you can find pretty much information on their scores, news, and stats. You can subscribe to news and any other updates about your favorite teams and check schedules of the upcoming games and events. Your favorite teams are highlighted on the home screen, so you have fast access to them.
The US citizens' main feature is the live-streaming of the major sports leagues, including NBA, NHL, NFL, and others. This function is only available in the USA.
Betting functions
Being connected with the MGMbet betting app, Yahoo Sports allows you to place wagers in a dedicated section. If you prefer another betting site, Yahoo can still help you track picks and odds for all big leagues. For instance, if you choose NFL and press the 'Odds' tab, you will see the Moneyline, Spread, and Total odds and betting statistics for the Spread.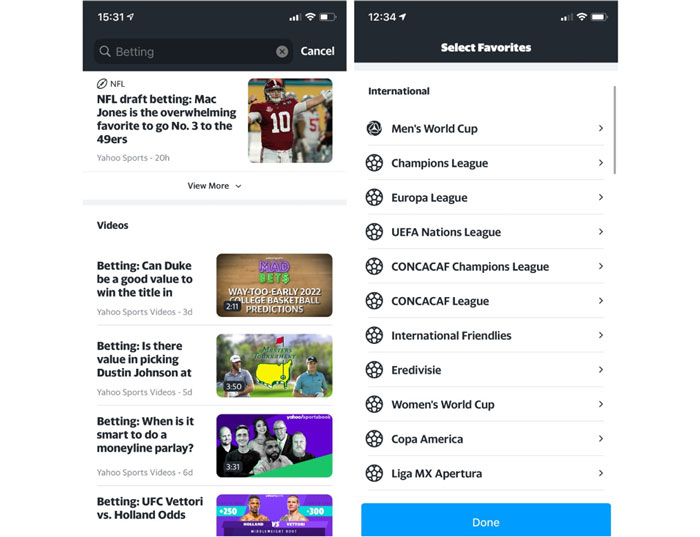 Bleacher Report
Bleacher Report is the best sports app for fantasy football and other fantasy sports enthusiasts. The Bleacher report app allows you to follow your favorite league, team, or player and connect your fantasy account with the app and get push notifications about the score updates in real-time mode. Let's see what is possible to do with the Bleacher report app.
Overall performance
No lags and crashes ever appear. If you use a free version, they will force you to watch video ads from time to time to get access to some live streams, so you can opt for a subscription for a $9.99 monthly fee. It also allows you to watch some premium games which are not available in free-of-charge mode.
Functions and interface
Compared to the ultimate and straightforward theScore sports app, this one is a bit chaotic. A search bar will help you find all necessary scores, games, stats, news, and social media mentions easily, and it is possible to get used to the interface in a couple of days.
You can check all scores in a dedicated calendar by choosing any league and following the latest trends connected with your favorite team. You can add to your favorites any portions of the app and get easy access with short keys in the 'Me' tab.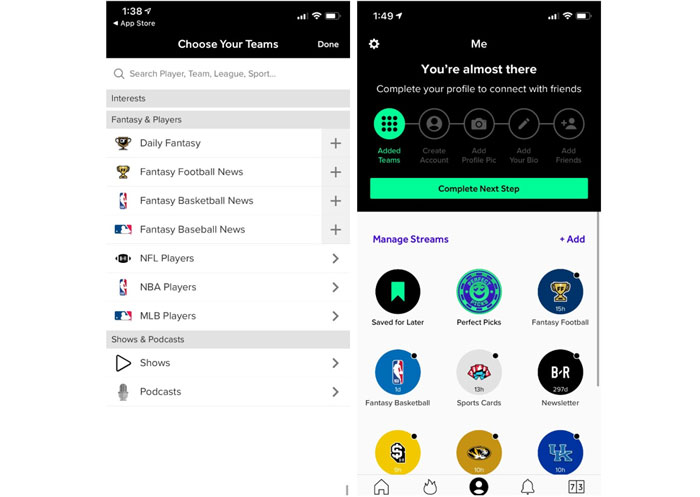 You will find plenty of sports, including NFL, NHL, NCAA basketball and football, Premier League, UFC, NBA, and more. All the sports have detailed highlights, articles from experts, post-game results, live scores.
If you are a Fantasy Football fan, you can follow the news on the drafts, statistics on teams and players and get alerts to make your picks correctly. If you connect your Fantasy account with the app, you will get notifications on your fantasy teams' players.
Betting functions
The Bleacher Report is another good tool for sports bettors. You can get predictions and odds in a particular division of the app. This section has two feeds: the one with the latest betting news and trends and another one with posts from betting fans (Community feed). You can leave your comments and discuss gambling on any sports with the other members, but you need to register for that.
ESPN Sports app
ESPN is a sports TV channel, and their app covers it all: from a live stream function to news, videos, and scores. It is probably the best sports app in terms of sports coverage: it includes not only the top leagues but also some non-mainstream sports like Chess, Kabaddi, Cricket, SuperNetball, and others. They mainly publish articles about unpopular sports, but this can still be useful if you follow some of them. The app is available in Android Play Store and AppStore for Apple devices.
Overall performance
The app tends to lag sometimes when you switch between the tabs, but generally, it works well; no significant issues ever happen. Ads are popping up from time to time, but they do not prevent you from watching helpful content and not spoiling the experience.
Functions and interface
We would not call this sports app the best in terms of simplicity. However, this is quite an excusable disadvantage as the collection of live games of any major league you can watch via cable TV with an ESPN subscription is enormous. Also, you can enjoy sports documentaries right in the app; some of them are available free of charge without a paid subscription. Generally, this is primarily a live sports app with some extra features.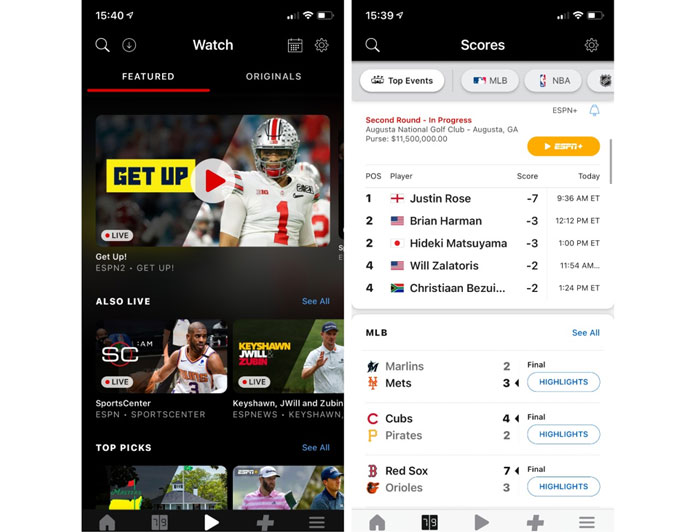 Certainly, there are news, articles, and everything that you can find interesting to follow your favorite teams. Notifications on the particular events are also available: you will never miss any breaking news or a stream live. Finally, you can use a sports radio on the go: ESPN has an audio home, live radio, and podcasts.
A special section is dedicated to Fantasy football, baseball, and soccer.
Betting functions
On a Chalk tab, you will find the latest news on the best bets and betting trends. This function can be hidden for the territories where sports betting is prohibited, but most states' citizens can read the updates and get the latest information about the wagers and statistics.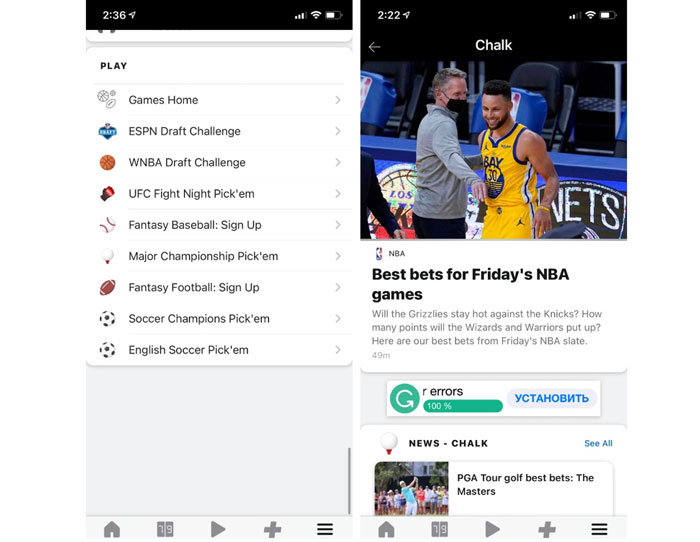 CBS Sports app
CBS Sports app introduces itself as the best sports mobile app for watching football, basketball, baseball, tennis, the PGA Championship, college sports, and many others in real-time.
Overall performance
After the update, users of the CBS Sports app went down on the developers. The features left the same, but the performance became much slower; many Android and iPhone users complain about constant crashes. In addition, the interface became much less convenient than before: quite unhandy and difficult to get used to.
Functions and interface
The app has free features and exclusive paid content. Without any fees, you can watch NCAAB, PGA Tour, Masters, and some other events. Some bigger events like NBA, NHL, or NFL can be accessed only after you enroll in the 'All Access' program for $5.99 or $9.99 per month. The latter option allows you to watch live games and use other features without any ads, while the first one still has limited ads.

Basically, the functions are not critically different from the other apps like this: you receive pregame and postgame coverage on matches, live stats, news, and scores. In the paid version, you get more sports coverage.
Betting functions
There are weekly predictions and forecasts from the experts; you can also use notifications of live scores to improve your betting experience in the in-game format.  Besides, there are betting insights from Las Vegas experts that mainly highlight baseball, basketball, and American football leagues.
Final words
With all features and drawbacks, the listed apps can be named the best for iOS and Android users. There are plenty of services you can get for free using them, and their overall ratings in the Play Store and App Store show their high level of reputation and dedication.