Technology has changed the way that we work, communicate and enjoy entertainment. While there are many positives associated with watching streaming videos, downloading software or using online banking, the internet is accessible to everyone.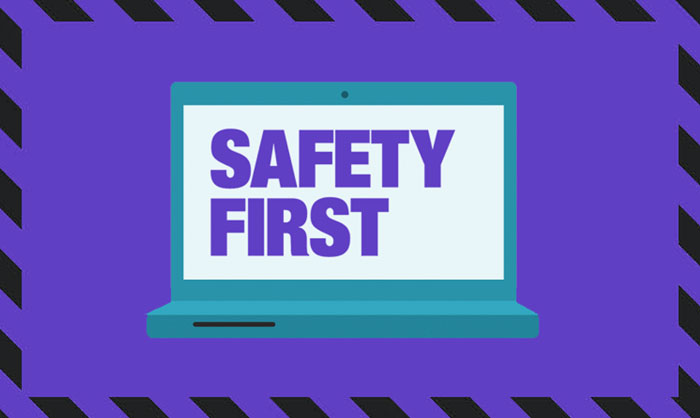 This requires you to make sure that your data stays safe. Unscrupulous individuals are lurking on the web and will try to steal your information if you aren't careful.
There are specific areas that you can focus on to ensure that your time on the internet will be safe and secure. If you're using a Windows machine, it's important to use a secure browser, anti-malware application, password manager and even a VPN to ensure that you stay completely anonymous.
Utilize A Secure Web Browser
You can improve your security and privacy by using the right web browser. The companies that develop and upgrade these applications are constantly updating and developing their software to keep ahead of hackers. Two of the top web browsers that focus on security and privacy include Mozilla Firefox and Google Chrome.
– Mozilla Firefox: This web browser team recently made one of the largest updates to the software in 13 years. Firefox has always been one of the top web browsers, but in the last few years has fallen behind with respect to speed.
In the recent update, it has caught up with speeds that are now available with other popular browsers like Google Chrome. Firefox has also upped its game when it comes to security and privacy. It makes regular updates, which will help protect your privacy, and you can also use their private browsing feature.
– Google Chrome: Frequently at the top of the list for popular web browsers, Google Chrome is fast, infinitely expandable, but it is a little resource hungry.
It may not perform as well if you have a PC with a minimum amount of RAM. However, Google is making strides towards having better security when you are using their browser.
One of the areas that they are pushing hard is HTTPS encryption. If you land on a website that doesn't have this, you will be warned that the website may be unsafe.
Both of these web browsers offer password-free logins, which acts as a form of two-factor authentication.
VPNs Provide Even Better Privacy
Another application that can be used on Windows when you are browsing is a secure VPN. By using an IP address supplied by a VPN provider, you have the ability to stay anonymous and safe.
By encrypting your data with the latest in technology standards, your data stays completely out of the eyes of not only hackers but your Internet service provider as well.
You should look for a VPN provider that has these safety and security features:
Strict no logs policy
Zero knowledge DNS
Kill switch
OpenVPN encryption protocol
A strict no logs policy is even better than just using the private mode on your browser. Since you are using another IP address to browse the web, your ISP has no way to know the sites you are visiting. This policy ensures that the VPN provider that you use will not track or store any of your online activity.
By utilizing a strict no logs policy, your web browsing sessions are only known by you. A kill switch is another security feature that ensures your privacy. If your VPN connection ever drops, a kill switch will quickly stop your connection so that your local IP address isn't exposed.
– Surfshark: This VPN provider has diamond-strong protection. It is serious about guarding your personal data. They use the OpenVPN encryption protocol for Windows applications.
Surfshark also has a strict no logs policy, which means only you will have access to the sites you visit. Their VPN service also includes a kill switch. This is important to have when you use a VPN and really want to stay safe.
While the connection uptime for many VPNs like Surfshark is high, there are times when you may lose a connection. This could be due to a conflict with your antivirus software or a firewall setting.
If your VPN connection does drop, the kill switch will kick in and make sure that your local IP address doesn't get exposed.
Keep Your Passwords Safe With A Password Manager App
By using a password manager, your passwords are stored in an encrypted vault. This allows you to save your password information on your Windows PC or in the cloud.
You can easily use random combinations of letters, numbers and special symbols for your passwords and can store these strong passwords in your password manager. When you need to log into a site, one of your stored passwords is ready for you to use.
This provides you with fast access and a larger number of strong passwords, which means you don't have to remember every one.
– LastPass: One of the first password managers to offer a number of features, LastPass is still one of the best safety apps that you can use for your Windows PC when you want to stay secure.
You have a couple of options when you use this password manager. You can store your passwords locally on your PC or online so that they can be synced with multiple computers or other devices.
This application allows you to audit your passwords and has the ability to automatically change passwords if needed.
You can also use two-factor authentication when you want to access your password vault. This is just one more way to stay safe while you are online.
Anti-Malware For Windows
Phishing websites and malware that's included in software downloads can really wreak havoc with your PC. If you are spending any time on the internet, you need a good anti-malware software application.
Viruses and adware have the ability to change your web browser and cause considerable damage if you don't catch them in time. You can instantly defend your PC by installing anti-malware software.
It has the ability to check software downloads and scan websites when you initially come in contact with them. If there is a threat, connectivity is paused and you are notified.
– Malwarebytes: This anti-malware tool has the ability to detect adware and other types of threats. You can use it alongside your favorite antivirus application or by itself.
Your files are shielded when you use this safety application. In addition, you can also use it as you browse different websites. If it detects a problem, you'll be prompted with a warning. This way, you can decide if you'd like to proceed or click back.
It's frequently updated to ensure that new malware threats are detected. You can also run periodic scans to check your complete hard drive for any threats.
Summing It Up
Staying safe when you are using the web is crucial. Privacy and security should always be one of your top priorities. If you haven't already, consider using any one of these Windows apps when you are using your PC online.