If you have a Mobile Device running on Google Android, the device will be not only serving you as a Mobile communicator but also helping you to do a lot of various activities which in turn increases your productivity. The reason is simply the large number of Apps available in Google Play to be available. Today, let me introduced an Android Application available in Play Store which will help you to save some of your time. I don't know how many of you've noticed the feature called 'Google Cloud Print' in Google Chrome browser. If you haven't, let me tell you about that first of all. Google Cloud Print actually makes your Physical printers global and hence allows you to access these printers from anywhere around the globe where there is an internet connection and Google Chrome browser along with your Google Account, obviously. The Android application I mentioned above is also regarding this awesome feature by Google. To be precise, you can take control of your physical printers through your Android device by installing the app named 'Cloud Print' in your device.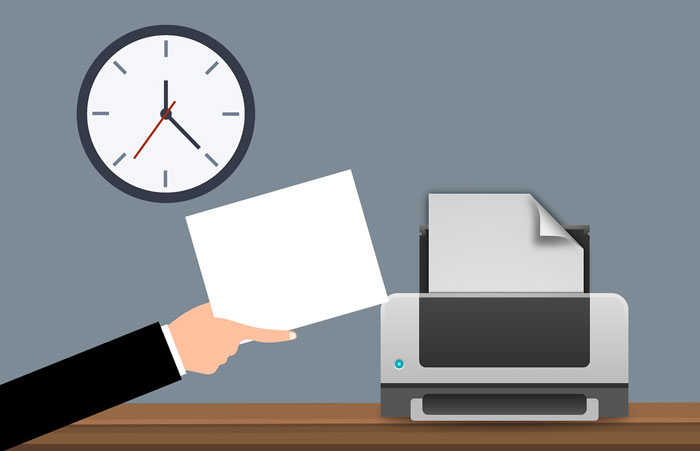 Recommended Reading: Best Android OS for PC : Install Android on PC
Meanwhile you can print any of your document type files directly from your Android Mobile/Tablet which means you don't need to connect your device with PC neither transfer the file to your PC. Isn't this feature cool? It becomes cooler when there is more productivity features in it. For example, let me share my experience with you. I had to download one admit card to my Android device (v2.3) as my PC wasn't available at that time. Obviously, I had to take print out of that admit card but I was very much lazy to connect my device with PC and transfer the file to it. And it was then I noticed this application and it was quite useful. Now, let's check out how this Application can help you in your daily life as well as how to set up the service to suite your need. Actually this process has two steps, one in your PC and another one in your Android Device.
Pre-Requisites
Google Chrome linked with your Google Account
An Android device with 'Cloud Print' installed
Internet connection in both of these devices
Step One
What you have to do first is connecting your Google Account with your Google Chrome if you haven't done the job yet. As the next part, just head to the settings section and enable Google Cloud Print as done below

Step Two
Then you'll be guided to the official page of Google's Cloud Print service where you're supposed to confirm adding your physical printers to the service.

Step Three
Just click on the button 'Add printers' and it'll take a few seconds to register your printers in the server. Suddenly you'll be guided to another page where there's a link to manage your printers.

Step Four
Follow the link 'Manage your printers' and you'll be soon guided to a dashboard to manage your printers, print jobs etc. If you see a list of all your printers in the dashboard like in the image, you have successfully added your printers.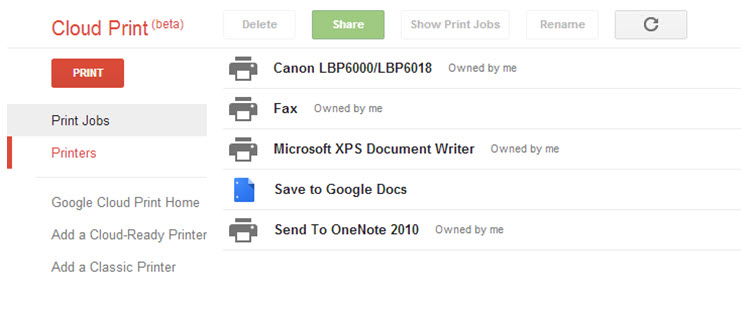 As you can see in the image, the list includes some virtual printers available in your PC such as Fax, Microsoft XPS Document Writer, Send To OneNote if Microsoft Office is installed, along with a feature to save the file directly to your Google Drive. These features are worth your time and we'll mention the other use of the virtual printers in the other section. And you're all done with the first part. By doing all the steps mentioned above, your printers have become global which means you can use any of your Printers from anywhere in Globe. So, let's move to the next step without waiting.
Step Five
From this step, you need your Android powered Smartphone with you. Just head to Google Play Store and search for Cloud Print, which will give you a FREE Application stuffed in 4.4 Megabytes. It'll take some seconds to install this application if you're with a slow internet connection. After the installation procedure you'll probably see a homepage like below before which you'll have to select your preferred account for this service.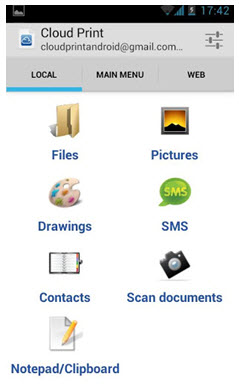 As seen in the application homepage, you can print your Files, Pictures, Drawings, SMS messages, Contacts, Notes or even scan documents for printing purposes via your device's camera. By The Way, you're all set up which means you've enabled Cloud Print service in both your PC and Android and so you can use your printers via not only any Chrome Browser but also via your Android Device.
Printing Using Cloud Print
If you've set up both your PC and Android device through the mentioned stages, then now, you can simply print any kind of document directly from your Android device. And the process is simple and superb. Let's see how to do it.
Click on the preferred file type and select the desired file from the list. And you'll get a window like below and you have to select the desired printer for printing. There is also a PRO version available for Cloud Print which consists of some awesome features than the normal version.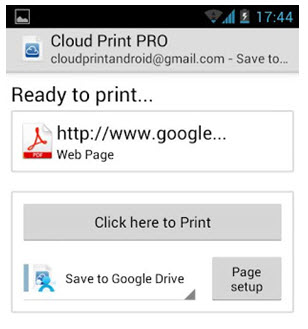 If your PC is connected to Internet, you will be prompted by a Print Window or a Save file window. You can even share these printers to your friend so that you can even do a 'Share-Print'.
Cloud Print is working very simply but does a great job as a productivity Application. We said the case of printing documents via Android devices. But if you're using a Windows 7 there's an option called XPS Document saving and is available as a virtual printer. Since you've added this printer as Cloud Printer, you can save any documents to your PC as an .XPS document. So the feature is simply awesome.
Hope you'll try this application in your Android device. Share your opinion about this application as comments. Do you use any other apps for the same purpose? Mention their name as well in comments.