Artificial intelligence is changing multiple branches for the better; machine learning and robotics are widely integrated into our lives nowadays. Farm management is no exception, and present-day agriculturalists benefit from AI advantages in their routine practices.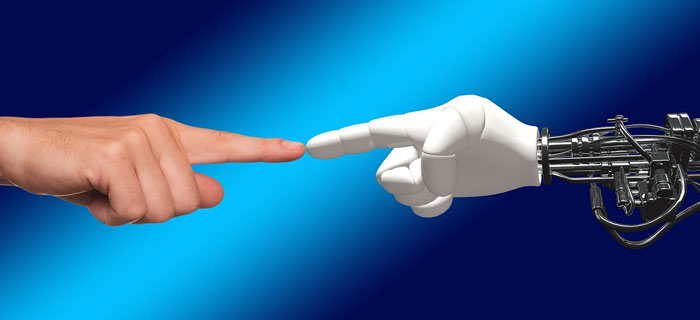 Total replacement of human resources by the non-human intellect is doubtful as smart machines and tools require maintenance and control. However, they can essentially simplify field activities. In particular, AI helps farm owners reduce costs, boost income, enhance crop efficiency, and mitigate adverse environmental impacts.
Diversity Of AI Applications
In agriculture, artificial intelligence strongly contributes to farming productivity by adding accuracy to land inspection, issue identification, weather forecasting, yield prediction, pest and weed management, sowing and harvesting, and much more.
Nowadays, GPS-equipped machinery precisely treats each terrain without missed areas or overlapping. Robots easily distinguish weeds from non-weeds, ripe from non-ripe fruits. UAVs and satellites monitor farmlands from the sky.
Smart farm apps calculate the required norms of seeds, fertilizers, fuel, water saturation. They prescribe sowing and harvesting time, crop rotation schemes, assess plant health, and assign scouting tasks. Basically, each stage of the crop growing cycle can be controlled with IoT and agricultural software.
In particular, Crop Monitoring key functions comprise:
satellite monitoring,
field zoning,
weather analytics,
scouting app,
field leaderboard,
vegetation indices,
productivity maps,
field activity log.
Precision Farming
Precision agriculture technologies make farm treatment more accurate, signaling spots with excessive or insufficient moisture, nutrients, sunlight, or temperature. Satellite-based analytics reports issues like weed and pest infestations or crop decease. Online software helps agronomists to distribute fertilizers and herbicides with a differentiated approach.
In other words, precise prescriptions point out when and where applications are needed and which zones on the field do not require a specific response. This way, farm owners save their resources and reduce harmful agricultural effects on nature.
Crop And Soil Monitoring Systems
AI agricultural applications help farmers monitor the current crop state and estimate yields, comparing it with historical productivity. Smart tools monitor soil conditions and identify nutrient and moisture deficiency. Specific sensors measure soil temperature and thus assist in defining the best sowing time. Drones capture crops at the bird's eye view.
Satellite imagery, retrieved with various band combinations of the electromagnetic spectrum, detects critical areas. For example, color IR for vegetation allows analysts to identify bare soils and react correspondingly to prevent erosion: areas with high vegetation density are marked in saturated reds while scarce vegetation gives pale reddish hues.
Pest And Weed Control
AI algorithms, based on aerial or spatial imagery, report pest or weed presence and assess their damage to crops. While UAVs fly low enough to show the species, satellites cover a vaster territory and outline inflicted and healthy areas. This way, crop producers can distribute chemical applications and narrow them down only to the affected zones.
Predictive Analytics With Weather Forecasting
Weather is a crucial factor for agricultural success, so accurate forecasts help growers manage risks and get high yields. Weather is difficult to manage yet possible to predict.
Being aware of upcoming meteorological conditions, agrarians can plan their field activities and minimize losses. For example, seedlings need enough moisture for rooting. This is why, with no rainfalls in the nearest time, it is better to postpone sowing or schedule additional irrigation events. Absence or presence of precipitations also interferes with herbicide and pesticide use since some chemicals require dry weather conditions, and some are activated with irrigation or rains.
AI In Agriculture: Prospects For The Future
AI has deeply rooted in a farmer's life. AI systems program operations for equipment, navigate driverless machinery, report weather forecasts, and alert to risks. Farming robots have learned to pick pests or weeds and harvest yields.
Remote sensing gives precise satellite data for analytics. Furthermore, AI algorithms not only collect information by monitoring fields but assist in data processing and assessing results. Computerized classifications with and without data training are reliable present-day analytical techniques.
However, this is not the limit. Machine learning and digital workforce will be even more intensively exploited in the future because farming labor is hard, and robots are more productive and enduring. Future farmers will witness AI improvement: machines will be smarter, tools more refined, predictions more accurate, and farming efforts less time and effort-consuming.
With improved internet connectivity, edgy innovations will reach even the most remote places, and the number of implementations will increase. The USA and European consumers embraced a 70% market share in 2019, and the technology is supposed to expand further. According to prognosis, the revenue of agricultural AI market share will nearly double by 2030 compared to 2019, from $671.6 mln to $11,200.1 mln.
It means the demand will rise not only for AI software proper but also for specialists to install, calibrate,  maintain and operate it.