Social media marketing is anything but a new concept. It has been a part of online businesses for a long time now. It has also proved to be a useful part, over that. Social media marketing itself is a part of digital marketing where you advertise with the help of the internet through websites, ads, emails etc.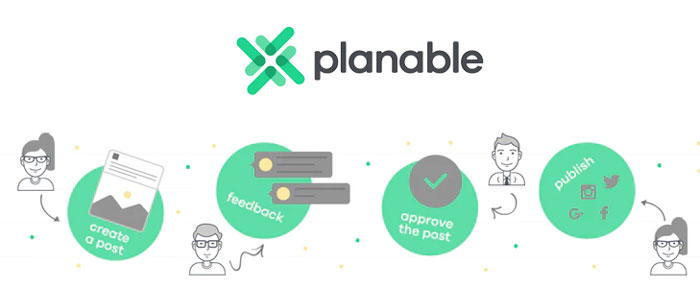 Social media marketing, like the name suggests, is the advertisement of your business or product on social media platforms. These platforms include the likes of Facebook, Twitter, Google+, LinkedIn etc. Internet is a big part of our life today and social media is an even bigger one. We can connect to more people online than we can offline, that too in an easier way. On social media, you are just a click away from thousands of people. That is why social media marketing is considered to be an essential part of businesses today. While it sounds easier to do, social media marketing is not a piece of cake. Dedication and efforts it requires are second to none. Consistency and patience is the key here. While there is no such tool that can magically improve your marketing, there are various platforms that make it a bit easier for you. Planable is one of them.
Planable is a social media manager that came out in 2016. As a social media manager, Planable let potyou manage all of your social media profiles in one place. Planable's major feature is its intuitive dashboard where you can manage all of your social media. It can include profiles from all of the social media platforms like Twitter, Instagram, Facebook, Google+ etc. The dashboard is organized and provides two views; list and grid. The list view is pretty basic but the grid view brings out quirky visual details of all the profiles.
Social media marketing requires the regular posting of content for it to be able to show results. It requires a lot of time and effort which Planable cuts down a bit. From Planable, you can simply post your content directly on all or any social media platform of yours. There is no need to go to different webpages to post something, over and over again. All you need to do is link your different profiles. From there it's easy to go on posting, be it a single post over all of the profiles or different posts on different profiles. There is no limit to how many profiles you can work on, either. You can even get more and more engagement on your social media handles if you just know the best time to post on social media platforms as user interface is very important to gain more engagement.
There is another good thing about Planable's dashboard. It keeps the original interface of all of the social media platforms that you link. The Facebook section looks and works just like regular Facebook. Same is the case with the rest of the platforms. It does not only display the same UI but also follows the same guidelines as of the selected social media platform.
It also provides a preview of your posts about how they would look after being published. You can toggle between desktop or mobile mode to confirm how your content would be displayed on both mobile and desktop devices.
Planable works even better when there is a whole team working on it. It gives a collaborative platform form then work together. Instead of exchanging emails after emails, they can give their inputs and receive others, all in just one place. It is not just easier but also saves time and boosts the overall efficiency and productivity. There are various permissions that can be assigned to different members. The permissions include Owner, Administrator, Publisher and Approver. You can also invite guest users and grant them permissions for a temporary time period.
Another big benefit of using Planable is that it allows you to schedule posts in advance. You can schedule more than one posts and across more than one profiles. As many posts as you want across as many profiles as you want. Content worth as much as a whole month can be scheduled in advance.
However, Planable cannot do everything. What it lacks is analytics and insights like social media monitoring. So if you're looking for technical features like that, Planable is not the one for you.
But it does have a trademarked Customer Satisfaction Algorithm for feedback purposes. The algorithm gathers reviews and comments from all the linked social media platforms. The information can then be analyzed to assess the customer experience.
Planable can be used for free but there is a big limitation in the free version. The free version only lets you create 50 posts with Planable. You get unlimited workspaces and unlimited user allowance. But the 50-posts limit is a big hindrance. This plan just does not work for the long-term.
An upgrade to this plan is the Starter plan. This plan costs $33 per month and allows unlimited posts. However, it limits the number of users and workspaces. You get one workspace with only 3 users allowed.
A third plan is called Premium and costs $83 per month. It provides you with 5 workspaces with 7 users allowed. There is no limit on the number of posts.
Planable offers a free 30-day trial of both the plans. You don't need to submit any credit or debit card for the trail either.
Planable also offers a special Enterprise plan. In this plan, you can select a custom number of workspaces and users. It also features real-time 24/7 support along with unlimited posts. The price of the Enterprise plan depends on the number of workspaces and users chosen. Potential buyers of this plan can directly contact Planable and negotiate. You can also request for a demo of the Enterprise plan.
Verdict
The pricing of Planable can be quite confusing for some. Choosing a plan can get hard regarding the price and the features provided. It is slightly expensive but its usefulness can not be denied. You can create, manage, schedule, and preview social media posts within a single platform with ease. Even corporations like McDonald's, Virgin, Volkswagen, Moto, and SkyTeam use Planable for their social media management. That leaves no room for doubt and solidifies the fact that Planable is one of the best social media management app out there