We recently saw the comparison of Penta T-Pad IS701R and world lowest tab Aakash Tablet also the pre-booking procedure for Penta T-Pad IS701R. We got lots of comments regarding the comparison of Aakash tablet and the BSNL Penta 701R tablet. But from recent communication with Mr. Lchandra (who is buyer and user of BSNL Penta T-Pad IS701R) there are many disappointing things with Penta T-Pad IS701R like it don't have any HDMI port, micro USB and no micro USB to USB connector provided in box, no SIM card slot, no eBook reader, no operating manual in the package and lots of other things which will definitely going to disappoint you. The good news is that BSNL launches a new tab named BSNL Penta Tab PS703C. Price is almost 1.5 times more than the BSNL Penta T-Pad IS701R and twice than the Aakash tablet.
Read: 
The latest Tablet from BSNL is running on Android 4.0 Ice Cream Sandwich operating system.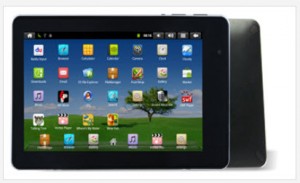 Hope this Tab will overcome all the deficiency in the old Penta 701R tab and gain the customers in market.
Tablet has the following specifications:
We can summarize the features in a single image below: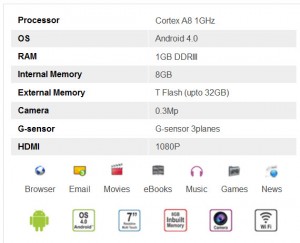 The Full tablet specification is as follows:
·         Operating system: Android 4.0 ICS latest
·         Processor: Cortex A8 1GHz
·         RAM: 1 GB DDR3
·         Internal Space: 8GB
·         Memory card support: T- Flash upto 32GB
·         Camera: 0.3MP – VGA Camera
·         Display: 7" Capacitive Multi-touch with 800×480
·         Connectivity: Wi Fi, USB 2.0
·         HDMI: Yes with 1080p HD video output
·         Multimedia: Movies, gaming, music, email and Hassel free internet browsing.
BSNL Penta Tab PS703C fully support multitasking and best internet browsing experience with latest Android 4.0 Ice Cream Sandwich powered web browser. Preinstalled applications like MSN Messenger, Skype, QQ makes it more powerful. Another great feature of this tab is it has HDMI port with spectacular quality 1080 pixel TV output. So it is useful for business applications too. Wide 7" Capacitive multi-touch screen enable you to zoom images greatly.
This Tablet comes with the BSNL data connectivity facility. I am not sure about it has any SIM card slot or not but as from experience from BSNL Penta T-Pad 701R it had an dongle support so that you can use BSNL SIM with 3G or 2G dongle. The BSNL offers the following internet charges with this Tablet.

First time activation charges 30/- INR with 1 year validity.
BSNL Penta Tab PS703C can be pre-book from the official Pantel website.
To pre-book visit this page: http://www.pantel.in/product37-tpad_is703c_with_bsnl.aspx
If you have any further queries or anything then please share with us by commenting on this page.