Every business that has a digital presence should have a cloud storage backup, and every business should have a digital presence. However, building a server room and supporting it is expensive, not to mention a lot of work. For those who don't want that hassle, here's some good news: It's easy to rent cloud-based storage to suit your business's needs.
Using a cloud service lets companies to share information and documents easily with others, allow its users to work remotely, and integrate well with the company's workflow.
According to the Cloud Security Alliance, 64.9 percent of IT professionals trust the cloud as much as or more than on-site storage solutions. PCMag offers a breakdown of the available tools for business cloud storage. In this article, we'll describe which ones are best for various business sizes.
Large Businesses: IDrive and Dropbox for Business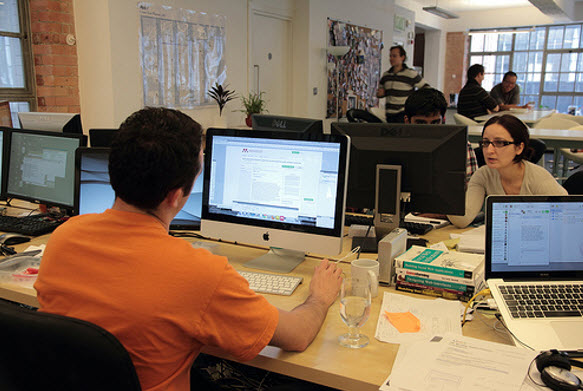 Image via Flickr by mendeley.com
IDrive Business offers unlimited service on a monthly or an annual basis with a variety of memory options that are perfect for large businesses. It backs up everything on servers from Microsoft SQL, Microsoft Exchange, VMware, Hyper-V, MS SharePoint, Oracle, System, Office 365 Mailbox, and Linux.
An unlimited number of users on an unlimited number of computers can use IDrive. The program backs up stored content for free three times a year. It also offers access via mobile apps and an on-site recovery option in the event of a disaster.
Dropbox for Business also offers an unlimited amount of storage for a minimum of three users. Its standard plan costs $12.50 per user per month for 2 terabytes of space, and its advanced plan costs $20 per user per month. These plans offer solutions for nearly every business need.
Medium Businesses: Egnyte
Egnyte offers business solutions based on the number of employees, with tiers for businesses of 0 to 25, 25 to 100, and 100-plus employees. Each tier provides more services and more storage. The Egnyte Business plan, for 25 to 100 employees, is available for a low price of $15 per user per month for up to 10 terabytes of storage. Each plan gives users the ability to integrate easily with Salesforce, Google Apps, Microsoft Office 365 and Outlook, and other third-party applications.
Small Businesses: Amazon Web Services
Amazon Web Services is an ideal option for businesses with small digital footprints. As one of the largest cloud platform companies, it includes a wide variety of tools. It offers 12 months free for up to 5 gigabytes of storage through S3, allowing companies to learn to use it and make sure it does what they need it to do.
Amazon Web Services is not just helpful for small businesses, however. Companies such as Spotify, Airbnb, and Yelp use it, as well.
Lastly, research best security practices for using cloud-based storage services such as Amazon Web Services to make sure your company's data is secure, no matter what. Some data protection steps are the platform's responsibility, while others must be done on your end.