The digital revolution throughout the world has let every common man think about having a Smartphone. Just 5 years ago smartphones were very precious and considered as a style statement. But now it is a necessary element of our life. However, it is always considered as a challenge to engage and re-engage users and subscribers through mobile apps notification. As we all know that push notification is a fast and efficient way to communicate with your audience. You should relate the excess use of mobile phones and push notification closely then you will get to know its significance in bringing more traffic and sales.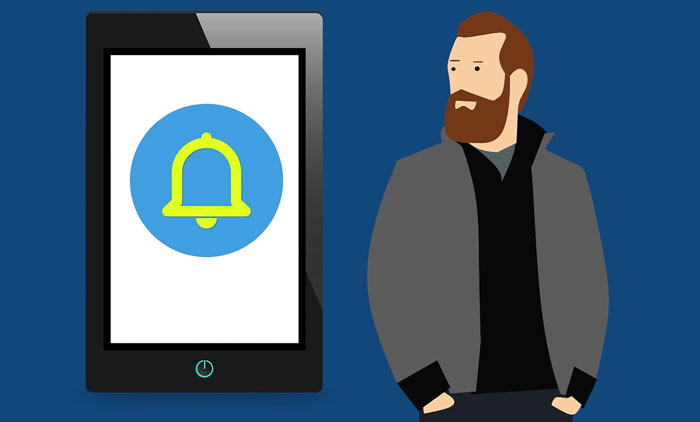 In this piece, we're going to give you 8 tips regarding how you can increase your conversion rates by using a mobile push notification service.
Tip #1: Get your opt-in requests right
The most important factor in getting sales and traffic is to get the opt-in requests from your users. It's 101% right that until your users explicitly allow you to send these notifications; you can't raise your conversions rates. Thus, it should be your duty to secure their opt-ins. Your communication mechanisms should be transparent. Also, take care of what your users expect from the push notifications that you'll be sending.
Always figure out the value of your notifications that you are going to deliver. This way you are more likely to receive a much higher opt-in rate.
To seek the right time for sending your notification is another tactic that you should practice. The best time to push your messages is just after when a user visits your site.
Tip #2: Intelligently segment your audience
Though the push notification is not a broadcast channel, you can use your super conscious analytics skills to embrace the power of your strong messages
You just need to segment your users based on their preferences, attributes, and web behavior, so that you can ensure that you target them with content that is of their absolute interest. Once you get your user segmentation right, the foundation of delivering the more personalized messages will be set for higher engagement.
For instance, if a banking website sends a mutual finance-related notification to a teenager, he won't be interested in it. But, if you try out to send some credit card offers on shopping and food delivery then it going to excite him.
Tip #3: Personalise your notification content
Do you know? Personalization communication techniques are the heart and soul of any successful marketing campaign. That's why the same should be applied to your push notification program, so that, you can Leverage the power of gathered user data including personal details, past behavioral details, preferences to create the relevant content that connect maximum number of users.
On the other hand, the secret of personalizing your content stems from a comprehensive understanding of your users. And this is why gaining a unified view of your customers becomes critical.
Tip #4: Keep your content short and crisp
Have you heard the famous quote which says "less is always more" If yes, then you must know the importance of preciseness in the content of your message. To the point, notifications are always successful in giving the message to the users. It is because within the fraction of time users can read and imply it.
Hence, the ideal number of characters in your browser push notification should not be more than 20-30 characters, whereas the content should be around 70 characters. And the first 10 to 12 words should be powerful enough to draw the reader's attention.
The second most important thing is to optimize your content with high conversion keywords So that you can continue to a greater number of insights based on their interaction and your responses to your push notifications.
Tip #5: Experiment with rich media elements
A picture tells you a thousand words. The use of images in the title helps in building brand recall and recognition. You can use your brand's logo or any picture that can represent your brand's principle or concept.
A suitable contextual image always supports the content and makes the notification more attractive and easily clickable.
You can also add emoji's that grab the attention of your users very easily. Use the emoji's tastefully to suit the tone and context of your campaign content.
Tip #6: Use a clear Call-To-Action (CTA)
As we know that the purpose of the browser push notification is to bring users back to your website. A provoking and compelling CTA can do just that. The CTA sparks the engagement and attracts the user to click.
The use of deep linking is very helpful to directly take the message to the relevant landing page or product page on the website, instead of the home page. Afterward, you should guide them on what to do next without complicating the entire navigation path.
Tip #7: Get your time of delivery just right
If you want to ensure the better performance of your mobile push notification then you should keep an eagle eye on the timeliness factor.
Moreover, the user behavioral preferences also play a crucial role to know the user and design the notification program accordingly. You can ensure that each user receives your notification at his/her most preferred time by optimizing your send times
Tip #8: Preview carefully before hitting send!
Do you know? Different web browsers render push notifications differently. The Notifications appearance on Chrome is different on both Mac and Windows-based Smartphones.
Also, Due to the digital revolution, a considerable percentage of users browse websites on their smartphones. You must ensure that your messages are optimized for both android and ios Push Notification services. It ensures a satisfactory mobile-viewing experience.
Always make attention to details a part of your campaign best practices. Preview your mobile push notification to ensure the following points
There shouldn't be any mistakes in the copy
Ensure that the titles of the notification don't appear cut off and is entirely visible
Ensure that all rich important elements are rendered correctly.
We hope that our piece helped you a lot. Thus, don't forget to share your reviews down in the comment box.
Author: WonderPush is a fully GDPR compliant, simple, and inexpensive platform for all push notification service seekers. With their great experience, they have successfully made the fastest push notification services for every digital platform. Their full-featured API's has helped the developer's community to reduce their all-time stress of doing the push notification program. Moreover, their service doesn't require any programming skills.