Finding the right PDF editor for your Mac device is always challenging. The application is either way too expensive, or the affordable one does not require the required features. However, you no longer need to suffer this dilemma as we have found the most affordable platform that comes with all the advanced features you need.
This review article will share everything about CocoDoc – the most affordable PDF editor along with its features, Pros/Cons, and our 7-day experience with the tool.
So let's start the review by covering a few things about this platform.
What is CocoDoc?
CocoDoc is a file editor that specializes in PDF editing tools. The platform is quite popular, and over a million users prefer it over some of the leading platforms. The main reason behind its popularity is its advanced features at such an affordable price.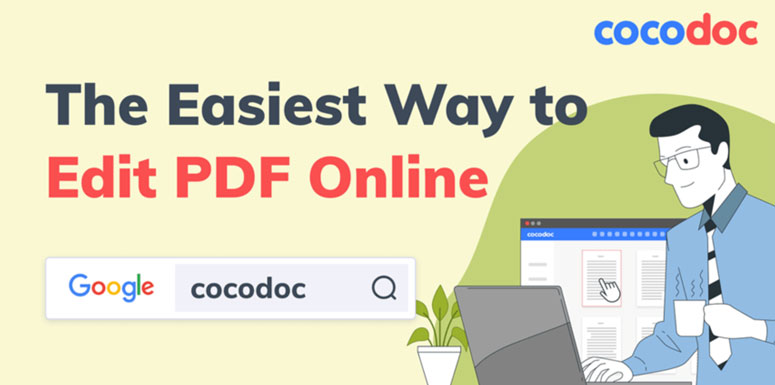 CocoDoc has an encrypted server that helps you protect your documents while editing them online. Also, it comes with a 14-day free trial pack that provides complete access to all its premium tools. The platform lets you edit, convert, sign, merge, compress, or fill any PDF document with its advanced tools.
So this is a quick introduction to this platform to help you understand how it works. Now let's have a look at some of the best services offered by this platform.
CocoDoc's Services
Here are the services offered by CocoDoc PDF editor:
PDF Editor
The PDF Editor tool is the most important tool of this platform. You can change your PDF however you want. It allows you to add text, text boxes, checkmark, dates, branding, edit linked documents, and much more. Thus, the tool is quite easy to use.
PDF eSign
This feature allows you to sign your PDFs online from any device like laptops, smartphones, and tablets. The interesting thing is that you can also create legally binding eSignatures that are valid in 60+ countries. Additionally, you can also invite others to eSign on your PDFs through the email sharing option.
PDF Converter
It has over a dozen of PDF converters that help you convert to/from your PDF documents easily. All you need is to choose the action and select the appropriate converter for that.
PDF Merge & Compress
The PDF merge and compress tool let you merge multiple PDFs at the same time. Additionally, it has a compress tool that will reduce the size of your file.
These are some of the features that you can find on this platform. Please check out its website to find the complete list.
Advantages of Using CocoDoc
Let's have a look at the advantages of using this platform:
Affordable
The application is quite affordable, and anyone can try its services with the 14-day trial. After that, you can pay a small subscription fee to keep using its services.
Advanced Tools
Considering the membership plans of this website, you get some advanced tools at such an affordable price. You can even find tools like PDF-OCR reader and converter, digital signature, and form filler.
High Security
With the encrypted server, CocoDoc ensures the protection of its user's data from unwanted attacks. Additionally, it keeps cleaning the unsaved data to delete it for good.
Disadvantages of Using CocoDoc
Here are some of the disadvantages of using this application:
Limited to PDF
CocoDoc's solution is limited to PDF file format. However, you can convert any other file format to PDF and change it back to the file format.
Not Advanced as Adobe Acrobat
There are still some tools like Adobe Acrobat that have big advantages over this platform. It is because Adobe Acrobat offers many other solutions than PDF editing tools.
Final Verdict – Our Experience With CocoDoc
We try different tools for this solution. We start with the PDF editor that comes with different tools to add or remove anything from the PDF document. The solution is quite convenient, and we find all the tools we need. After that, we try its digital signature tool that is quite smooth as well.
The only challenge is related to the watermark as it takes some time to use all the tools there. However, some efforts make it easier than before.
Overall, it is an excellent experience, and we believe that the application has everything you need to edit and manage your PDF documents.