A business of any size, from any industry, can benefit from an enterprise resource planning (ERP) system. An ERP system combines all of a company's business processes, automating and analyzing them for greater efficiency. The reasons for selecting an ERP system will be addressed here.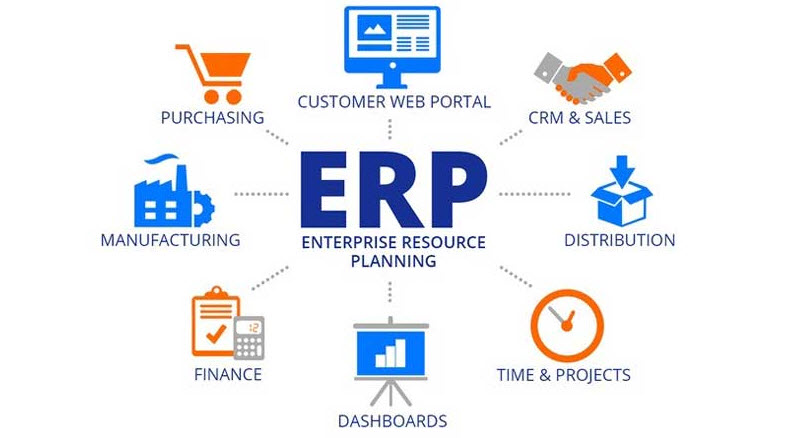 What It Means for Business
Implementing an ERP system provides management, recording, and data analysis capabilities for the various core areas needed to run the business. ERP software can centralize finance, human resources, manufacturing and production, inventory, and more. In addition, ERP systems are customizable to your business, whichever your industry and whatever your size. An ERP system can prove valuable when your business goes through a transition, like unprecedented (but welcomed) growth.
Automated Processes
ERP software links together business functions to operate on a single system. The automation of business processes creates a smoother transition as your company expands. The ERP system streamlines processes such as planning and scheduling, and manual tasks. For example, ERP software can automate the management of contracts, which includes all the records—requests for proposals, quotes, purchase information, etc.—required for the process. At completion, the system automatically sends data to the denoted areas, for example, sales, marketing, and manufacturing.
Centralization
ERP systems operates as a centralized communications tool, for all departments. Whether human resources or R&D, all departments can gain a global view of customer communication, business operations, manufacturing, etc. For instance, when a customer calls to ask a question or get technical assistance, a record can be created and made accessible to all departments, so they can review and analyze the transaction. This enables business-wide communication and data collection, instantaneously.
Smoother Day-to-Day Operations
With its ability to automate numerous processes, the ERP system can increase productivity, reduce labor, and save money. When your sales team confirms an order, for instance, the system can generate a transaction for finance, a work order for production, an update to inventory, and a notification to purchasing so they can replenish stock.
Improved Data, Reporting, and Analysis
How's your data looking? If you are storing data across multiple systems, information provided to you can be outdated and inaccurate. An ERP system houses the business' data in a centralized location, making it easier to capture data, run reports, identify trends, and measure success. Analysts can access comprehensive, real-time data from all departments, and decision makers can use that information accordingly.
In this era of big data, the latest ERP systems provide enhanced capabilities, including intelligence and analytics that work comprehensively among all departments. The system records your departments' real-time data flow, so you can build a strategy and make business decisions based on facts, not guesswork or opinion.
Improved Communications
Customers want the highest level of service, every time. By having real-time updated databases, all connected in one place, a user can rapidly access a customer's file, containing the latest information from all departments. As a result, customers can expect their queries to be solved much quicker. An ERP system can also improve supplier/business partner experience and working relationships; the system can even enable computer-to-computer exchange of digital documents.
With an ERP system's ability to capture data, you can analyze every aspect of a transaction: from supplier delivery, to customer behavior, to price, to timeliness of delivery. When a customer or partner communicates with a department, the enterprise software can ensure that the pertinent information is shared business-wide.
It may seem hard to justify the expense and the time involved in selecting and implementing an ERP system. But your company is evolving and needs to keep up technologically. The number of your transactions is increasing, and your processes are growing more complex; your departments are generating and collecting ever more data. Your business needs to be automated and centralized. An ERP solution at your company can turn today's challenges into tomorrow's successes. ERP enables you to define the standards of excellence and meet them, company-wide.
Deeana Radley
Business & Technology Writer at Technology Evaluation Centers
Areas of Expertise: Enterprise Resource Planning (ERP) | Customer Relationship Management (CRM) | Business Intelligence (BI)
Deeana Radley is a business and technology writer with over 5 years of industry insight. She has written extensively on technology trends, software solutions and market developments, and particularly enjoys rendering complex topics accessible to beginners.