The real estate market has evolved significantly over the past few decades. Even the traditional open house, a process that has historically involved buyers meeting in-person with real estate agents, has started to revolutionize. Ever heard of a 3D tour? Technology is now allowing buyers to receive a full excursion of a residential or commercial property through the use of emerging software, all without them having to change out of their pajamas! Of course, with everything involving large shifts in a process once thought to be timeless, there are advocates fervently against the rapid automation of the real estate industry, and others who can't wait for a complete technological resurfacing. No matter which side of the line you stand on, here are some trends that are currently disrupting the 2018 real estate market.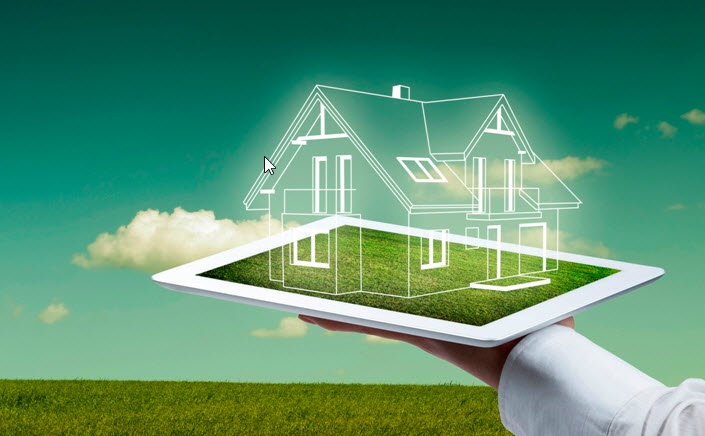 Blockchain Business Transactions
Blockchain is a form of digital ledger, in which transactions are made in bitcoin or other cryptocurrency. The blockchain operates through a series of computers, in which each computer keeps the same record of an event or transaction in a ledger available to the public. Each record is encrypted, making this system essentially hack-proof. Since all computers see the same thing, they offer consensus that the recorded event or transaction is valid.
MLS Property Data: Every real estate transaction goes through the multiple listing service (MLS), a collection of approximately 700 regional databases. However, the MLS has notoriously suffered from fragmentation through this format. This leads to decentralization and restrictions, making it difficult for people who are not real estate agents to gain access to the database unless they are selling their home 'For Sale by Owner' through a company that acts as a virtual real estate broker. Through the use of blockchain in business transactions, it may be possible to turn the MLS into a shared, nationwide database, doing away with the old format. This would allow for the real-time access of property information straight from the source.
Title Records: Title records are public records that list ownership, encumbrances, liens, and other real estate interests and their priority for every plot of land within the county. While they represent an important part of the real estate buying/selling process, issues of decentralization and clunkiness arise with them being only accessible offline through a local court house. How can blockchain revolutionize this process? Consider this: when someone buys a property, instead of them receiving  just the traditional paper deed, what if they received a digital token instead? Additional proof of ownership could be documentation displaying successful token transfer. Eventually tokens could become the standard, getting rid of paper deeds entirely.
Transactions: Trust can be an issue when enacting a real estate transaction. However, blockchain technology removes this dependence with there being no need for trust between two parties looking to conduct business. Each user is given a unique ID on the blockchain through encryption, allowing financial information to be exchanged securely. You can look to send funds to someone upon the closing of a property that won't actually release until the deal is fully completed.
Mixed Reality
Virtual and Augmented Reality are two buzzwords actually coming to life in the landscape of technology today. Remember Topshop's Kinect Fitting Room? While this phenomena has been recognized primarily in the entertainment industry, it would be a powerful force to be reckoned with in the real estate market.
What is virtual reality, even?
Virtual reality is the term used to describe a three-dimensional, computer-generated environment which can be explored and interacted with by a person. That person becomes part of this virtual world or is immersed within this environment, and whilst there, is able to manipulate objects or perform a series of actions.
How about augmented reality?
Augmented reality is a computer-generated image superimposed over the user's view of the real world, thus providing a composite view.
So how do these two concepts tie into real estate?
Augmented reality is already being used to help agents take flat 1D images of floor plans and bring them to 3-dimensional life just by running it through an AR app.
Imagine using this type of technology as a home seller. It's not hard to believe that homes with high-quality, professional photographs have higher perceived values, with statistics to back it up. And this is only for the standard 2D photo! Imagine the value of homes with 3D showcases. After all, why look at an image when you can immerse yourself in a world? Pretend like you're walking through the house, exploring each room? It's the way of the future.
More examples of AR & Virtual Reality in Real Estate
Commercial Real Estate AR App: Developed by Commercial Real Estate and Macquarie University's Virtual Reality Lab, users can use this app to scan commercial properties in their vicinity and immediately access listing information such as available office spaces, amenities, and more!
Realar Places: An Australian-developed augmented reality app that allows the user to "place, navigate, walk through and around your 3D models".
IKEA Place: Allows user to virtually decorate any room or area in their house using furniture from their online catalog. Users can place true-to-scale furniture in a space using this app.
Machine Learning in Real Estate
Real estate is far behind other industries in terms of AI and machine learning implementations. However, a few technologies are starting to break out in the market with applications in these industries.
Data Management: Brokers deal with impressively large datasets on a daily basis, an amount that only grows as the closing date approaches. Even though computers have alleviated the annoyances of having to deal with actual paperwork, a human professional still needs to go through all the data and derive some meaning out of it. AI can outperform a real estate professional in performing major tasks such as: market research, environmental research, and financial analysis—and in a fraction of the time! AI can also scrape through documentation, verifying that missing signatures, invalid characters, empty fields, unintended legal missteps, and more are brought to the user's attention.
Lead Generator: Lead management is a central activity across all industries, being a large generating source of revenue. After all, more business more money, right? An AI system can scan through data points drawn from historical sales records, as well as market trends, to predict the properties most likely to sell.
Automated Valuation: Valuation is the estimation of a property's worth, and accurate valuation is always a challenge in the real estate industry. Current appraisal techniques use previous sale price to try and value properties. However, current appraisal techniques fail to take into account factors like transportation and infrastructure improvements, changes in environments, neighborhoods, and other amenities. Due to Machine Learning's basis on strong pattern recognition abilities, software can be used to calculate a more accurate value for properties based off of a plethora of different factors.
Intelligent Chatbots: While traditional chatbots can be useful for delaying basic information, a wall is hit when the queries become more complex, asking for information that is not obvious or clearly found on the site. This is where ML intervenes, paving the way for technology that allows the chatbots to "learn" as a human representative would, therefore able to answer more complex queries. The main advantage of chatbots is that they are alert 24/7, able to interact with potential customers around the clock.
The real estate industry, while making important and significant technological strides, is still in the infancy stage of its growth. However, as technology begins to advance and branch into all sectors of real estate, expect the industry to never be the same again.