As the manufacturing landscape gets more and more competitive and unpredictable, automation has become the go-to solution. With automation, companies can easily produce more goods at lower cost and adapt faster to the changes in the market.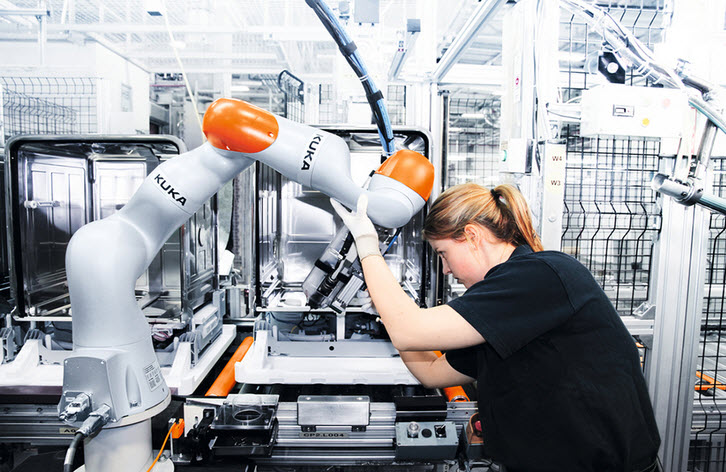 As technology advances and becomes more and more expensive, automation can be seen to be out of reach. Fortunately, cobots have come to level the playing field in the manufacturing industry. Collaborative robots or cobots as they are popularly known, can help any organization regardless of its financial might automate.
By using cobots, companies accrue some general benefits both to the entity and its people.
Benefits of using cobots accrued by the company
An increase in production
Often, manufacturing entities go for automation to help jump into the next level of doing business. Cobots can and have helped numerous manufacturing entities of varying sizes and products move into the next level by providing a means to increase production.
Cobots do not require any time to rest. As a result they can be engaged 24/7 for their services. For a company that chooses this path, it will definitely grow its production capacity and increase its produced end products.
It will also improve its production rate and produce more products per hour or day compared to before the cobot was acquired.
When production increases at considerably lower costs to the company, it is able to make higher profits and grow.
Improve the quality of its products
Cobots greatly improve the quality of products it is used to produce. Cobots are highly accurate and precise. When assigned to tasks such as assembling a laptop or mobile phone control unit, the cobot is able to handle the small components and assemble them on the board on the precise location they should be.
As a result, the company is able to reduce waste and create high quality products that are not likely to be defective after a short period of use.
Since the company provides directions and instructions to the robot, they are able to maintain control over the quality of the product.
Lower cost of production in the long run
Cobots are quite pricey especially for a small or mid-sized firm. Fortunately, with the ability to increase production, the pay back on cobots is in a very short time. As a result, companies are able to increase their production at considerably low costs. This is because they do not increase the number of their employees of factory space. No. All they have are a few cobots that have already paid themselves back producing at a higher rate than any number of employees they could get.
Benefits of using cobots accrued by employees
Better work environment
Cobots enhance the working environment of any organization that acquires them. Being robots, the dull and repetitive tasks that require little skills to carry out can be taken from the human employees and assigned to the cobot.
In return, the employee is now free to engage in other tasks around the factory that will; require them to enhance their skills and receive higher wages and recognition for their work.
Employees can get better work
As mentioned, once the repetitive tasks are assigned to robots, employees can now aspire to do better work. They can now acquire more skills through training to help them work at high levels of service and productivity. These employees could train to become cobot operators as the organization will need more of them as it acquires more and more cobots.
Safety in their workplaces
In addition to being assigned the boring and repetitive tasks, cobots can also handle most of the harmful and dangerous tasks. Tasks such as handling hazardous materials, exposure to harmful light while welding or exposure to harmful and toxic smell or day when painting surfaces. These are tasks that could be easily assigned to cobots to ensure that the working environment is safe for the employees.
Also, the cobots themselves are safe for the employees to work and interact with. Cobots are the only industrial robots that can work without railings around them. This is because they are manufactured and programmed to respond in a certain way when they sense human presence in their working area. They can either shut down, slow down or reduce the surface they need to work on to ensure it does not interfere with the human colleague next to it.