Monitoring the virtual storage area network's requirements on a frequent basis is required to maintain a high degree of performance and availability.
It's possible that the virtual SAN host system will experience communication issues with both the network and the expected forms of traffic. When there are issues with the network settings, this happens. You may determine if there is a network issue or if there are wrong settings by running different status reports. This is precisely what happens when you set up a virtual SAN infrastructure as a large-scale cluster of host servers. That is why it can cause communication disruption between hosts.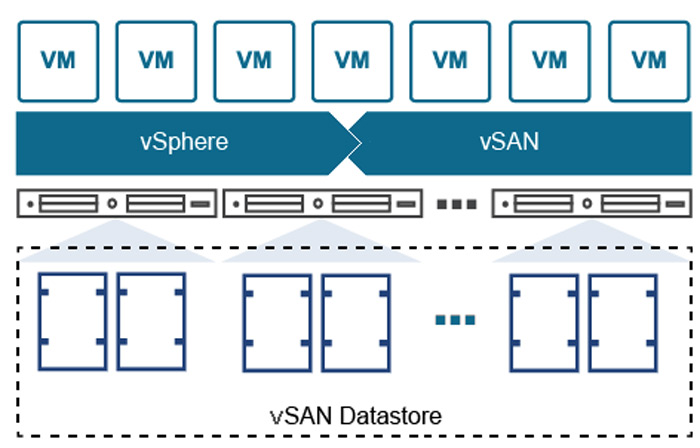 The use of multiple clusters helps achieve better throughput performance. This allows for the effective management of storage traffic across a large number of systems. The ability of the system to continue operating in the event that one or more of its components fail is improved by the existence of cluster nodes. Even if at least one of the working nodes fails, the system still runs.
A virtual SAN cluster can't work properly if two or more of its members are unable to interact with one another. You can see the emergence of the error that many professionals face in this respect.
We'll discuss the most typical connection crises that disturb operations as well as how to fix the error.
Common network issues 
Compatibility issues
One of the most common causes, which becomes the source of all problems, is incompatibility. To fix this issue, you should regularly run a compatibility check to monitor the smooth operation of the hardware as well as the software. To simplify the process, you can use internal diagnostic tools.
This will help achieve efficient virtual SAN performance. In addition, you should also monitor the operation of virtual machines, since a similar issue may affect their operation. You may utilize a variety of performance measures and alerts to find the issue. This will assist you in locating the problem and launching a repair effort before the performance of the virtual machines begins to deteriorate. The continual I/O of data, as well as how you employ memory, processor, and network capacity, are other potential causes of issues.
Driver issues
Each host must have an adapter and a driver to support a virtual SAN. You should first confirm that the driver is installed. Additionally, you can have some issues with the driver, so you should confirm that you are using the right version and that it is not defective. These factors might make it challenging for a node to connect with both the network and other nodes.
Hosts on different networks
The hosts must be connected to the same network. You must relocate one or more hosts on the network so that they may all share the same network or subnet. You might need to make some adjustments to your actual network connection before doing this.
Disabled multicast
Multicast is the protocol used by all hosts to communicate. Make sure that the network switch connecting all of the cluster nodes has multicast enabled. If this is the problem, then you must modify the physical switch's setup.
Disruption of communication by security products
Another common cause of problems is that some security products can disrupt communication between nodes. The virtual SAN platform uses specific ports to communicate between hosts. The cause of communication failure may be the firewall used. It can block communication on these ports, thus blocking communication between hosts. As a result, you must ensure that none of these filters are blocking traffic on the ports you utilize.
How to fix the error 
Installing VMware ESXi 6.0 Update 2 (or higher), in case of VMware vSAN, is the simplest approach. We'll advise you on what to do if you are unable or unwilling to install the update.
A host may have been put out of service, according to an error message you can see if you're using vSphere 6.0 Update 1b. System failures result from this host's inability to interact with other nodes.
Many people may attempt to restart the computer or detach from the cluster nodes before reconnecting, however doing so will not remove the warning. The Summary tab will continue to display this notice. Additionally, your host will provide a failure warning.
You might attempt a few of the following solutions to this issue:
Restarting the management agent
You must take the following actions:
Ensure that ESXi Shell or Secure Shell Internet Protocol is enabled on each host in the cluster;
You need to connect to a host in a virtual SAN cluster using Secure Shell or ESXi;
You may restart the management agent by typing "# /etc/init.d/vpxa restart";
Thereafter, you need to repeat this procedure for every host.
Avoid attempting to fast switch between hosts. Try to wait at least a minute before switching to another host so that the information has time to refresh.
There can be a momentary delay in the host's manageability when you restart the management agent. You can notice that a host is not responding, and operations may be failing right now. You will have to reset once more if this happens.
Removing hosts and adding them again
You must take the following actions:
Choose a host in the cluster that you may temporarily place in maintenance mode. Rely on the host that is least busy and loaded when making a decision;
Enter vSphere, right-click the chosen host there, and then choose "Enter maintenance mode." Either "Ensure Accessibility" or "Full Data Migration" should be chosen. If you are successful, select a full data migration for all further hosts;
Take the chosen host out of the cluster. Drag it over to the data-center object in the inventory, then drop it there. Wait a few minutes before taking the following step after that;
Return the host to the cluster;
Then right-click it to go out of maintenance mode.
Conclusion
Such solutions may not help get rid of this problem for good. Error messages may reappear and you will need to redo all these steps. Often, this error occurs due to network failures, reboots, or during maintenance. You may need to contact support if errors persist.