We've reached a point in our development where everyone can enjoy a movie theater experience from the comfort of their living room. As technology continues to advance, and cheaper to produce, more people will be able to afford the big-screen TVs and surround sound speakers that replicate the same experience they have in the theater.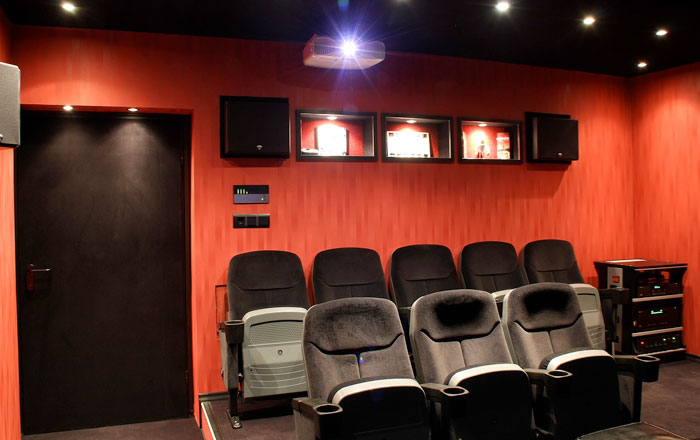 If you've always dreamed of having your own in-home theater, use the following guide to help make your dream a reality.
What You'll Need
There's no set rule regarding the equipment you'll need to build a home theater. It really depends on your budget and the level of quality you're looking for. In general, you will need the following pieces:
Big-screen TV
Surround sound system
Blu-Ray/4K player
Streaming device
Internet connection
You can add more pieces if you want to enhance your experience, but this is enough to get you started. If you decide to use multiple components, we also recommend getting a home theater power conditioner to smooth out voltage fluctuations and keep your gadgets safe.
Choosing Your Pieces
There's a host of different TVs, sound systems, and other devices you can choose from. Again, your budget and preferences will play a big role in making your decision. The following is just some pointers to help get you started.
Big Screen TVs
What classifies a TV as a "big-screen" is pretty loose. However, it's typically classified as any TV with a screen between 50 and 80" long. Big-screen TVs come in a wide array of different presentation formats, including LCD, LED, OLED, and the newest edition, Ultra HD. OLED and Ultra HD TVs provide the best picture quality, but as you might expect, they cost more. You also need to know the type and number of input jacks you have, such as USB, HDMI, etc.
Surround-Sound Systems
These are speaker systems that generate audio all over your room. It creates the impression that what's happening on the screen is actually happening in your room. This is achieved by placing speakers throughout the room. What you need to pay the most attention to is the audio formatting type and the number of channels available. Dolby Digital is consistently rated as the highest quality audio formatting you can get for surround-sound.
Blu-Ray/4K Player
You'll need a disc player to play your standard and 4K Blu-ray movies. Many models try to be an all-in-one package that offers streaming, internet browsing, and movie-watching all in one. This jacks up the price beyond what's necessary. You can get a player that gives you great performance, without all the added features, for as little as $350.
Streaming Devices
You'll need an internet connection for your streaming device to do anything. Streaming compresses video and audio files and downloads them to your device in real time. This saves you storage space on your devices. By far, the best streaming device you can get is the Amazon Fire TV Stick. It has the best image quality, audio quality, and user interface of any streaming device I've ever seen.
Designing Your Layout
Depending on your room's dimensions, you should have your couch or chairs anywhere from five to eight feet away from the TV. If you're planning on wall-mounting your TV, you'll need to adjust the angle so that your picture doesn't become grey or blurry.
The way you layout your speakers is pretty variable, but a typical setup is like this:
Two speakers at 45-degree angles in front of you
Two speakers at 45-degree angles behind you
One speaker directly in front of you, either above or below the TV
This will maximize the degree of sound you enjoy, and help create the impression of layered audio.
Connecting Your Devices
While traditional devices relied on wires to transmit signals, modern devices incorporate Wi-Fi signals to transmit audio and video data. If you want to avoid all the wires, get wireless functionality in all of your devices. You can then network them together via your TV's input menu.
If your devices don't have wireless, then you'll need to identify what type of plugin your devices use and plug them in the appropriate slot on your TV. This is why you need to know the types of plugins your TV has.
Once everything is connected, turn everything on and test the system. You can adjust the various picture and audio settings on your devices until you find the look and sound you want.