Since the early 1990s, the transition from a data-driven landscape to a knowledge-based economy has transformed the way businesses gather and use data to connect with their stakeholders, clients and end customers. The emergence of Knowledge Management (KM) has spurred economies to recognize and tap the power of intellectual capital, whether found in a corporation or a nation. Today an effective Knowledge Management System is the backbone of an organization, driving innovation, improvement and sustainability.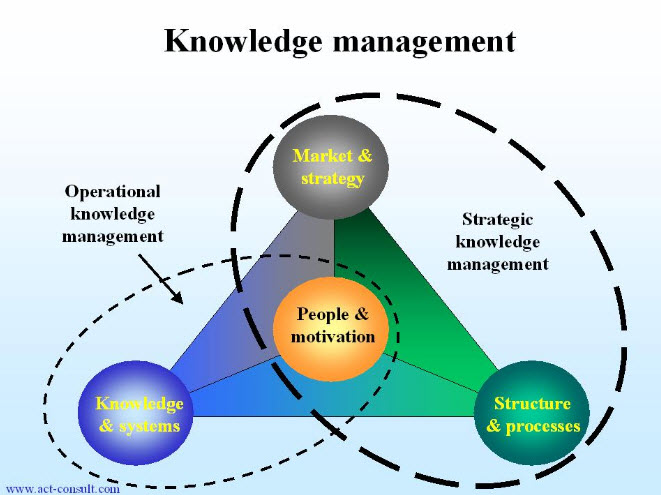 The construction and sustenance of a KMS requires a thorough understanding of the scope, design, implementation and sustenance of each element of this system.
 The Building Blocks
A KMS requires the complete and holistic integration of an organization's people, processes and technology. An important aspect of setting up a KMS is to understand that Knowledge Management extends beyond the creation and deployment of a software or platform. The building blocks of a KMS include:
People and Culture — The exchange of explicit and tacit knowledge depends on the willingness of an organization's employees to share this knowledge. The establishment of a knowledge-sharing culture is often the first and ongoing element of a good KMS. The active involvement and cooperation of every group in an organization's structure is vital to creating communities of practice and encourage existing knowledge-sharing practices.
Process and Life Cycle — As an organization identifies the people who will establish and use the KMS, it is equally important to set up clear, unambiguous processes that define the selection, organization, dissemination, transfer and application of knowledge. These processes form the backbone of a good KMS and enable planning, problem-solving, decision-making, exponential learning as well as  strategic and tactical implementation of several other systems such as the Quality Management System.
Knowledge Infrastructure and Technology — The third building block in the establishment of a KMS is to define and create the infrastructure and technology that enables people to share knowledge, capture it and create knowledge repositories. These repositories make it easy to share data, processes and best practices across the organization. Well-developed KM software aids the propagation of a 'knowledge culture' and provides the support required to implement the KMS process.
Types of KMS
There are several types of Knowledge Management Systems that support various stages and elements of an organization's life cycle. While many organizations place all these types under a single umbrella of a 'Master' KMS, there are a few recognized systems for specialized roles in the KM life cycle.
Groupware — These systems encourage and enable employees to collaborate on a variety of tasks including communication, idea generation, brainstorming and critical reviews of organization-wide initiatives.
Expert Systems — These are information systems that provide high-level problem-solving capabilities specific to a domain.
Decision Support — These systems are used to provide decision-makers with the information required to make decisions that are aligned with the organization's mission and vision.
Document and Database Management — Often called the workhorses of KM systems, document management and database management allow people to control, share and retrieve relevant documents and data when required.
Simulation — These systems are specialized to certain industries to simulate outcomes and effects that may be too dangerous or too expensive to test directly.
From Knowledge to Results
For most organizations, building a KMS represents millions of dollars in time and effort. In order for the Knowledge Management System to be successful it must deliver sustainable medium-term and long-term returns.
Petroleum giant BP Amoco has saved nearly $700 million in three years of reusing knowledge assets and best practices.
Oilfield major Schlumberger Limited has saved nearly $500 million over a period of six years.
Energy giant ConocoPhillips has saved hundreds of millions of dollars as a result of knowledge management.
The failure to share knowledge is no longer an expense an organization can afford. International Data Corp. reports that Fortune 500 companies lose in excess of $31 billion a year as a result of not sharing knowledge. This alone should place Knowledge Management and the need for Knowledge Management Systems at the forefront of an organization's goals.