Mosquitoes are, no matter how you want to ignore them, one of the biggest problems for people living in India. In fact, even foreign tourists are haunted by these small beings, which are not only annoying but also cause a number of health issues. Due to the general geographical characteristics of India, we cannot remove mosquitoes in a day or so. More so, mosquitoes today have evolved greatly and are almost immune to the existing mosquito repellents. That having said, it is not good for health if you keep the ignorant attitude, especially in the light of diseases like Chikungunya, Dengue and Viral Fever etc. This is why we should turn our attention to the new range of mosquito repellents ie the DND Mosquito Repellent Kit, which comes from the innovative FMCG company Global Consumer Products Pvt. Ltd.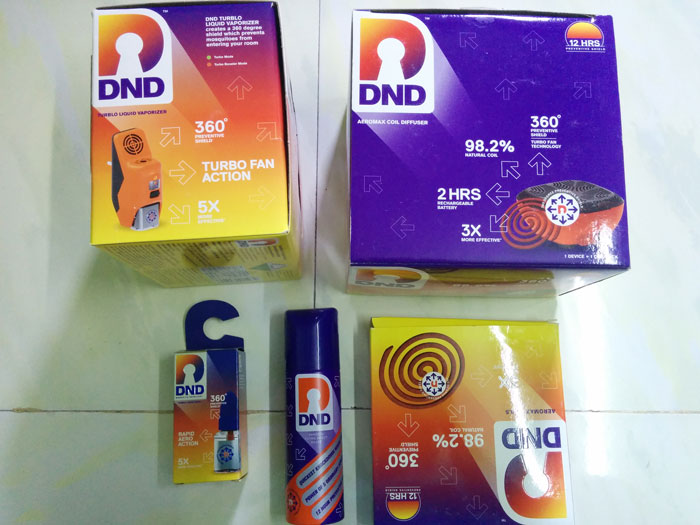 In this article, we will have a brief review of the DND – Do Not Disturb Mosquito Repellent solutions. We have used all those products included in the range, and we were so impressed. Before we move onto the notable aspects, we will have an introduction to the product and manufacturer.
What are DND Mosquito Repellent Products?
Basically, DND Mosquito Repellents are a comprehensive solution for preventing mosquito attacks in all the parts of your house. In that way, you don't have to worry about the consequences of mosquito bites or any other mosquito-borne diseases. The range consists of three different products, which are as follows.
DND Turblo Liquid Vaporizer and Turblo Liquid Refill
DND Aeromax Coil Diffuser and Aeromax Coils
DND Nanosol Flying Insect Killer
These three products work hand in hand to prevent mosquitoes from entering your home, room or whatever place. Because it's taking the prevention method instead of protection, you are definitely assured of better health especially where mosquito bites and mosquito causing illnesses are concerned.
As we said earlier, DND Mosquito Repellent range is from Global Consumer Products Pvt. Ltd. It's a new, innovative firm that is led by Mr. Mahendran. A serial entrepreneur a veteran in the consumer goods sector, he is known for creating & nurturing big brands. He has superb experience in household insecticide category and in fact has been the pioneer in the category. This package from the aforementioned firm is an innovative one, for many reasons.
What DND Mosquito Repellent Kit Does?
Of course, you would want to know the working procedure of the devices in DND Mosquito Repellent range. In this section we will have an overview of all the three products and how they can be beneficial for you.
DND Turbo Liquid Vaporizer
This is perhaps the most innovative product in the repellent range, providing the option of extended reach as well as long-term prevention. It's a device that you can plug into the socket, after inserting the liquid refill. Once connected, the vapour spreads in the air. What's so unique about the product is Turbo Fan, which pushes the vapour 360 degrees in the room hence making it 5 times more effective than other liquid vapourizers. The fan is the hero of this product as it helps in the quick and effective dispersion of the vapour and promises you prevention against mosquitoes by creating a preventive shield giving you better coverage!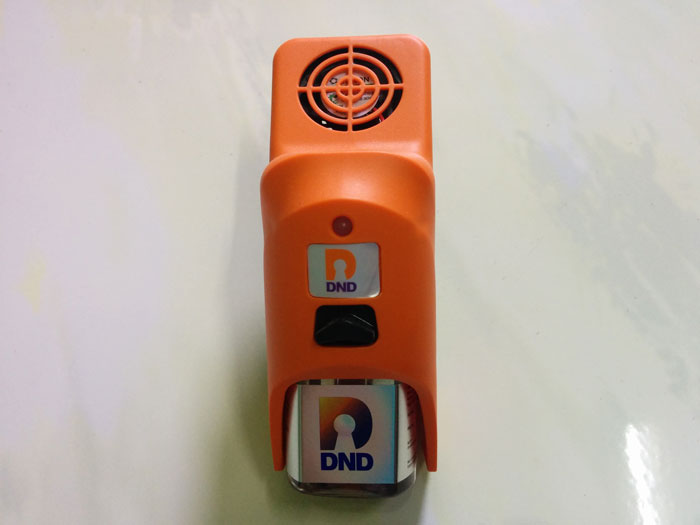 DND Aeromax Coil Diffuser and Coils
This Coil Diffuser also comes with an in-built Turbo Fan, for spreading the impact of the Aeromax Coils to every corner of your room, hall or any area that you are sitting in. You will have to place the coil in the diffuser after lighting it. Once you have closed the lid, and switched it on the Turbo Fan will start working and the prevention shield will be quickly created around the room. Also the Turbo Fan disperses the smoke from the coil in all directions and hence you end up with less smoke and an amazing effect. The lid also makes it safe to use as there is no fear of getting burnt by touching a naked coil as in the past. This device can be used with or without battery, as per your requirements, which helps you maintain the portability of coils.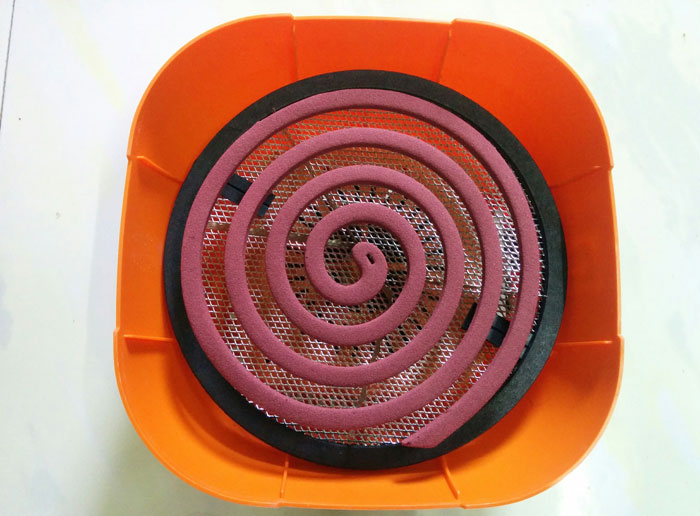 DND Nanosol Flying Insect Killer (the image should be about the Nanosol)
Last but not least, DND Nanosol Flying Insect Killer is an effective and innovative way to prevent mosquitoes from coming into your room. Just 4 small squirts of the spray in four corners of your room and the preventive shield will be created in no time. This is quite effective for busy people. This is unlike any other spray as it works for 12 hours and you can use it for prevention from mosquitoes from dusk to dawn. Not only that, its compact size carries the power of 5 spray cans inside it!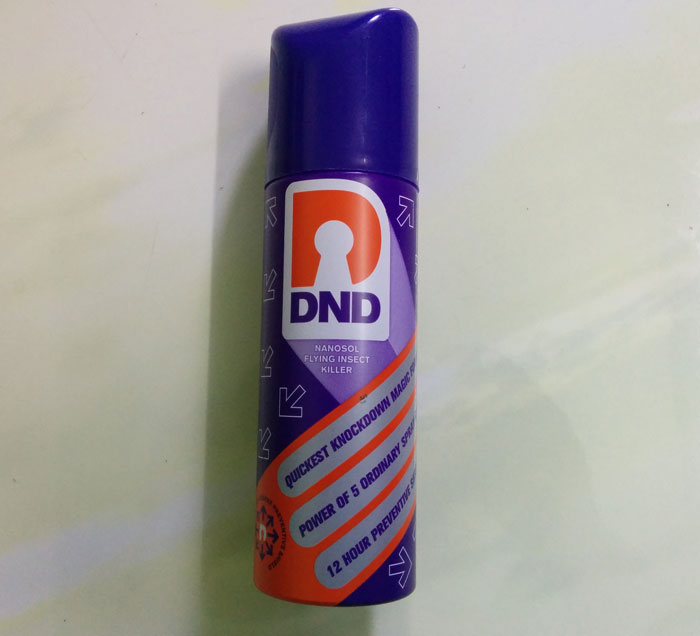 Using these Products
We must say, it feels awesome to try the DND Mosquito Repellent range at your home or office. In light of our experience, we were pretty impressed by the user-friendliness. For instance, you have to insert the Liquid, plug it into socket and switch on the button to use the DND Turbo Liquid Vaporizer. This can be done in no time and there are no notable issues either.
Another thing about the Repellents is the extended duration. We were amazed to find that no mosquitoes in the room even after 12 hours of using the Nanosol Flying Insect Killer. This is an awesome thing when you don't have time to turn on or turn off the product, once in a while.
Summing Up
Considering all these points, the DND Mosquito Repellent range from Global Consumer Products Pvt. Ltd is for sure an awesome range to have in almost all Indian homes It does not matter whether you are living in a city or a rural area – you will, at least one day, find the presence of mosquitoes and their annoying bites. So, it's better to stay preventive than spending a lot of money after getting mosquito-borne diseases. We'd really say that Global Consumer Products Pvt. Ltd has done a great job in introducing such innovative product into the Indian market, that too at affordable price ranges. Times have changed and so should we.