Just because you are here, we recognize the blogger or internet marketer inside you who likes to show the power of quality of your website/blog utilizing a higher Alexa rank. These metric by an Amazon-owned company, Alexa, has become a matter of discussion among bloggers and internet marketers in a relatively small time-period. As advertisers consider this metric while selecting websites/blogs for their campaigns, it would be great if you could make some efforts to improve the Alexa rank of your website or blog, mainly blogs, as blogs depend upon ads when it comes to aspects of revenue. However, in both cases, you can follow some effective means to increase the Alexa Rank of your blog or website. In this article, we will drop some light on improving the Alexa rank of a blog or website.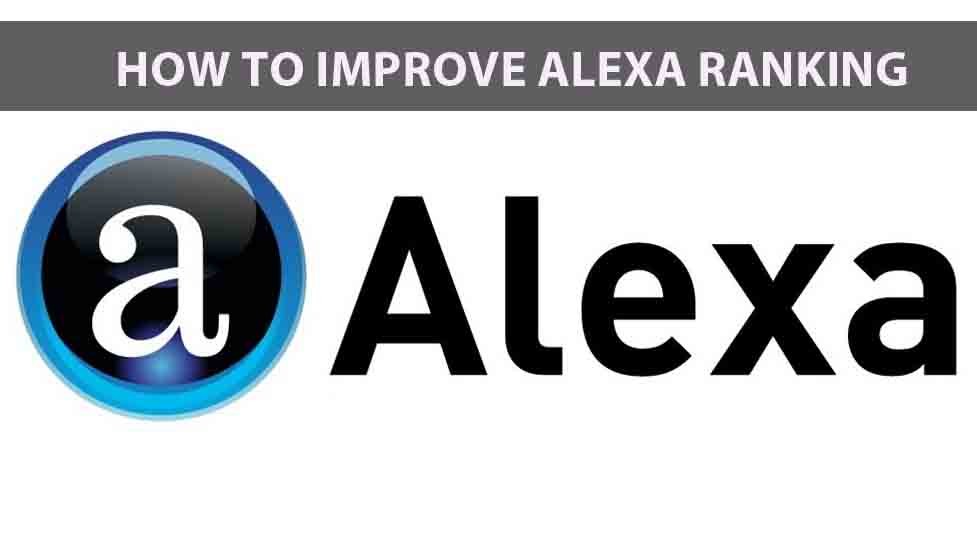 As a metric to determine the quality of the World Wide Web, Alexa considers your website traffic first while determining its rank. Therefore, you should increase traffic to your blog if you want it to have a good Alexa rank. For doing this, you can choose different methods; for instance, based on SEO and otherwise. Among those tips, everyone can follow, and everyone SHOULD follow consistent blogging.
By using 'consistent blogging,' we mean you have to enrich your blog or website with regular content, which will be resourceful for the reader community… In addition, you can use some means such as guest blogging, directory listing, social media sharing (well, that will happen naturally if your blog posts are interesting), etc.
Frequency and Quality of Blog Posts
It is no complicated job to publish content on the web. But, it is indeed a tough job to post valuable, resourceful content. The latter is what companies like Alexa do prefer the former while ranking websites. So, when you write for your blog/site, you should ensure the quality of that post. , you have to say GOODBYE to plagiarism, grammatical and spelling errors, etc. Plus, it would help if you taught yourself the most helpful information for almost every reader. If you do this part well, you can see an increase in Alexa. At the same time, it is good to have an excellent frequency of posts on site. It would be great if you can do a post a day!
Install Alexa Toolbar on your browser
When we compare it with another metric for the quality of the web, we have to say that Alexa's method for ranking blogs and websites is quite different and complex in certain aspects. The ranking of Alexa is based on statistics that it does get from users who have installed Alexa toolbar in their web browsers. We browse our website daily, so the best way to get our visits to count for Alexa is to install the Alexa toolbar on your browser.
Encourage users to install Alexa Toolbar.
Since Alexa counts users based on who installed their toolbar and accessing your website, there is a problem because not all who read your blog will have installed the Alexa toolbar on their PC. It is always best practice to encourage the readers to install the Alexa Toolbar. No doubt that will increase the chances to get your site access with more and more Alexa toolbar established users.
Try to attract bloggers and web admins to your blog.
The logic behind this scene is web admins and bloggers Alexa toolbar installed already on their computer. This makes the stuff simple. This can be achieved by writing more and more articles about blogging and technology stuff on your blog. Of course, this is not possible in the case of other niche bloggers like health, finance, etc.
Use Alexa Widget on your blog.
Bloggers do claim that putting Alexa Widget on your blog (all pages) will help to improve the Alexa rank. No harm in putting on your blog. It also shows the number of links to your website from the Alexa backlink database.
Claim your website in Alexa
By claiming your website in Alexa, you can write your own website title, a description that is visible to the rest world.
Optimize your website for search engines
While writing the articles for your blog, keep basic on-page SEO tactics in mind. If you have followed standard on-page SEO Tips while writing a post, read more about it from MOZ.
Share your content on social networking sites.
Sharing is caring. Regularly sharing your posts on social networking sites like Facebook, Twitter, Google Plus can help you to make a reader base. They will re-share your content and attract more visitors. This will also help you to increase ranking in the search engines.
Comments on other blogs to build readers and backlinks
Commenting on other blogs will help your own blog by two means. One is it will attract some readers to your blog, which is a plus point for Alexa, and build backlinks too.
Buy Alexa Pro package subscription.
Buying an Alexa pro subscription is nice if you have a budget. It costs $9.99 per month and comes with many features such as site review, uptime monitor, enhanced site listening, and many more. You can check the rest features here: http://www.alexa.com/pro/basic. An interesting part of the Pro package is that they give a tracking code (like Google Analytics ) which can count your exact visitors and shows very actuate data on the public Alexa page of your site.
Promote the Site – As much as you can
We find nothing wrong with calling social media 'the king of the Internet.' We all know that number of people who utilize the web for engaging in social media is quite higher than the rest. So, after following all those methods mentioned earlier, you've to try your best to promote the site/blog on social media platforms, especially Facebook, Twitter, and many other sites.
Bl@ckhat methods: Not Recommended
Now you know bringing actual traffic to your site is one way to improve Alexa rank. This can be manipulated with traffic exchange sites. I am not motivated to list them here. But if you try to Google it, I am sure you will get a list of them.
Fake Alexa boosting programs
These services are works similar to traffic exchange sites. But in this, they make sure that all the exchangers are having Alexa toolbar installed on their browsers.
Conclusion
It is not a matter of dispute that Alexa Rank is quite important as far as the popularity of the site is your priority. We do hope that following these methods will help you make your blog have a good Alexa rank in less time. Did we miss any kind of useful ways to improve Alexa rank? If so, let us know through your comments.