Hi all students especially those who get excited just after reading news about Aakash Tablet. Today I am going to discuss some of the important fact about DataWind's Aakash Tablet. Few days ago Indian TV channels showing news about Indian government is going to launch new tablet especially for students. The most important cause of attraction of this product is cost. The rumors coming about its cost are too much and because of this most of the Indian students got exited to buy Aakash Tablet. We will discuss some drawbacks of aakash tablet.
What is exactly mean by Aakash Tablet ?(Limitations of Aakash Tab )
Instead of pointing you towards any other site or just copy pasting its specification i m giving you a Wikipedia and read about Aakash.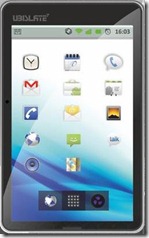 Hundreds of Indian and non-Indian websites already described the Tablet. But no one tries to summaries the fact about the Aakash. My intension is not to divert you from buying the Tab but you must consider following points before going to buy it. It is just same as what we all do before going to buy any new mobile phone from the market.
The facts to be consider while buying aakash Tablet:
these are the limitations of Aakash Tablet.
1)Very slow processor"
  The processor of this tab is 366 MHz which is too low as compared to many mobile phones. Today we working with Intel core i7 and still feeling very slow then what about it?
2)Screen size and response : The screen size is very small to read eBooks for students. Also screen is slightly less responsive so it may cause problem for some.
Size – 190.5×118.5×15.7mm
Screen size – 7"
3)Internet connectivity:
     The internet connectivity is in two ways
i) Over Wi-Fi

ii) Over GPRS- (General packet radio service)-[This is not for students 🙁 ]
  This is also recommended simple 3.6mbps 3G modem to use 3G services offered by many Indian operators.
4)battery backup:
    The battery provided with the tab is about 2100mAh it almost twice the any standard mobile device. But as far as Wi-Fi is considered it is too less. We need to plug in the charging cord while heavily using internet.
5)lack of windows environment:
     This Tab is Android 2.2 enabled so it is not possible to install windows based softwares on it (.exe) files and games. 🙁
6)Heating:
     It heats very fast because no special cooling arrangement as that of laptops .  see this
7)Android Marketplace is missing:
  This is one of the major drawback of aakash tablet.  The fact is that the Android is nothing without android market. This tablet has only getjar installer so we can install apps from getjar.com not from android market.
8)Less RAM:
This device has 256 MB RAM this is of course not enough for running some memory eating applications.
9) Only one web browser–DataWind Accelerated Browser:
   This Tab has inbuilt DataWind Accelerated Browser for internet browsing.
10)Student version missing important functions :
This is one more important thing which is to be consider. The student version of aakash tab don't have GPRS connectivity so we cannot use internet over GPRS on it. Only Wi-Fi internet is possible in student version. Internet is primarily need of any student to gain knowledge.
Hoping these all fact will overcome in next version of aakash Tablet and giving best wishes to Aakash  team.