The most important thing about running a business is attracting the right customers, some may say. Still, the real challenge comes when you have to retain your customers and keep them coming back. Of course, you'll be providing quality products and the best after-sale services. In most cases, however, that isn't enough.
As a business owner, you've to provide some incentives for the customers if you want them coming back on a regular basis. It's a two-way street of profit, you know! The best solution you can get for small and medium businesses is setting up a Customer Loyalty Club. And, flok App is the simplest and most effective digital way to do that.
In this article, we have a brief review of flok and how it can help your business. It is to be noted that both a customer and a business owner can use flok for their own benefits. Here, however, our review is from the business owner's perspective. So, we shall start with an introduction to flok.
What is flok?
For small-and-medium business owners, flok is the easiest way to create customer loyalty clubs and to keep their customers coming back. The difference here is that the complete club is digital. Customers can get the flok app on their device, join your loyalty club and start getting rewards. In short, flok rescues you from the technical problems of setting up a traditional loyalty club that has to deal with cards and membership forms. From creation to day-to-day management, everything can be done via an internet-connected device.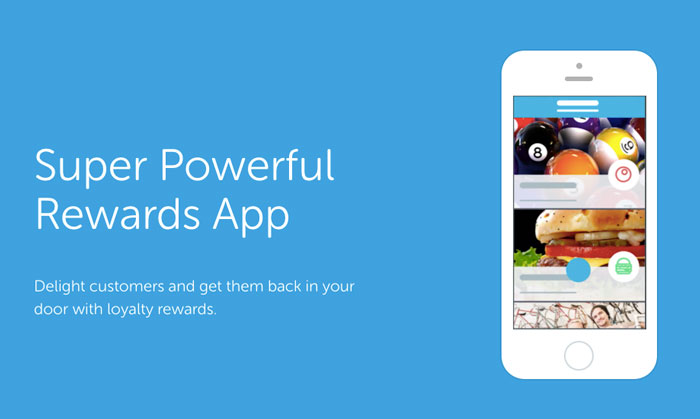 As far as pricing goes, flok is a premium service. That having said, you can use the free trial for a week and see how it impacts your business. There are three predefined plans, priced at $16.58, $66.58 and $99.91 per month respectively. If you need more resources, there is an Enterprise-level plan too. If you go with higher plans, you get options like dedicated support and better analytics.
So, this is the core idea of flok. It comes with a bunch of features that you can use for attracting customers. Meanwhile, customers can download and install flok on their iOS or Android devices. The user will have an option to join multiple customer loyalty clubs from multiple businesses.
Setting Up a flok-based Customer Loyalty Club
It takes not more than a few minutes to set up a customer loyalty club via flok. You can do that using its web interface or flok Business app for Android and iOS. After downloading and installing the app, you've to input details about your business and choose the right pricing plan. Pricing varies according to the number of club members, push messages and a few additional features.
Right after registration, you need to create a punch card. It's a system where customers can receive a certain number of punches and get a reward for it. In the App Creation section, you can choose the theme and logo of your business. There are also a few other features like Scott, the AI-powered assistant. We will cover them later. For now, with those steps, you would have created your flok app successfully.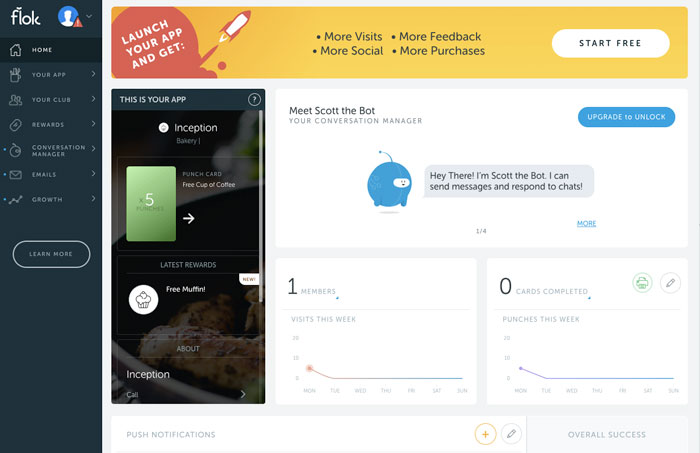 Now, you just have to share the app with your customers. There are a bunch of ways to get discovered. flok itself helps you do that. Suppose you are a customer who has installed flok app on their devices. He/she can search for the shops around that offer rewards. It's an easy way to get discovered. Altogether, the seemingly long process of setting up flok won't take more than a few minutes at most.
Customization & Management
In-depth customization is a noticeable factor in flok. It doesn't matter if you have a single digital punch card or many. Almost every aspect of the card can be customized according to your need. For starters, there are a few pre-defined punch card templates. But, obviously, you have an option to customize the card and have more customers ahead. There are also options to customize the reward system and appearance.
Managing the flok app is an easy task, thanks to the intuitive interface. As we said earlier, you can manage your app and loyalty club from the official flok app or web-based interface. In both, you have access to many options like Conversion Management, Email Management and Growth hacking. You can also check out the various analytics to get an idea. In short, optimal results are assured.
Innovative Features to Reach Out to Your Customers
As we mentioned, there are a bunch of innovative features you can use for making customers come back to your business. Some of them are:
Push Notifications: These notifications are the best way to reach out to your customers. You can send manual messages to individual club members or automate the whole system. For instance, you can send messages if a particular club member hasn't been visiting for a while. Rather than sending some generic messages, you can also offer rewards for the inactive customers.
Digital Punch Card App: A unique pick from flok, digital punch cards are easy to manage. According to your budget and requirement, you can create different punch-reward combinations. All punches are registered and tracked properly. When compared to the traditional management techniques you have seen, this digital counterpart is more effective.

Proximity Messages: Sometimes, you have to focus on customers who are nearby the business. flok offers two options to do that. First, you can send out messages to customers who are staying nearby your place, depending on the location. Second, you can send out messages when customers enter a building of yours. For the second option, you need the help of a Beacon device.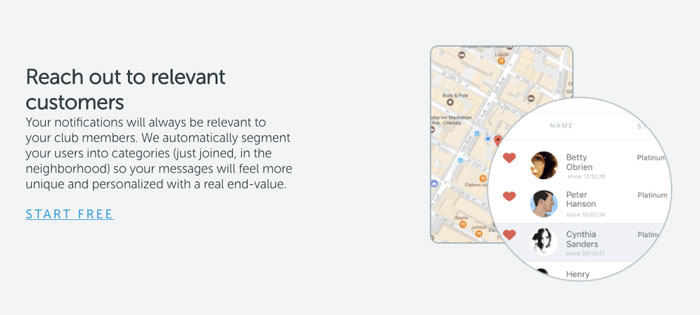 Social Media & Email Integration: You can easily integrate your flok app with social media accounts as well as email marketing clients. At the end of the day, it's easy to maintain flawless communication with your existing consumers. With the help of timely notifications and messages, you can attract a lot more potential customers too.
Chat and Auto-Chat: Every loyalty club member is your friend too, and flok has plenty of options for keeping in touch. You can do personal chats with customers and get feedback from them. Or, there is an AI-powered assistant named Scott the Bot. He can take care of automated messages and make sure that your customers are always given the right information, at the right time.
All these features are accessible via the intuitive User Interface of the flok app. You need not to worry about previous experience while getting started with flok. For the price you pay, it's something superb.
The Bottom Line
Considering all these points, flok is perhaps the most useful for small businesses out there. The best part is that it works with almost all kinds of businesses, be it a Bakery or a General Store. Rather than attracting a lot more customers, flok lets you create a seamless nexus between your loyal customers. If we take into the account its features, the pricing is pretty reasonable too. At the end, we'd recommend flok to almost every small business owner out there.