Coloring the map of Eurasia has never been so fun! Although imperialism is the invariable plot of all Paradox games, be it the setting of Antiquity or World War II, it is only in Crusader Kings that the infectiousness of the global strategy genre meets the drama of an RPG. The fate of a person against the backdrop of a political storm, isn't it a pure epic worthy of Shakespeare and Vivaldi?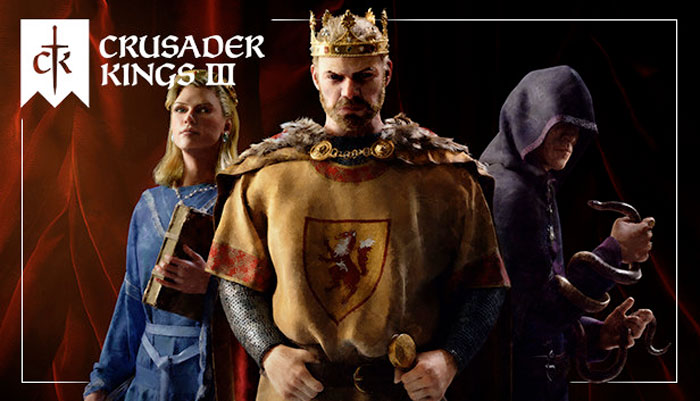 Everything here is like our life. Even if in real life you spend money, not on a palisade and a fair, you are not learning intrigues and alchemy from a guardian, and you do not expect to advance in the service until the duke or prince, the essence is the same – in the daring attempts of a person to decompose his everyday life into numbers and organize in a scheme. And then fate comes, sweeps away these schemes, and talks to you about something else: about children, health and happiness of loved ones.
The Gameplay
Hence such a clever idea of Crusader Kings 3 as an RPG, where instead of the protagonist there is a whole dynasty. Even though most of the time you will fight with your neighbors, develop possessions, pass laws and acquire the best advisers – all the same, children are certainly your future, and you are their future. Time is ticking, like in all Paradox strategies, you just have to let go of the pause, the game years pass slowly, but one day your hero, overshadowed by power, who has everything seized, will receive a wound in battle or leprosy, or a knife in the back – that's all, end of ambition, interrupted flight. And then the closest heir picks up the banner – and life goes on.
Therefore, every minute of this game, you think not only whether the unreasonable Khazars will declare war on you, and how to pretend to be a prophet and reform the religion. Descendants are needed. They need to be trained. These harmful toddlers strive to catch a sore, grow up lazy, melancholic, or worse. It won't take long to fall into eugenics, but as luck would have it, all brilliant and charming spouses are rootless, and a profitable party for the sake of a military alliance will turn out to be a clubfoot psycho in bed for a son or daughter. And then you can't run away from genes.
Finally, in order not to spin in the coffin, the heir must be left with the title. Today you have three counties – tomorrow their sons will divide them among themselves, the day after tomorrow – they will kill each other in civil strife. A duke is a suzerain for his counts, a king for dukes, an emperor for kings, but you should not hope that Kyiv you've captured will pass to your successor along with the title of King of Russia. No, they will say that we are independent – and we will have to plunge into a web of family ties and vassal oaths. Either – to create an empire, maybe – Russian, maybe – Slavic, or maybe your invention – depending on what heights your hero has achieved in this life.
In-game events
There are many random events, they are often angry and hit in the heart. The theme of medieval atrocities is not at all hidden in this game. Tortures to instill terror in vassals, intrigues to seduce, kill or forge rights, not to mention ritual cannibalism – Crusader Kings 3 does not preach the principle of "all means are good", but the choice leaves the widest.
In general, many factors will help you to progress in the game – this is what about Crusader Kings 3. The screen is bursting with windows with numbers, emblems, and links, pointing at which, we open new windows. To some, this may seem like a hell of a mess, but those familiar with Paradox games will notice some cool interface upgrades, so everything is learned by comparison. Any "why" must be immediately prompted, without the need to switch to a separate reference book.
Future Development of the Game
Knowing Paradox, there are probably a couple of dozen DLCs in the plans, but there are fears that they will affect the development of individual leaders, which will lead to bad in-game mechanics.
Paradox strategies are more or less successful, and Crusader Kings 3 is one of the first. This is a game that you have to figure out once, and then you are provided with hundreds of hours of unforgettable experiences.