Counter-Strike: Global Offensive has everything a shooter can dream of, strategy, action, excitement, crazy maps, and the best weapon skins. When you start to play, you suddenly realize how streamers and advanced-level players love to rub their most fabulous knives in your face.
Even when CS:GO is a Free-to-Play (F2P), inside the game's economy exists a monetization model that doesn't impact the game for real but allows you to customize your weapons. You may not gain pro skills, but you will look like one.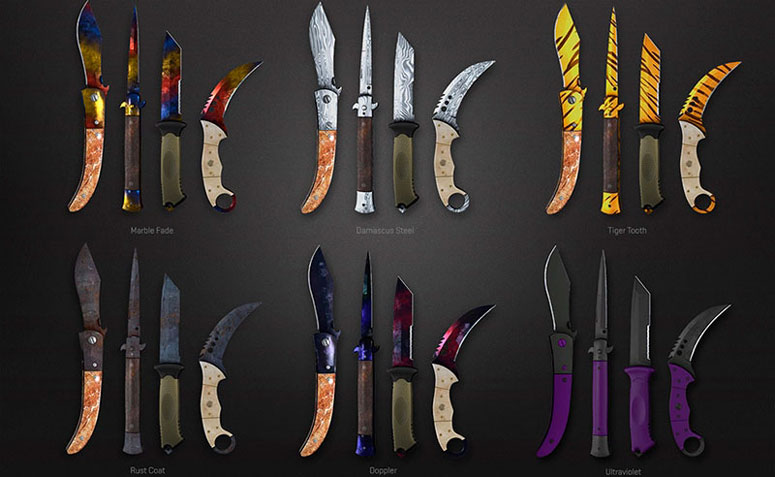 Not all skins are worth the same, and many are hard to get, which increases their value outside the game. For example, an AK 47 skin can vary from $1 to more than $10,000.
If you don't believe us, a player called "Kirito" made a $780.000 deal when purchasing an Ak-47 Case Hardened and the sniper rifle AWP Dragon Lore.
Skins are not only for guns and machine guns. The most exquisite ones come from knives, which we are going to show you today. The best 10 Knife Skins in CS:GO.
10) Navaja Slaughter
Our first pick is the Navaja Knife with the Slaughter skin. This skin gives the knife a crimson pink pattern that looks just absolutely delightful. The price of this Navaja Knife skin is not high compared to other knives, but it looks fantastic.

If you want a cheap and good-looking skin knife, the Navaja Slaughter could be a great option. You can find it at a price between $114.97 – and $136.77.
9) Huntsman Doppler Phase 2
One of the older Knives in the game is the Huntsman Knife, which is a model of the genuine Huntsman Knife, with all his rustic appearance. Apart from having a very clean spinning animation – an essential thing for players- its Doppler Phase 2 skin is a purple-red beauty.

8) Gut Knife
The Gut Knife is considered by the players the ugliest cousin, a weird-looking blade with a bulky handgrip. You may wonder how an ugly weapon reaches our number eight? Because the Gut gains popularity when the Lore skins go out.

The gold pattern looks decent and reminds us of a fantasy initiation ritual knife.
7) Skeleton hardened
We jump high in the ranking when it comes to beauty, with the Skeleton hardened skin; a knife made for ninjas with an interesting grab, and an iridescent blade valued between $600 and $1000. A price that may be seen as crazy, but the knife is lethal and gorgeous.

6) Flip Knife Gamma Doppler Phase 4
The Flip Knife is a gem, but combined with the Gamma Doppler Phase 4 skin is just unbelievable. His phase 4, pre emerald, is the perfect combination of blue and green blade shining reflect. The knife is around $350 to $700, a fair price.

5) Falchion Doppler Sapphire
We are getting close to the end and our 5th Knife skin on our top is worth every penny, the Falchion Doppler Sapphire Knife. A blueish relucent weapon that may let you blind. The most fantastic aspect of this skin is that it's not highly-priced, even when it is beautiful.

4) Talon Knife Fade
If you enjoy the way fade looks in basically everything, you will create a new religion only to praise this knife skin. Not joking! It's gorgeous, and its beauty is equivalent to his price, between $1400 to $1600.

3) M9 Bayonet Emerald
If you are looking for a rare skin that looks great, the M9 Bayonet Emerald is its name. Valued in the P2P market between $4,000 and $5,500, this Emerald knife skin is not easy to get or buy, and that's why it became our third in the ranking.

2) Butterfly Sapphire
Added in 2014 with Operation Breakout, the Butterfly knife can only be found in Breakout Loot Boxes.

The name of this knife perfectly explains its design and spinning animation in the game. If you believe it's not that special, you may want to know that its basic model is worth more than 1k. Imagine its Sapphire version.
It's common to see pro players using the Butterfly knife. A belief says always bet in CS:GO for the team with the most butterflies. Sounds poetic, but it's true! Apparently, the knife animation helps them to be stress-free.
1) Karambit Fade
It may not be more expensive than Butterfly Knife, but the Karambit Fade is a fan favorite and a fun weapon to play with or just spin it! More than any Knife, the Karambit represents CS: GO, and you cannot see nor hear about this weapon without thinking in Counter-Strike.
Our number one without hesitation!