Customizability has been one of the primary reasons why thousands of customers prefer Android to iOS. Even though iOS and iPadOS have stepped up their game, Android remains the best choice when you want to get the most customizable smartphone experience. For example, typing faster using a third-party keyboard app is one of the fantastic things you can do on Android.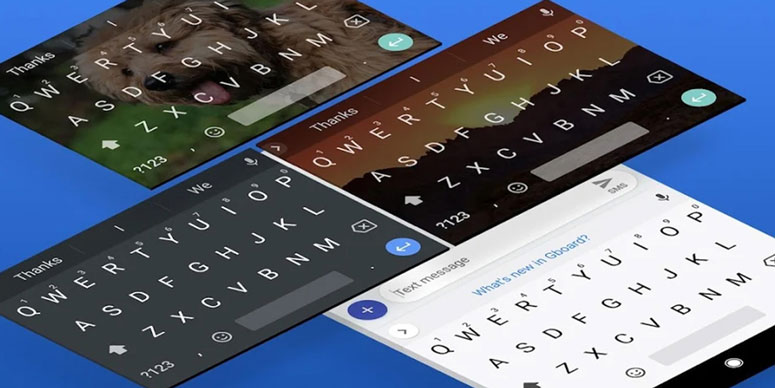 As you know, new versions of Android come equipped with a default keyboard — which is Google Keyboard in many cases. While Google Keyboard is a practical and fast-enough keyboard, you would not have trouble finding a keyboard that offers a faster typing experience. But how do you find the best Android keyboard that helps you type faster? Do not worry; we have got your back.
In this article, we have listed 10 of the best Android keyboards that allow you to type faster. In addition, we have chosen keyboard apps from different sub-categories as well. As a result, you can find keyboard apps that offer a few options for fast typing. For example, some might have gesture-typing possibilities, while others have better ways of text prediction.
At the end of the day, all these Android keyboard apps will help you type faster — at least a few more words per minute.
SwiftKey Keyboard has been one of the favorite Android keyboard apps even before Microsoft decided to buy it. You can count on this third-party keyboard if you are looking for an effective key layout and robust text prediction options. Instead of ruining your conversations, the autocorrect system will learn from your typing habits and make suggestions.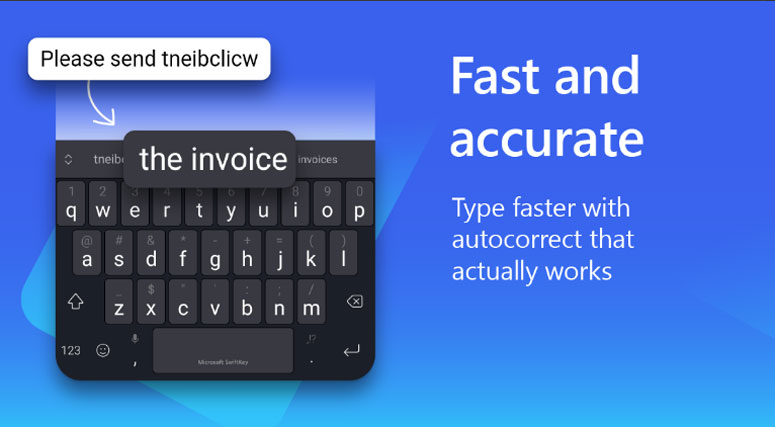 As you can guess, Microsoft SwiftKey Keyboard has support for emojis, GIFs, stickers, etc. If you are concerned about customizability, this app will not disappoint you. You can pick from more than 100 keyboard themes or add custom photos as the background. It also happens to be a multilingual keyboard with support for up to 400 languages. You can set up and quickly toggle between up to five languages at once.
In short, this Android keyboard app has everything you need for a seamless typing experience.
Also Check:
Fleksy Keyboard has been on top of the list when it comes to Android keyboards for speed. Over time, the keyboard has become feature-rich as well. You can count on this all-in-one keyboard for faster typing, emoji, and GIF support. However, the most significant reason for the speed-typing experience is the unique auto-correction tech. It works great because Fleksy Keyboard learns from you.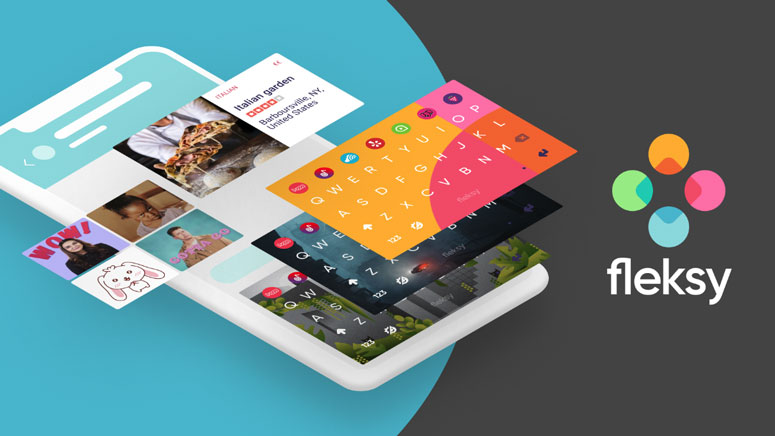 Fleksy Keyboard has also introduced a new technology called Fleksywave swipe input, which is still in beta. However, even if you do not want to use gesture typing, the key arrangement on the keyboard is way better. It also allows you to choose between more than 100 themes, and you can choose between thousands of images from Unsplash. Rest assured, the keyboard keeps all your data on the device itself.
Fleksy Keyboard has also added support for more than 80 languages, including the less common ones.
For many people, the lack of typing speed is due to the high number of errors. Therefore, you may spend more time trying to correct the text than typing it. If you can relate to this situation, you should check out the Grammarly Keyboard for Android. The keyboard app works in sync with Grammarly, the intelligent grammar checking service. Of course, you can turn off the grammar correction options as you wish.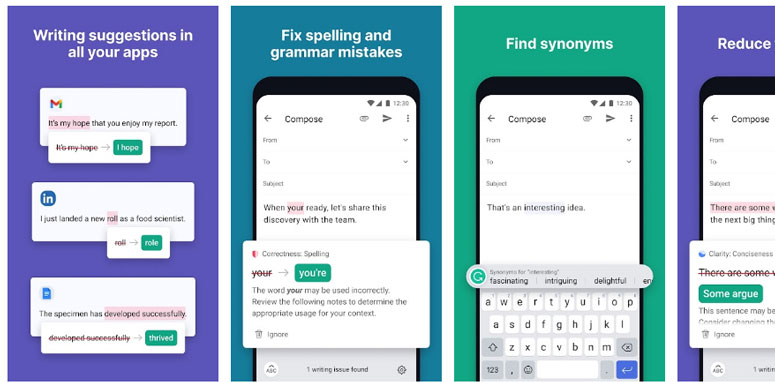 When turned on, though, the Grammarly Keyboard for Android can help you avoid some of the biggest errors in the English language and syntax. While the default design is nice, you may notice the lack of customizability in the app. It is also worth noting that Grammarly Keyboard does not support many languages. You have to stick to English. On the bright side, the keyboard works fine with the Android system and apps.
Grammarly Keyboard is a fantastic pick if you think fewer errors can boost your typing speed on Android.
Gboard, whose original name is Google Keyboard, is the default keyboard for the Android OS. However, your smartphone manufacturer may have replaced the same with a custom keyboard. In that case, you can shift back to Gboard for a faster typing experience. A classic product from Google, Gboard has everything you will expect to have in a keyboard app.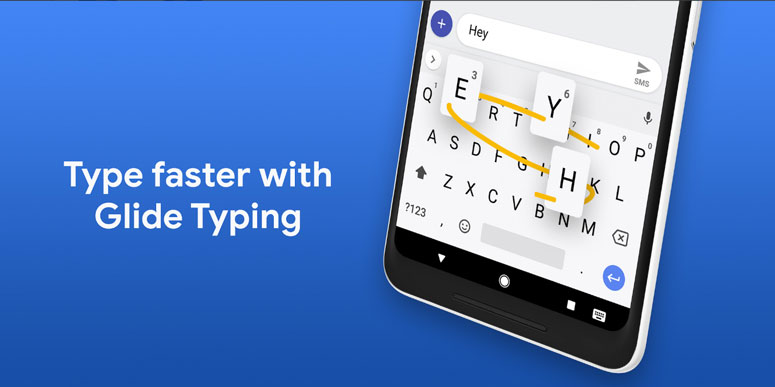 The keyboard comes with full support for glide typing, voice typing, handwriting, emoji search, GIF search, and integration with Google Translate. You can also customize the design, including the background images and key design. You can also enable multilingual typing, which helps you shift between two languages quite quickly.
With Gboard, you can have the fastest typing experience on Android regardless of the language you use.
Typewise Keyboard is one of those revolutionary keyboard apps that you should try on Android. Probably a remarkable thing about the keyboard is that it uses a keyboard layout other than QWERTY. Instead, the keys are arranged so that you can have the fastest typing speed with two fingers. In addition, the developers claim that you will have 4x fewer typos while using this keyboard.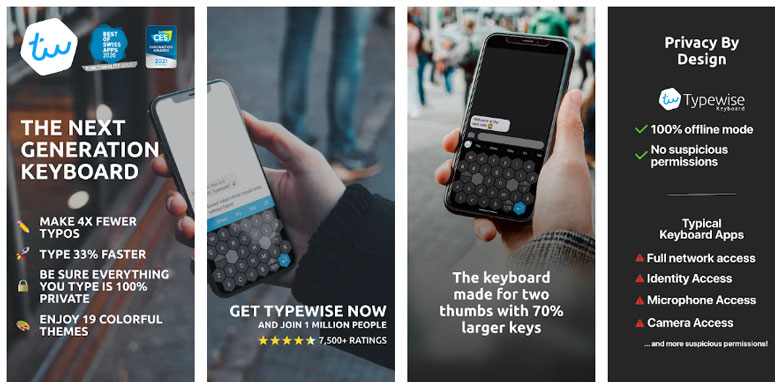 The Typewise Keyboard also comes with a few features like smart autocorrect and intuitive gestures. It does not compromise your privacy either since the app stores everything on your local device. On the bright side, you can use the new keyboard app with so many languages. If you do not like the Honeycomb layout set to default, you can always switch back to QWERTY or QWERTZ.
If you are up for a change from traditional keyboards, Typewise Keyboard is a great pick.
Sometimes, having a simple Android keyboard is the fastest way to type. If you like this idea, you must check out the Simple Keyboard, which is small but great. It comes with a design similar to that of Google Keyboard, but there are fewer integrations. You will not get the feeling of being watched, either. It is an entirely free keyboard app with no ads. At the same time, you will have access to emojis, GIFs, auto-correct, etc.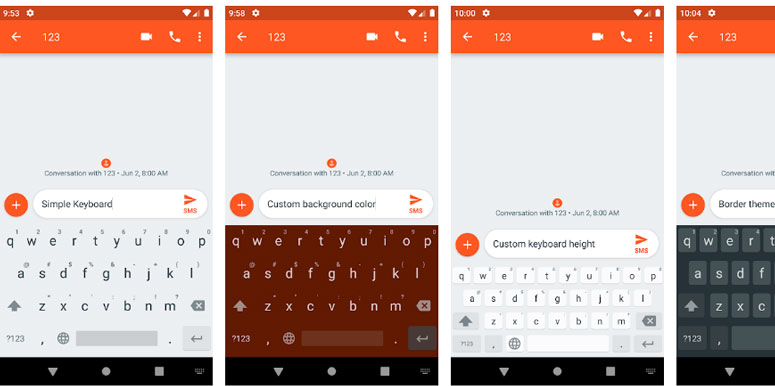 In short, you should choose this faster keyboard if you would instead use something simple and open source. In the end, you can get most of the features you have seen on Google Keyboard — but without linking to the Google ecosystem. It is also great that the app does not require too many permissions. For example, it only asks for permission to vibrate.
GO Keyboard is another popular Android keyboard that helps you type faster. Once again, customization is the core feature of the keyboard. At the same time, you will have access to a number of popular features like word correction, font support, free emojis, stickers, and GIFs. If you wish to customize how the keyboard looks, you can go a long way with this app.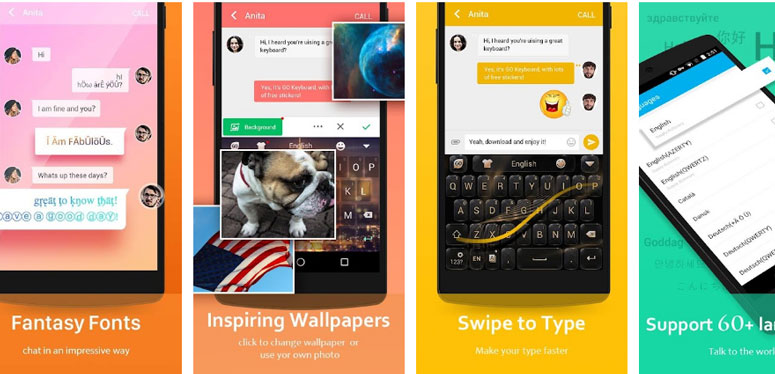 From the background image to key designs, you can customize almost everything on the keyboard. Despite all these features, the app does not use many resources, either. The developer is also great when it comes to launching new features and themes to the system. So, you can have a newer Android keyboard experience on all days.
We recommend checking out the Chrooma Keyboard app for Android if you need a colorful typing system in effect. The best part about Chrooma Keyboard is that it does not use many system resources but still shows incredible graphics. For example, the keyboard can change its background color and features according to the app you are using right now.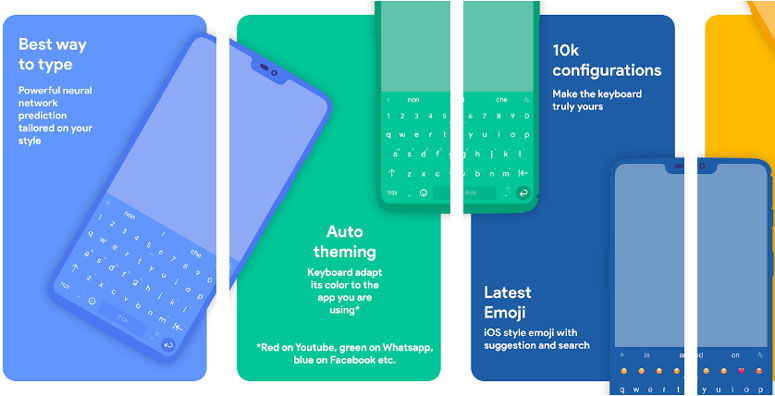 Like you have seen on other keyboard apps, Chrooma Keyboard also supports RGB colors and emoji support. You will not have trouble finding a suitable keyboard theme, either. In addition, the app uses a custom AI technology for contextual prediction, which can improve your typing speed. It also comes with features like Night Mode and gesture typing.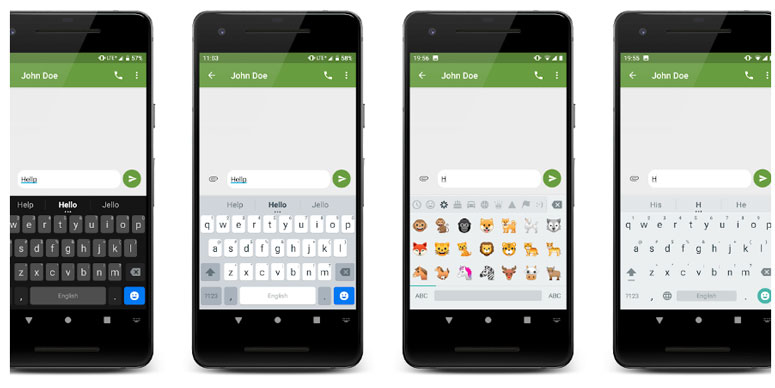 As you can guess from the name, OpenBoard is an open-source keyboard app for Android. The app is based on the Android Open Source Project and resembles the Google Keyboard from many angles. However, it has no connection with the Google binaries whatsoever. Regardless, you can get features like spell correction, theme support, and emojis with the app. Because the app is so basic, it should work with almost all devices out there. You do not have to worry about pop-up advertisements, either.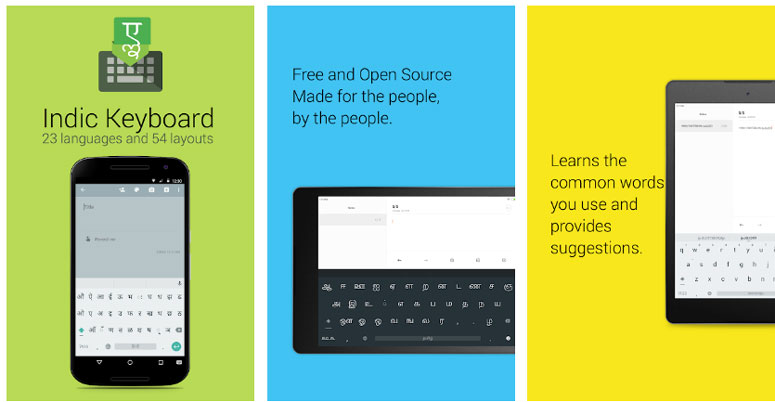 Indic Keyboard from the Indic Project is a great choice when you want to type in one of the 23 languages you can find in India. As you can guess, the app is based on the AOSP and resembles Google Keyboard by a long shot. The best part is that you can get spell corrections and suggestions for almost all the languages you pick. You can also choose between 54 keyboard layouts, including the phonetic and inscript ones. In short, if you need the fastest way to type Indian languages, you do not have to look further.
The Bottom Line
We hope you found our list of the fastest Android keyboards helpful. As you have seen, there is no universal Android keyboard app that can boost everyone's speed. Instead, different factors will contribute to how fast a person can type. For example, I have found that better autocorrection is excellent when I am typing quickly. Therefore, a contextually intelligent prediction system is always the best. Fortunately, most apps on the list support such a system. Therefore, you can make the final pick based on your other preferences.