This is the simple tutorial that I m going to explain here about how to avoid security certificate problem in all web browser like opera, Firefox, internet explorer, Google chrome.
Once upon a time i repaired my motherboard from its authorized Gigabyte service centre because BOD problem and finally got repaired after than i just connect all hardware and as usual connect internet everything was fine till connation of the internet but when i launch Firefox and just type www.godaddy.com it gives me error says that:
the security certificate presented by this website is expired or it is not valid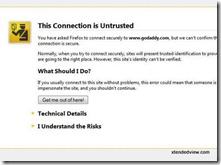 I was thinking that it may be certificate problem with Gogadaddy website try to open another website but same error. then i tried to open chrome browser and just open my home page in chrome that is www.google.com but same error with some other error description see the below:
 This website has certificate error.

Now i really disappointed with this error I also trued with last but least option to open WebPages in Internet Explorer 🙂 but same screen displaced with something another message :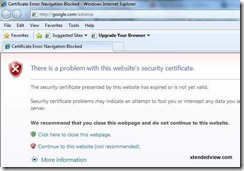 I was thinking that it may be my internet connection problem so i simply tried to connect internet with different ISP i.e. with my cell phone to pc but same problem.
Now I was thinking that my motherboard had again serious problem with internet connectivity. I was thinking to send the motherboard to service centre again but suddenly I observed that my computer's date and time was reset to its default date to some 2 years past. Immediately i correct the date and time of my computer and now connected the internet and what happened it is working fine like charm .. 🙂 . So if you are facing same problem then try to correct your computer date and time first and then go to another troubleshooting.
The other reasons which may be responsible for this type of certificate errors:
1) Your computer's date and time (As that of mine case)
2)The security certificate of the website may really expired.
3)The website is fake and using fake security certificate.
The the reason 2 and 3 occurs then you should keep away from that site.