If you are looking to put your hands on macOS experience, then undoubtedly Apple 21.5 inch iMac is the classic device to drop your cash in. The new 2019 update has not brought much more on the table- if you look at the old Apple's 21.5-inch iMac. It has got a 4K display, rich color, and sharpness too. But, iTunes still doesn't offer 4K movies. The desktop is for the general tasks along with high-end video editing and rendering. It gets the work done in a pinch of seconds. It can do everything you want to but only if you are ready to spend a huge amount of money. But, is it worth buying at such a hefty price?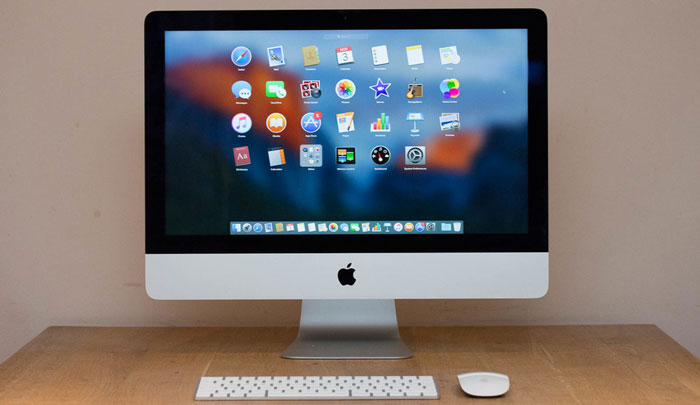 Let's check it out in the Apple iMac 21.5-inch (2019) review below:
Design
The 21.5-inch iMac looks similar to the 27-inch sibling model. The device comes with thick bezels, big chin and not more of a huge screen. It doesn't mean that the design is bad or decent- it is premium- no doubt in that. The iMac 21.5 has a stand out quality which is its fan which is not loud enough even when you are doing some heavy tasking. You can buy this online using Paytm Mall Coupons with great discount.
Display
Coming to the display, the Apple iMac 2019 comes with 21.5-inch Retina 4K display with 4,096 x 2,304 pixel resolution. – making it true 4K. The display supports P3 color gamut too. In the display's wonderful color creation, the temporal and spatial dithering techniques are used. So, the device is perfect for photo and video editing. Many laptops with same screen size still comes with 1,920 x 1,080 (FHD) or a 2,560 x 1,440 (QHD) display. So, if you want some high-end video rendering then you can go for the 27-inch iMac for its Retina 5K display but 21-inch iMac's Retina 4K does the job pretty well too.
Magic Keyboard and Magic Mouse
The 21.5-inch Apple's iMac brings Apple's Magic Mouse 2 and Magic Keyboard with itself. The mouse is pretty good and if you are not comfortable with the palm fit or its size, you can switch to Magic Trackpad 2. Most of the people don't want these peripherals along with the monitor and CPU, but Apple doesn't allow that. They believe it contaminates their ecosystem. It basically makes a lot of difference- some features will not be available to you then like the Mission Control workspace manager, super-smooth scrolling and zooming in on content.
Performance and Storage
The 21.5-inch Apple iMac still packs a six-core i5 processor which is disappointing from the company. At this price point, we expect near to the eight-core i9 processor which we saw in Apple's 27-inch iMac. To convert a video into HEVC format at HandBrake, the 21.5-inch iMac took about 57 minutes which is 15 minutes less than 27-inch iMac. This is even less than 2018 13-inch MacBook Pro which took 1 hour and 32 minutes. You don't get any i9 model on this iMac device but you can get the 3.2GHz Core i7 variant which acts as the high-end model of this device. In terms of performance various options available in market and one can avail those using Mobikwik Coupons with great deals.
On the board, you get 8GB of DDR4 memory with a clock speed of 2,666MHz. So, you won't be disappointed with any tasking on this iMac. Though you can't change or upgrade the RAM- no panel on back to easily upgrade the RAM. For upgrading it to 16GB, you might have to pay more- $200 for sure. So, if you want iMac with 256GB SSD and 16GB RAM, then you might land up with $1,799 bill. Apple has claimed that one cannot install more than 32GB on the 21.5 iMac which will also come at $600.
Talking about the storage, the lower-end 21.5-inch iMac comes with the 1TB hard disk. Although, the other variant has 1TB Fusion drive. A Fusion drive has a blend of a tiny amount of SSD with proper hard disk and combines two software level to blend them.
Final Verdict
Paying a hefty amount of money for Apple's 21.5-inch iMac will give you a lot- no doubt in it. The device comes with a stunning 4K display, a good number of ports and fast performance too. Although it has an i5 processor only, still it gets the job done easily. The biggest problem is the hard disk or Fusion Drive storage. One might have to replace it with SSD- all because of its speed and current trends. Using this iMac with 16GB RAM will give you the biggest satisfaction and get the job done with ease in compared to the 8GB variant. Also. The GPU options are not too appealing too but they can give you they can easily work along looking at the 4K display. All said, this year's iMac is not for everyone but if you want to drop in a huge amount of cash, then you will not regret having it too.