In the ever-evolving landscape of the internet, web design is a dynamic force. As we approach 2024, the trends shaping the digital realm are more captivating than ever. From immersive user experiences to futuristic aesthetics, let's dive into the web design trends that are set to define the online world in the coming year.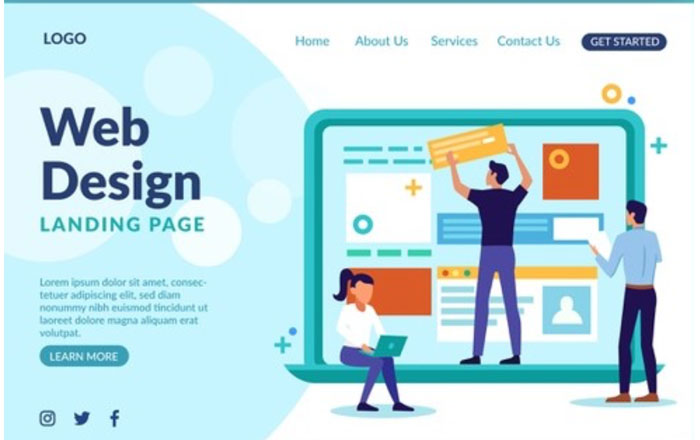 And, to stay ahead of the curve in 2024, don't forget to consider leveraging the expertise of top web design companies in the United States, known for their innovative approaches and contributions to the evolving landscape of web design.
1. Holographic Interfaces: Beyond Reality
In 2024, we anticipate a surge in holographic interfaces. Imagine websites with elements that seem to leap out of the screen, creating an engaging and surreal user experience.
2. AI-Driven Personalization: Your Website, Your Way
Artificial Intelligence is not slowing down. Websites will use AI to tailor content based on user behavior, preferences, and past interactions. This level of personalization will redefine how users engage with online platforms.
3. Minimalistic Microinteractions: Less is More
Microinteractions will take center stage, focusing on small, subtle animations and responses that enhance user engagement. These minimalistic touches can make a profound impact on the overall user experience.
4. Voice User Interface (VUI): Speak to Navigate
With the rise of voice-activated devices, VUI will become integral to web design. Navigating websites through voice commands will redefine accessibility and provide a hands-free browsing experience.
5. Dark Mode Dominance: Aesthetic and Functional
Dark mode isn't just a trend; it's becoming a standard. Beyond its sleek aesthetic appeal, dark mode reduces eye strain and enhances the visibility of other design elements, making it a functional choice.
6. Immersive 3D Elements: Breaking the Flat Barrier
Web design is moving beyond two dimensions. 3D elements will add depth and realism to websites, creating an immersive experience that goes beyond the limitations of flat design.
7. Neomorphic Design: A Fusion of Skeuomorphism and Flat Design
Neomorphic design combines the best of both worlds, bringing a tactile, real-world feel to digital interfaces. Elements appear to lift off the screen, creating a visually rich and engaging user experience.
8. Scrolling Transformations: The Journey Unfolds
Scrolling will evolve into a storytelling tool. Websites will guide users through a narrative as they scroll, transforming the act of scrolling into a journey rather than a means of navigation.
9. Biometric Authentication: Security Meets Convenience
Enhanced security will be seamlessly integrated into web design through biometric authentication. From fingerprint scans to facial recognition, users can access content with a touch or a glance.
10. Sustainability-Driven Design: Green is the New Black
Sustainability is not just a buzzword; it's a design principle. Websites will prioritize energy efficiency, reduced carbon footprints, and eco-friendly practices, contributing to a greener digital environment.
11. Dynamic Typography: Text with Personality
Typography will transcend its traditional role. Dynamic typography will use animations, color shifts, and interactive elements to inject personality into the written word, making content more engaging.
12. Interactive Content Modules: Engaging User Participation
Static content will give way to interactive modules. Users will be active participants, contributing to and influencing the content they consume, fostering a sense of community and interaction.
13. Emotional Design: Forging a Connection
Design will go beyond aesthetics, aiming to evoke emotions. Websites will strategically use colors, images, and interactive elements to create an emotional connection with users, fostering brand loyalty.
14. Augmented Reality Integration: Bridging Virtual and Reality
AR will step out of its niche and become an integral part of web design. From virtual try-on experiences to interactive product showcases, augmented reality will revolutionize online interactions.
15. Blockchain-Powered Security: Trust in the Digital Age
As cyber threats evolve, web design will leverage blockchain for enhanced security. Decentralized and tamper-proof, blockchain technology will instill trust in users, ensuring the integrity of online transactions.
Conclusion: Embrace the Future Today
In the fast-paced world of web design, staying ahead means embracing change. The trends forecasted for 2024 paint a picture of a dynamic and immersive online experience. Whether it's holographic interfaces, AI-driven personalization, or sustainable design, the future of web design is exciting, promising, and ever-evolving.
FAQs: Unveiling the Future of Web Design
Q: How do holographic interfaces work on websites?
A: Holographic interfaces use advanced technologies to project 3D elements onto the user's screen, creating a visually stunning and immersive experience.
Q: Can AI-driven personalization compromise user privacy?
A: Strict privacy protocols are in place to ensure that AI-driven personalization respects user privacy. Data is anonymized and used responsibly to enhance user experiences.
Q: Is dark mode just a design trend, or does it serve a functional purpose?
A: Dark mode offers both a sleek aesthetic and functional benefits. It reduces eye strain, enhances visibility, and conserves energy on devices with OLED screens.
Q: How can websites incorporate sustainability into their design?
A: Websites can prioritize sustainability by optimizing energy usage, reducing server emissions, and adopting eco-friendly design practices, such as minimalistic design and efficient coding.
Q: Are there any risks associated with augmented reality in web design?
A: While augmented reality enhances user experiences, potential risks include device compatibility issues and the need for robust security measures to protect user data during AR interactions.