MacBook devices from Apple are known for their durability, portability and battery life. Even some of high-end MacBook Pros will offer you around 10 hours of battery life. Of course, you have to thank the software-hardware optimizations Apple has done with these devices.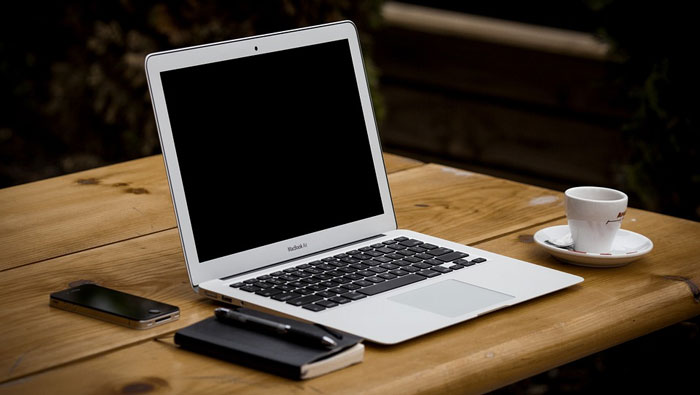 That having said, everything is prone to wear & tear and your MacBook Pro/Air batteries are no different. As it happens, you cannot expect the same battery life from an older MacBook Pro or Air. And, this becomes a tough task when you want to buy a used or refurbished device from others.
Thankfully, there is something called Battery Cycle Count in every MacBook device out there. This will help you in understanding the condition and health of the battery and the potential battery life you can expect. It is also great that you can find the battery cycle count of your MacBook Pro/Air in literally no time.
About Battery Cycle Count
Battery cycle count is a concept used to know the discharge count of a battery. One count of battery cycle is equivalent to the process of the battery losing its 100% charge. That is, once you have charged your MacBook Pro or Air, it will start discharging, right? The battery cycle count refers to the 100% discharge of battery. It does not need to happen in a single instance, though. Let's take an example.
You may have charged your MacBook Air to 100% and then use the device until it reaches 25%. Now, instead of waiting for the battery to drain out, you charge the device and reach 100% again. At this point, there will be a cycle count of only 0.75. The next time you discharge 25% of battery, a single cycle would be complete, and it would be recorded.
This is how battery cycle counts in MacBook devices work. Understanding the battery cycle count is actually important if you want to buy a good refurbished device. Now, let's see how you can find the battery of your MacBook Pro or Air.
How to Find the Battery Cycle Count of Your MacBook Pro/Air?
This is an easy process for everyone. Just follow the steps you'll find below.
You have to click on the Apple logo on top of the menu bar while holding the Option key.
From the menu you can see, choose System Information.
Now, you will be able to see the System Information window, with a number of options
Choose Hardware à Power and find Cycle Count under Battery Information
You can now find the number, corresponding to the cycle count.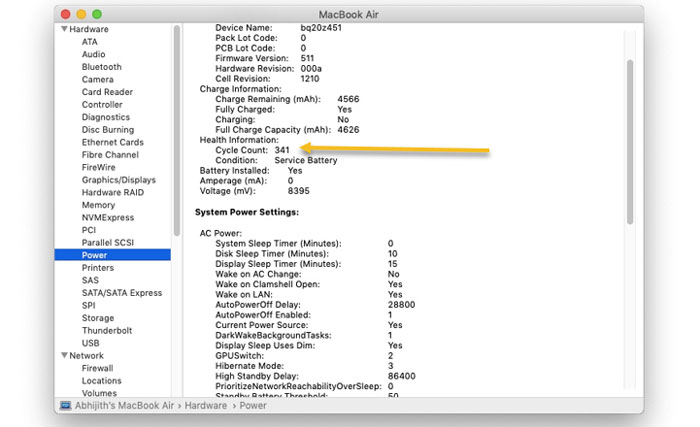 This number denotes how many times your MacBook Air or Pro has discharged 100%. This is also the number that corresponds with the current health of your battery. Now, depending on how long you have been using the device, the battery cycle count may vary between 1 to infinity. Of course, no device would last until the point of infinity, and that's where the decision-making comes.
Is There A Maximum Cycle Count?
No, but yes. Apple does not specify a maximum cycle count for MacBook batteries, but we have to consider the basics for sure. Every battery has a restricted cycle count. Post that period, there will be problems with functionality, performance and even safety. So, Apple has set up a recommended bar here.
As per what Apple says, 1000 is the recommended battery cycle count for changing the battery. It means a battery would reach its highest functioning point once it has been 100% discharged for 1000 times. In most of the cases, it takes 4 to 5 years for a MacBook Air or Pro to reach this state, but the usage patterns would also have an impact here.
There are problems if you are using a battery after the recommended cycle count. First of all, there will be a noticeable change in the battery life. A MacBook Air that usually provides you 10 to 15 hours of backup will start draining within 5 to 10 hours or worse. The things become tough for a MacBook Pro, since it has a more advanced hardware.
If you keep using a battery after the recommended limit, there will be also some other hardware issues. As a malfunctioning battery may cause uneven power supply, microsystems in your MacBook may get affected. In the shortest words possible, a battery past the cycle count will affect your MacBook Pro like never before.
The Bottom Line
This is the basic set of things you should know about the battery cycle count of your MacBook Pro or Air. It's an easy thing to find out and only replacing a battery would reset the count. It means a past owner couldn't have reset the battery count. So, when you are buying a refurbished device, this number would help you to find the potential battery life and health of the MacBook Air or Pro.