After forcing iDevice and Apple lovers to keep their eyes on the launch date, finally, Apple Inc has launched the iOS 7 for public use though a developer beta was available just after its announcement at WWDC 2013. Therefore, when listening to the developer's words, Apple iOS 7 is the most significant update for iDevices since the launch of first iPhone. Nevertheless, some of you might be having a bit of confusion when installing iOS 7 in your iPhone, iPad or iPod! In this post, we would like to give you an introduction about iOS7 as well as prominent features in the update. In addition, as you could guess, you can select a decision on the updating process after exploring those features.
What Did Change
User Interface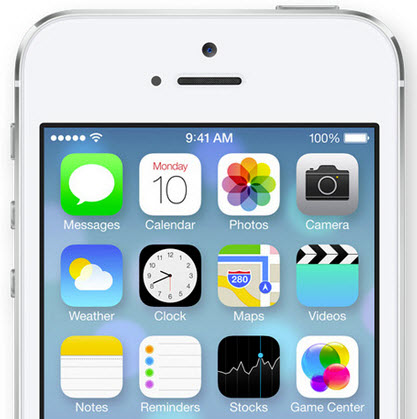 As a few of you might have already seen, the user interface and design of iOS 7 is almost different. As of the words from Apple, iOS 7 has simplified the whole design so that everyone would be able to experience that good change. Indeed, the new design looks awesome despite some analysers claimed that the UI seems to be a little bit childish. If you are going to update your iDevice, you will be definitely experiencing a huge change.
Control Panel & Notification Center
These two things are quite new since the dawn of iOS 7 but is very useful. Control panel is where you can manage a few things regarding connectivity, accessibility of your iPhone or iPad. At the same time, notification center is having resemblance with the notification bar of Android not only in look but in function as well. Via the notification centre, you can access details such as missed calls, reminders etc.
Multi-Tasking
Obviously, multitasking has damn improvements in iOS 7. The foremost feature is to double press on home button to show the preview thumbnails of active windows in your iDevice, which helps you to get a brief info on multitasking. Of course, this feature is increasing the value of iOS 7 update on your iDevice. Now, we will move to the installation part of iOS 7.
Can You Upgrade
Following devices are capable on installing iOS 7. So, if your device is in the list, you can go on with the installation.
iPhone 4
iPhone 4S
iPhone 5
iPad 2
iPad (3rd & 4th Generation)
iPad Mini
iPod Touch (5th Generation)
So, are you and your ready for having iOS 7 at core? Then, we will start it now!
Before You Update
For backing up information such as photos, accounts, docs etc, you can use any of these methods. However, both these methods are equally effective.
iCloud Backup
If you have already been using this service, you do not need to be tensed about your data because all your sensitive information including camera roll, accounts, docs, settings etc. would be copied into secure servers of Apple Inc.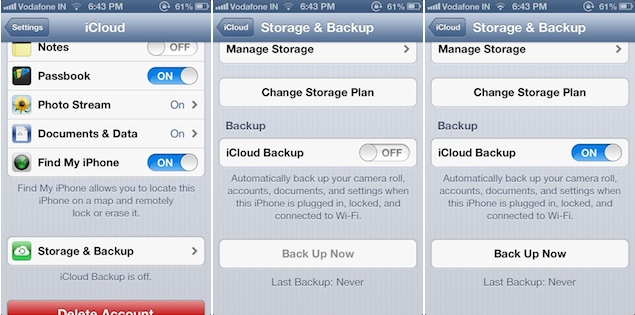 If in case, you have not turned on this, you can do so by going to Settings à Storage & Backup à Turn on iCloud Backup. Once you click on the 'Backup' button, the device will start the backing up process in seconds. However, your iDevice needs to be locked, connected to Wi-Fi and plugged in for backing up all these info. Obviously, it is a good way not to lose your required information due to technical failures during update.
Through PC or Mac
Connect your iDevice to your Mac or PC using the Apple USB Cable
Before that, you have to authorize your PC/Mac for backing up. If you haven't done so yet, you can go to the 'Authorize This Computer' section from Store menu.
In the device summary page of iTunes, you can see a section called Backups
Now, just click on the button 'Back Up Now' for saving all your information in iPhone/iPad into your PC/Mac. It would take time according to the size of your content.
So, in seconds or minutes, you would have backed up all your information from iDevice
Now, Install iOS 7
This task is also having multiple methods! In this case, you can install either Over the Air (OTA) update via your iDevice or through PC/Mac. Both these options are less effortful though we prefer the latter if you don't have a good connection on your iPhone.
Over The Air
Connect your iDevice with Wi-Fi
Go to Settings
Select 'General'
Go to 'Software Update'
Select 'Download and install' from the appearing window
Through PC or Mac

Connect your iDevice with PC or Mac via USB
Connect your iDevice with PC or Mac via USB
Go to the device summary page on iTunes
Click on 'Check for Update' option
Soon, you can see a pop-up window
From the window, select 'Download and Update'
Once you have finished the updating process, you will have to go through a device set-up process as if you have bought a new iPhone. After that, for getting all your information back, you can restore the backup from iCloud or your PC. So, you have successfully installed the brand new iOS 7 in your iDevice. And, you are Up To Date! Doesn't that sound great? Do let us know your opinion via comments.