If you ask professional digital marketers or professionals, most of them would discourage the idea of making use of an instant website builder. Their claim is simple: these website builders, including Wix, couldn't offer many customization features. Despite all the in-page customization, creating a web app was a distant dream for those who used such site builders. It's also the reason why programmers and web designers always stay away from those services, even when they are proven to be time-savers. Wix — one of the best site builders in the web world — is all set to change that concept, by introducing a brand-new service named Wix Code. If you want to read about the website builder itself, we recommend this great Wix review by bestwebsitebuilder.com
Wix Code is envisaged to bridge the gap between easy website building and in-depth customization. We had an opportunity to get our hands on Wix Code and we were pretty impressed. So, we thought of coming with a comprehensive review of Wix Code, covering its features, usability and some other aspects. If you happen to be an intermediate programmer or web designer, you'd know whether you should use Wix Code for your website building purposes. Shall we start this Wix Code review with an introduction to Wix Code? It's a kind of intro for newbies.
What is Wix Code?
With some ornamentation, Wix Code can be called the bridge between powerful web apps and easy website building. It's included as a part of the Wix editor, although you have the option not to use the section. That is, if you are planning to set up a simple website using Wix, you can still do that without any hassle. Wix Code is not going to affect you there. On the other hand, if you're planning to bring some advanced elements into your website, you have the best results via this new feature. As far as an experienced Wix user is concerned, Wix Code is just another addition to Wix Site Builder features.
There are more than a few things you can do using Wix Code. For example, you can create Dynamic Pages & Database Collections with ease. None of these things require in-depth coding skills in any languages. That's why we said Wix Code is more of a bridge between easier website building and customization. Say you want to create a Gallery Index Dynamic Page. You can simply follow the tutorial given here and go ahead. In our experience, not much of code-play was involved there — although we had to understand the basic ideas. We hope this introduction has given you a clear idea of Wix Code.
Who Is It for?
We already mentioned that Wix Code isn't for the common users of Wix. Not everyone wants to play some advanced stuff when they opt in for Wix. Most of the customers want to create a website without hassles, spending the least amount of time possible. However, Wix Code is the best shot if you are a talented designer or developer who loves to customize Wix websites. Or, if you are interested in checking out the superb set of features, you're welcome too.

Availability
Wix Code hasn't been integrated to the main Wix editor yet. In fact, the features are currently in the Closed Beta stage. So, if you want to try out the features, you should sign up for Wix Code Beta program from the official website. You need to have a common Wix account and then the registration is a few seconds long. It asks for a few features like the purpose of using Wix Code. In the shortest time, you will have the features available in your editor.
Can we now check out how Wix Code can enhance your website?
What You Can Do with Wix Code?
Creation without Limits is the tagline of Wix Code. We had checked out almost all the prominent features in the package. Here, we will list out the best web-app building options we found in Wix Code.
Database Collection: Creation & Management
It's generally considered that database management is a tough task. However, Wix Code has made it smooth like never before. Be it product info, user list, consumer info or even something else, anything can be stored in a well-built database. You can bring a variety of elements to the website, including List Index, Table Index and Reviews. You can also link the database info with dynamic pages that you've created. You can also make use of several APIs for smart data collection from different areas. Last but not least, the databases are fully SEO-compatible, which is a great deal for overall site enhancement.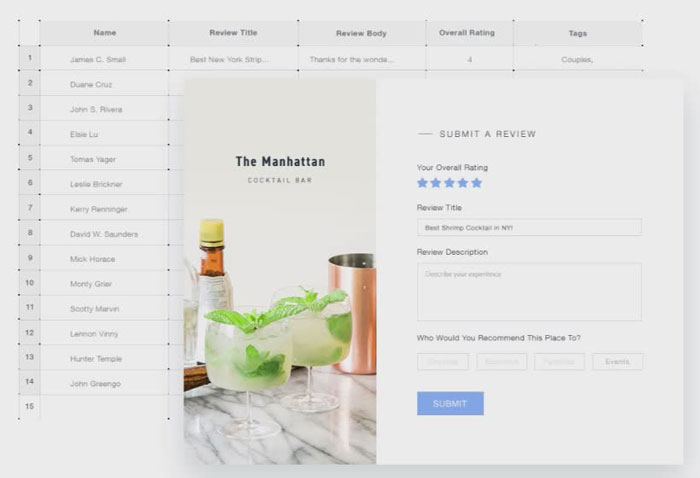 User-Input Collection Made Easy
It's one hell of a job to set up a system for collecting input from your own users. In Wix Code, however, you'd find plenty of options for that. You can create a wide variety of data collection elements such as forms, quiz boxes, review sections etc. All these are created and arranged with the help of your drag-and-drop editor; it is easy to use, and requires no coding at all. However, if you want to set up some custom code validations, you have the freedom to do the same. For instance, you can insist the phone number input to be in a certain form, without which the entry won't be successful.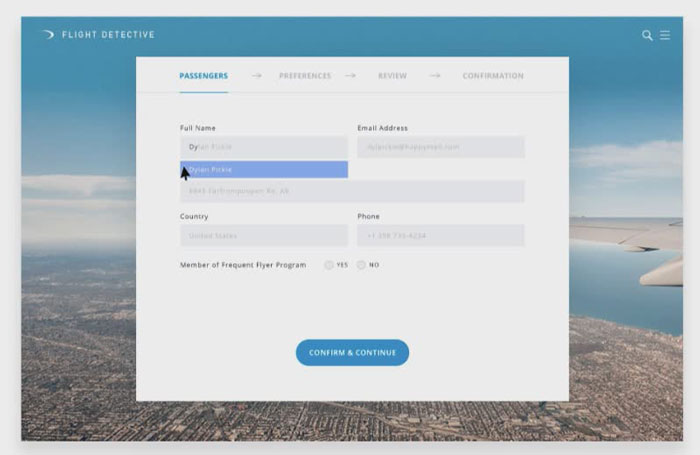 Better User-Interaction on Pages
Wix Code has some dedicated elements you can use for making even a user-interactive page. Of course, it is done through the clever use of JavaScript, to suit the purpose. Even without hours of coding, you will have stunningly creative elements on the page, filled with information. Thanks to the minimal design philosophy of Wix as whole, your website looks really awesome. Some examples of such interactive elements are Hide-and-Show, Promotional Pre-loader and Site Content Change etc. These actions can be triggered to buttons or even inputs.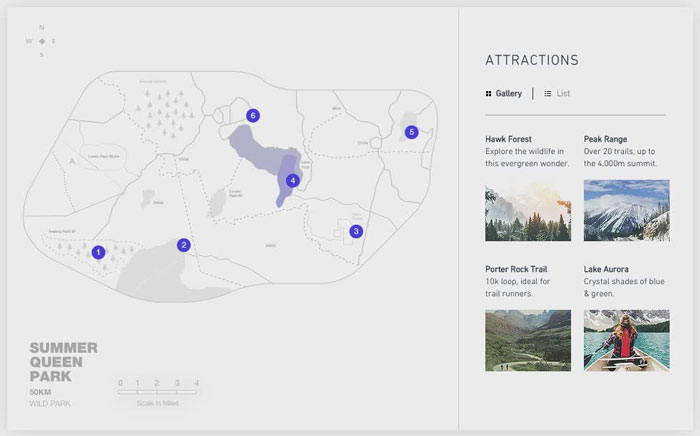 Easier API Integration — In-built & Third-Party
There are several Wix Code APIs you can use right now. APIs help you integrate other services with your website, without much effort. There are internal APIs that you can easily customize, even with basic coding skills. The internal APIs are available for services like YouTube, Vimeo, Dropbox, Google Drive, Facebook, Twitter and IFTTT. Of course, as we said, you have the option to reach out to other third-party ones and make your website more functional and productive.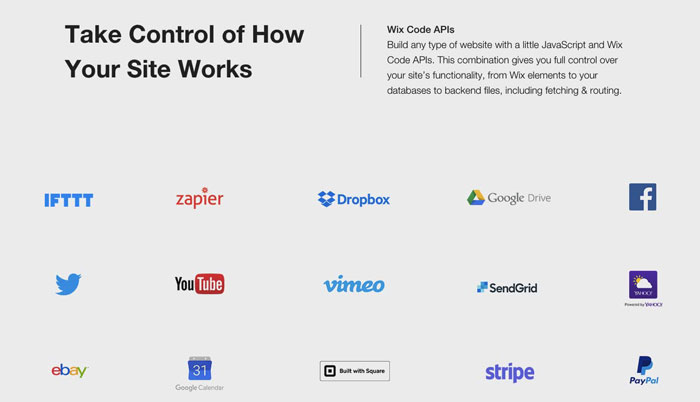 Apart from these, Wix Code is expecting some other features too. For instance, it will soon have support for additional field types, Import/Export functionality, Repeating Layouts etc. It should be noted that both those existing and upcoming features will be as user-friendly as you'd expect from Wix.
User Interface and User Friendliness
All the features of Wix Code are integrated to the standard Wix interface, which is one of the best. You don't have to write a single line of code for using Wix Code features in a common website. Almost everything will be working fine with the least amount of effort. Also, navigating between the section, choosing the styles as well as setting up databases etc. are pretty much awesome. Even if you're completely new to Wix, it would not take more than a few seconds to get used to Wix Code.
Given above is a video that shows the whole process of creating a custom form and connecting the form to a database you've created. This is an effective way to collect data from your users, in a massive manner. It's that simple to use Wix Code, you know. So, at the end of the day, Wix has left a 5-star impression in the topic of user-friendliness.
The Visual Aspect
It should be made clear that Wix Editor is still used for the visual aspect of your website. It means you'll get access to the same collection of awesome templates as you need them. And, all the extra elements that you insert via Wix Code will be optimized for the style of website that you had selected earlier. This is a superb feature as long as you need a unity-design website/blog with Wix.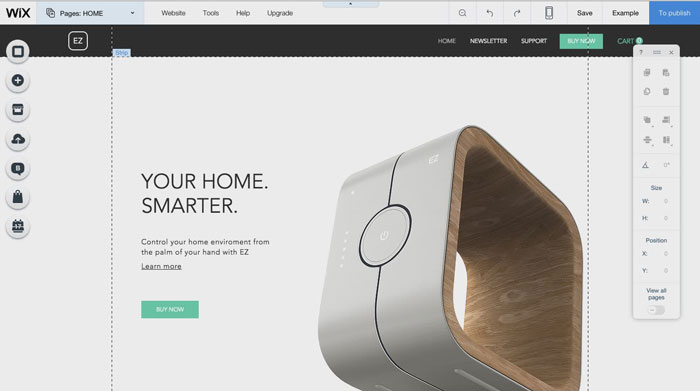 In fact, there's nothing left to worry about in the Design/Visual Appeal aspect either. That's a win-win, you'd have guessed.
The Bottom Line
Considering all these sections, we believe Wix Code is a wonderful addition to the Wix world. We mean, you can easily set up a fully-functional web app without spending much time on coding or the so-called developer stuff. As far as newbies are concerned, it's a great way to enhance their websites too. For instance, if you've a business website that's built using Wix, Wix Code can be used to add some database collection, better user interaction and to enhance the total productivity and conversion rates. You know, nothing attracts more and more users than a well-designed website or blog. And, if you have used Wix before, you know how simple it is to use the designing section.