Since Nintendo Wii got discontinued in 2013, most people have relied on Nintendo Wii emulators to engage with their favorite games. On the one hand, these emulators have done an amazing job of replicating the Wii experience to the maximum extent. On the other, however, the emulators always come in barebones. It means the installation of the Wii emulator does not contain even the basic games you would expect to play.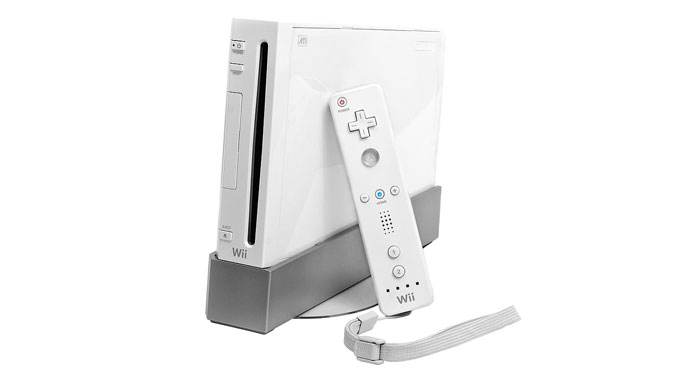 Thankfully, though, there are so many Wii ISO download websites out there.
You can use these websites to get a variety of Wii ROMs that are basically games for the Nintendo Wii emulator. However, since there are so many websites out there, you can get confused between the options. Therefore, we have listed the best 10 websites for Wii ROMs. Depending on the type of content you need, you can choose one of the listed websites. You may already know some of these sites, by the way.

ROMSmania.cc is one of the best places where you can find the ROMs for almost every console out there. And it happens to have an excellent collection of ROMs for Nintendo Wii as well. The best part is that you can search through the entire collection of ROMs before you choose one. The rating system on the website is a massive help in understanding whether a specific ROM works on an emulator or not. Besides, the page would also show the number of downloads for each entry. You can also filter the results based on the genre and region of the game. Of course, you can perform a name-based search for better clarity at all times.
Also Read: 5 Best ISO Mounting Software For Windows 10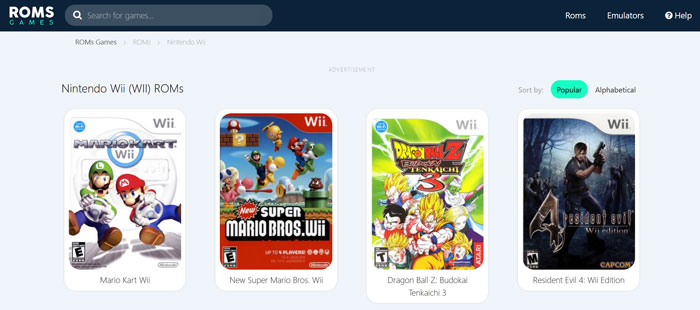 ROMs Games is another free website where you can download the Wii ROMs without trouble. Compared to the first pick, this website does not offer many filtering options. However, you can sort the available ROMs by their popularity or in alphabetical order. Rest assured, you will not have any trouble finding popular ROMs like Mario Kart and Call of Duty: Modern Warfare 3 for the Nintendo Wii console. Just like the previous website, ROMs Games has a section for user ratings as well. We also noticed that the website provides more information about the ROM and the prerequisites when you download something.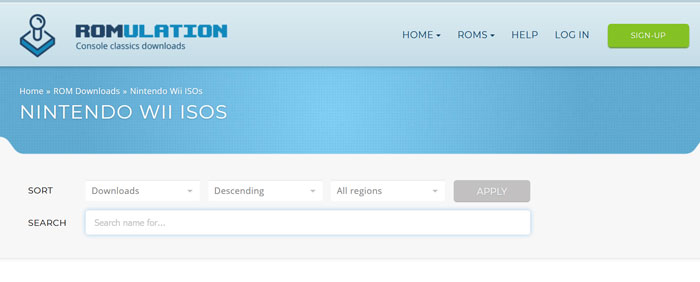 Another website dedicated to ROMs for gaming consoles, Romulation is a great place where you can find an immense variety of Wii ISO download links. The unique part about this website is that it contains links to the famous and not-so-popular Wii games in the market. Therefore, if you are looking for some hidden gems in the Nintendo Wii game catalog, you may find at least some of them here. It is pretty convenient that you can filter the list of ROMs based on the region and the amount of downloads. The individual download page is not so great, but the user-comments section gives you some kind of reassurance.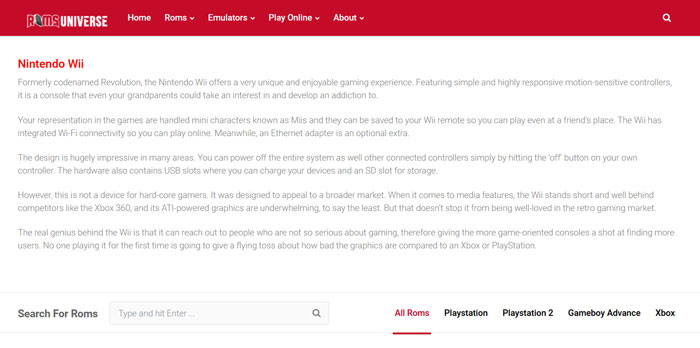 If you badly need some high-quality Wii ISO files for the Nintendo Wii emulator you have set up, you should check out ROMS Universe. This website has been active among emulator enthusiasts for a long while and its quality has stayed superb. In addition to showing you a regular list of Nintendo Wii ROMs, the website also lists the most downloaded Nintendo Wii ROMs on the website. Therefore, if you have just begun your game-play experience with the Wii emulator, you can download one of them. You will find it easy to download a number of popular titles like WWE 13 and Mortal Combat Armageddon.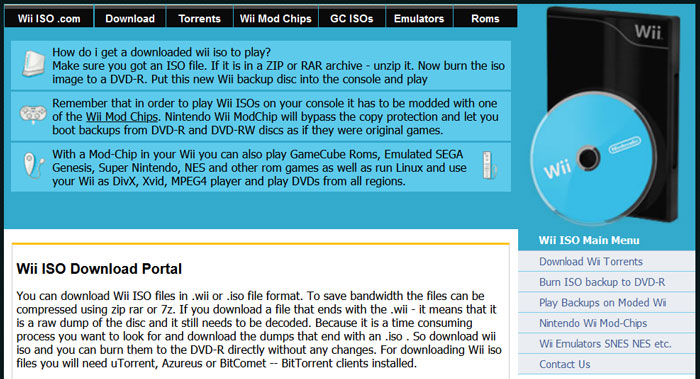 Wii ISO is more than a directory of the ROMs for Nintendo Wii in the first place. It works as a comprehensive download portal, where you can get everything you need to play games. For instance, if you still have access to a Nintendo Wii, the website will tell you how to unlock the device and load the ROMs. There are also some options to burn ISO backup to DVD-R and play backups on moded Wii devices. Last but not least, you can get to know more about customizing the Wii to meet your modern gaming needs. We can recommend this site if you are looking for an all-inclusive approach to Wii.
Some Other Wii ISO Download Websites
If you could not find the Nintendo Wii game you need on the websites listed above, you should take a look at the following ones.
The Bottom Line
Did you think we missed any great Wii ISO download site out there? If you think, do let us know through the comments section. We will be quick to add them to the list. Meanwhile, we hope you find the most suitable ROMs for your Wii through these websites.