Optimizing the SEO of your webpage includes a lot of very different actions, which do take time and effort, but in the long run are absolutely worth it if you want to improve your rankings.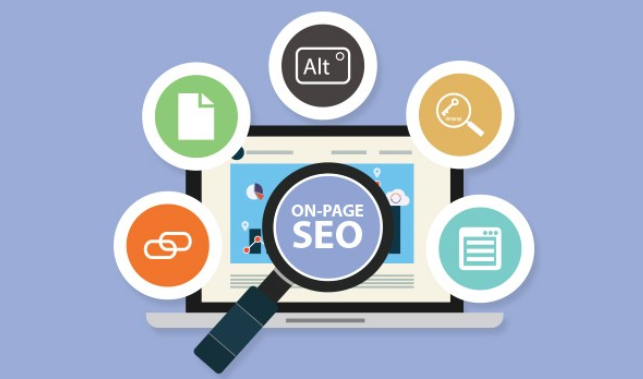 Here are some of the most important things to check, improve or add if you want to optimize your on-page SEO.
Add content and improve any thin content on your website
Internet search engines prefer longer content as compared to short and "thin" one. So, if your page offers short content with little value to the readers, make sure you don't have such content, and that if you do – you take actions to improve it.
The easiest way is to check if you have a page with less than 500 words. If this is the case, you should proceed to expand the information included to increase the word count.
This though doesn't mean that you add useless fluff or information which is of no interest and value to anybody.
For example, imagine a category page which has no unique content and also features a large number of internal links pointing to product pages on the same website. This kind of page provides no information to the internet search engines, neither do they provide the users with useful information.
Google's Fred Update was aimed at cracking down pages with thin content. This has led to disastrous results for the rankings of a number of pages with multiple links and very little or no useful or valuable content.
So, for better page rankings take the time to scan your content and replace, improve and relaunch any thin content with a better and revised version which both the search engines and the users will like and find useful.
If it is not – make your website secure
Since 2014, Google has used secure HTTPs as a ranking signal. The HTTPs pages have higher rankings than non-safe ones. Today, you may have noticed that more than 50% of the first-page search results are using HTTPs. In 2016, the percentage was only about 30%. So, expectations are that in 2018 the percentage will reach 70% and more.
Chrome has also started labeling non-HTTPs pages as "not secure" which definitely is affecting the conversion rate of websites, especially for online stores, e-commerce and industrial pages which require that visitors and customers enter personal and financial transaction information.
Various hosting companies offer free SSL certificates for all websites they host. When you are migrating to HTTPs, you should register both the old HTTP and the new HTTPs domains in the Google Search console, as well as the non-www version. Then ensure that the old site and the non-www version of your domain are redirected to the secure HTTPs one.
Make your website mobile friendly
Today, a large percent of all Google searches are done via mobile phone or other mobile devices, and this tendency is likely to continue growing. Thus, if you want to improve your ranking and conversion, make certain that your website is mobile friendly and responsive.
Since 2015 Google has been penalizing non-mobile friendly websites. Many industries and businesses have noted the increased percentage of visits to their websites from mobile devices as well. Mobile searches and mobile traffic are especially crucial for small local businesses and services, as mobile devices are the leading drivers of their organic traffic.
So, check how mobile friendly is right away, and make it your priority number one to turn it into a more responsive and user-friendly one. Soon you will see a boost in your mobile search rankings and at the same time will provide a much improved user experience.
Improve the click-through rate (CTR) by perfecting your Meta description
Although there is no direct relation between using specific keywords to higher rankings, working on improving your Meta descriptions is of great use for users, and if you want to optimize your page for better SEO and rankings, you also want to improve and optimize it for the users as well.
If the Meta description of your page includes an exact match with a keyword that a user is searching for, it will be highlighted in the internet search results. This will lead to a higher CTR, which is an important factor when it comes to ranking.
Check if your pages don't have Meta descriptions, or whether they are way too long or too short. Ideally, they have to be 160 characters long.  Revise them if you find that your CTR is low even though your page is ranking highly.
Increase on-site dwelling time with multimedia and copy hacks
Although there is no specific evidence to show that embedding videos on your site will improve its ranking, videos do enhance engagement of the users and the dwell time on the site. This signals to the search engines that the site is of interest, so it will affect the search engine rankings.
You can use various multimedia including video to keep your users engaged. This leads to a higher perceived value of the content and a better user experience. It also can drive traffic to other assist and channels such as YouTube and others. It also inspires your audience to view more, share and link to your content.
In order to find out what types of multimedia content and which kinds of videos are of interested and value to your users or customers, you can set up an online survey to ask them what type of video content and multimedia they would prefer to see on your site.
Final words
With these pretty simple tips and changes, you can drastically increase your page rankings, so go ahead and check out which ones of these need improvement and get going!