Now that you have here, we figured out that you're confused about choosing between Dell vs HP. You might be looking for a back-to-school laptop or a professional companion that would assist you in a lot of work. In either case, the states are very high. Before we start the side-by-side comparison, you should know a thing or two about choosing a laptop for your need.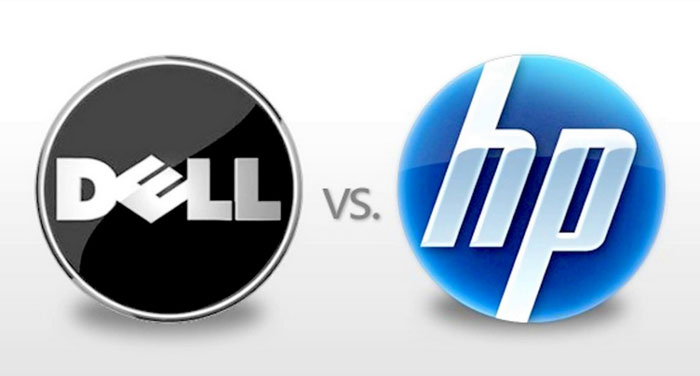 The Thing about Choosing a Laptop – Or, Any Electronics, for That Matter
Choosing consumer electronics products has become a tough job nowadays. For example, we can take into account an instance of purchasing a smartphone. You are likely to be overwhelmed by the number of devices and brands that exist. But, if you think choosing a smartphone is the toughest task, you're wrong – not just in one aspect but many. If there is something we'd call impossibly tough, that's choosing the perfect laptop for your needs. We feel not many people don't even think about desktop nowadays, because we now live in the world that craves for ultimate portability. And, there are many choices when you need one of such easy to use, portable and powerful computing machines for everyday usage.
The Solution – Let's Narrow Down to Brands – Dell Vs HP
There is one thing you can do for minimizing the toughness, though – bringing the story to something that's between brands. That is, you can first choose some of the finest brands from the industry and pick a few for shortlisting. This way, it's easy to make sure that the possibly-your device would have the basic needs filled, such as quality, service and performance aspects. After that, it would be easy to go for a laptop that suits a specific budget and requirement, you know. If you were looking for versatile choices, though, chances are a lot higher that you reached a kind of tie – between Dell and HP. But, how do you pick the best brand from that duo? That's what we are going to talk about in this comparison article.
We are planning to bring a final verdict as well as some worthy recommendations. In the course of this guide, we will talk about the different laptop choices you have from Dell and HP, and would recommend some of the finest ones, in case if you need a quick pick. After that, once you have an idea about what you are looking at, we can go ahead and discuss the various aspects of Dell Vs HP, such as performance, design, build quality, service, hardware, software etc. Before we move onto the actual recommendations, we believe a short and sweet introduction to both Dell and HP is due.
Let's Dig Some History – Of Dell and HP
Dell started its prestigious journey of consumer electronics manufacturing in 1984, which was 33 years ago. Currently, the company offers a wide variety of products and services, but Personal Computers are still one of its major domains. For years, Dell computers have been present at homes and office spaces alike. While they have dedicated packages and devices for organizations, Dell Laptops were found in almost all homes at a period of time. In the course of time, Dell has merged with several firms and it's now a subsidiary of Dell Technologies – which is a larger player that consists of Dell and EMC. One thing that we love about Dell is the different product classes to choose from. We'll cover them in detail; just wait for the upcoming parts.
Like many of the tech giants of today, Hewlett Packard had its inception in a car garage, as the brainchild of William Hewlett and David Packard. It's currently one of the most popular manufacturers of PCs, and it has held the first position for many years in a row. Currently, the company is also offering other products, from various categories but the most popular section would surely be PCs. Just like the case of Dell, HP also offers some cool product ranges for home and office purposes. Although there aren't many specific classes for its products, people have been finding all sorts of computers suited for their purposes. As you may already have got to know, HP Laptops are comparatively affordable.
Now that you have a clear idea about both Dell and HP – as manufacturers of Personal Computers and other consumer electronics -, we will move to the specific comparison part. Before that, as we promised, we did make our effort to bring you some worthy recommendations.
Some Worthy Laptop Recommendations from Dell and HP
The idea is to bring two of the best laptops being manufactured from both Dell and HP. That is, you'd have two best laptops from Dell and other two from HP, and we have tried to balance our selections. At one end, we have the best laptop, which is the best choice if you have no budget constraints. At the other end, there would be a bang-for-your-buck laptop that also shows the legacy of the specific brand. Shall we have a look at those devices, then?
#1 Dell XPS 13
Although not the latest, Dell XPS 13 is one of the best Dell laptops you can purchase right now. It has received immense praise from customers, thanks to the amazing hardware inside.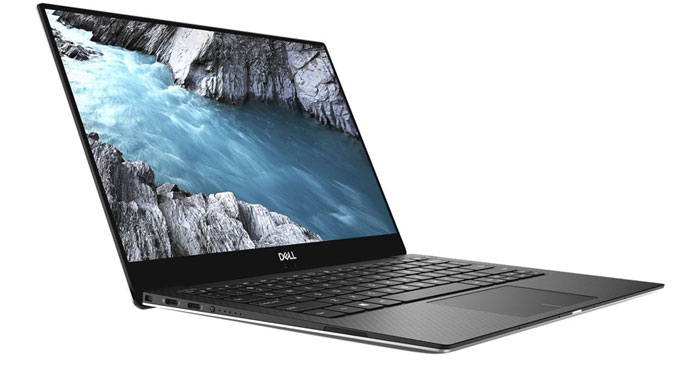 This device is recommended for a variety of professionals who require portability and performance. One thing that shouldn't be ignored is its Infinity Display, which is ultra-sharp and quality-rich. At the end of the day, Dell XPS 13 offers almost all the awesome features for the premium price-tag it has.
Intel Dual Core i7 Processor, with Up to 3.0GHz
Quad HD+ Infinity Display with 3200×1800 Resolution
512GB SSD and 8GB of RAM
6lbs weight and offers battery life up to 11 Hours
Intel HD Integrated Graphics
#2 Dell Inspiron 15.6"
Dell Inspiron 15.6" Laptop is the perfect combination in many people's dreams. It's an affordable laptop that packs somewhat a stunning gaming specification.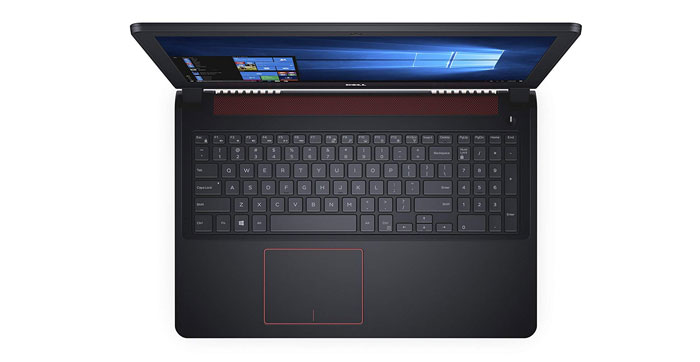 It's powered by the latest processors and dedicated set of graphics from NVIDIA. Thanks to the fully-fledged keyboard and well-built ergonomics, gaming experience is something impressive in the Dell Inspiron 15.6" laptop. It's also good for someone who require exemplary performance on the go.
7th Generation Intel Core i5 Processor with up to 3.5GHz
8GB RAM and 256GB SSD Storage.
6" Full HD Anti-Glare LED-Backlit Display
NV GTX 1050 4GB GDDR5 Dedicated Graphics
Windows 10
7bs weight
#1 HP Envy 17t
HP Envy 17t is one of the most durable and powerful laptops every made by HP, accompanied by the classy build and looks. Obviously, it's a premium laptop but you can have all sorts of advanced options, including dedicated graphics and 1TB storage. All these are included in a slim-profile laptop like this.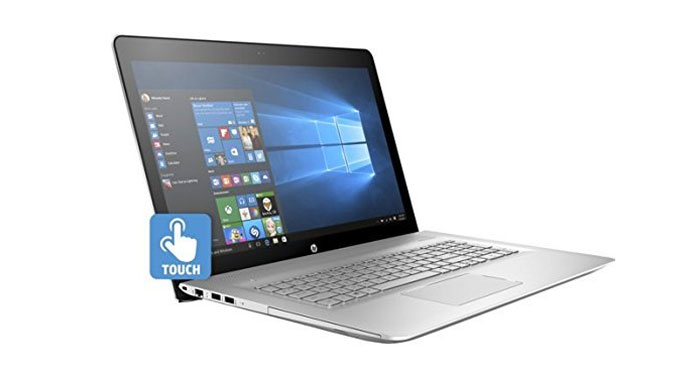 If you have a huge amount to spend on your laptop and needs something up to the mark, HP Envy 17t is a wonderful option for sure.
7th Generation Intel Core i7, with up to 3.5GHz via Turbo Boost
3″ diagonal UHD IPS Display
16GB RAM and 1TB SSD Storage
NVIDIA GeForce 940MX Dedicated Graphics
Windows 10 Pro
7lbs Weight
#2 HP Pavilion X360
Here comes a HP Laptop for those who have somewhat a tight budget to go with. HP Pavilion X360 is a two-in-one laptop that you can adjust according to your needs.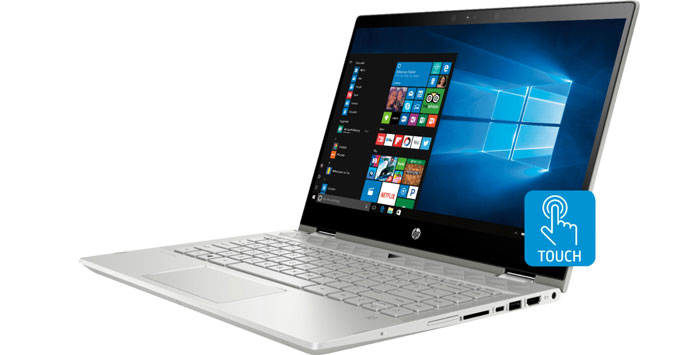 It has packed satisfactory amount of performance inside, thanks to the classy hardware in use. We'd not say that the laptop is ultra-thin, but the design is a lot better than most of the laptops you'd find for this budget. So, if you need a common office laptop or a media consumption device, HP Pavilion X360 is highly recommended.
Intel Core i3 Processor, at 2.3GHz; 6th Generation
6GB RAM and 500GB HDD
360-Degree Flip-and-Fold Design
6lbs Weight
Intel HD Integrated Graphics
Windows 10
8-hour Battery Life
Now, we will move onto the actual comparison of two brands, Dell and HP.
The Choice, Collection and Options
Choice is something important when it comes to picking a laptop, you know. Everyone has a unique, specific and to-the-point requirements when they need a laptop. Some want it to have awesome multitasking power while others look into the gaming aspect only. And, this is the same reason why we should have a clear idea about the collection of brand before we stick onto it.
As we mentioned earlier, Dell has a wonderful collection of laptops, available via different classes. In fact, it is possible to find a suitable product class from Dell for almost all your laptop needs. For instance, if you are looking for ultra-high-end gaming laptops, you can go for Dell Alienware, which is actually more popular than Dell in the gaming laptop industry. Similarly, if you are looking for a device that you can use for professional needs, there are Dell's two series – XPS and Inspiron. Similarly, for home uses too, you can find the best set of notebooks. Looking from a customer's point of view, this is something impressive. If you are a customer, you can first specify your requirement and get into a particular class of devices. That said, there are some issues based on budget. Because of the class system, many laptops may have a non-affordable pricing even with less specs. Cut the story short, Dell offers an organized collection of notebooks even at the cost of some minute issues.
It's totally a different story when we come to HP laptops. You cannot find many sub-brands in the world of HP laptops, but you can probably find laptops for all your needs. if you look at the history, one thing that can keep HP and Dell apart is the business philosophy they have. Dell has been trying to perfect their devices in the course of time, while HP had another perspective for the game – which was massive production. It has also been the same reason why you have a better number of HP laptops to choose from. However, recently, we have been seeing some micro-brands and series from HP. The best examples we can take are the HP Envy and Spectre series. However, the options are somewhat limited and you can't find many laptops in each of those series, which is quite opposite to what Dell had to offer. For instance, it'd be a bit of trouble if you're looking for a well-optimized gaming laptop from Hewlett Packard, you know. To put things in a simple way, we think HP offers less versatility and more numbers when it comes to computers.
Design and Style
When you are looking for a laptop, you'd be concerned about its style as well. Before you confirm to go with any of the brands, you should have a general idea about the style of what's being offered.
Dell is noted for its uniform style when it comes to laptop, Alienware being an exception. You can find a few things same with almost all Dell laptops – sometimes with the form factor or with the total style of it. That having said, colour choice is something important. You can have Dell notebooks in some vivid colours, which is a great thing for people who like going different. Overall, the style is somewhat limited.
HP, on the other hand, has been coming up with different styles and appearances in its recent devices. We'd also say that most of the devices look so promising. So, it doesn't matter whether you're looking for a sleek laptop or a rugged-built one, you have choices from HP. The same company disappoints when we consider colour choices though. Most devices are available in black/grey variants and nothing else.
Quality of Hardware and Software
This is one of the rarest situations in this HP vs Dell comparison where we have a tie. We asked more than a few customers of HP and Dell, who had purchased laptops in the past one year of time. And, what they had to say was something interesting.
According to those opinion and general insight, both HP and Dell are offering extraordinary quality when it comes to hardware. It's the same reason why notebooks from both brands have some kind of resale value, at the end of the day. It's quite unlikely that you come across serious hardware troubles in these devices. Of course, things may change if you are going to overclock the hardware or something. So, as long as you stick onto the recommended load and purposes, there's nothing to worry about the hardware aspects of Dell or HP laptops.
Both manufacturers don't really meddle with software in their notebooks. Not much of resources are being consumed by the extra software you get. Also, in most notebooks, the additional software is useful for the purposes of optimization and device control. For instance, you can find some useful piece of optimization tools in Alienware laptops, such as the ones for keyboard customization and all. In HP too, you can find some of such tools, but they are not really extensive, per se.
Cut the story short, it's hard to pick a winner based on this aspect.
Pricing Trends
It's hard to draw a line of affordability when it comes to laptop computers. As we said earlier, there is a kind of variety of sub-brands and sub-categories to choose from. However, we will help you make a decision in a quick manner.
Dell laptops are comparatively less expensive, especially if you are looking for some advanced features and fully-fledged connectivity options. There are many reasons why Dell can do this. First of all, impact caused by retailers is way too low here. Dell always recommends purchases from official stores and online, which is a great way to save some money for the customer. Similarly, if we compare two devices from HP and Dell that have the same configuration, you can find the Dell one to be more affordable. HP, on the other hand, offers laptops for almost every budget range. It doesn't matter whether you have $250 or $1500, you would find the suitable notebook from HP's inventory. Yet, it doesn't dim the fact that you will have to pay relatively higher amount for getting a HP laptop even when specifications are set to be the same.
To get an idea, you can have a look at the recommendations we've given above.
Customer Care and After-Sale Support
This is somewhere Dell has a slight upper-hand over HP.
Both HP and Dell are popular for their remarkable and beloved customer care and technical support. As long as you're in the warranty period, you can simply register a complaint and the technical support agent would visit your place and do the necessary. In comparison, however, Dell is noted for a more welcoming support system and easy-to-use interface for registering complaints. Also, we have always been amazed at the pace and quality of the technical support offered by Dell. Even in the case of small issues, they tend to replace the product rather than making the customers wait. It is recommended to safety recycle your dead electronics using services like All Green Electronics Recycling to avoid reselling of your product. So, this is one reason why Dell wins here. It's not just about satisfaction, but also about the quality too, you know.
The Bottom Line
There is no specific answer to the question as to which brand is best among HP and Dell. However, we're at a position to guide you a bit.
If you are looking for inexpensive laptops that don't compromise standard performance and features, you'd have better options with Dell. As we said earlier, the brand also offers some additional perks such as its high-class customer support and the sub-classes for easier collection. To take an example, you cannot compare the gaming performance of Alienware devices with even the high-end gaming laptop from HP. So, if you are purchasing the laptop for gaming, we'd recommend nothing but Dell.
On the other hand, HP is for those who need a healthy combination of everything, but nothing extreme. By looking at the range of HP laptops, one can be sure about its versatility. It doesn't matter if you are looking for a typical home laptop or a performance beast or a portable high-end device, you will find something cool with HP. Just as we discussed earlier, there are the assurances of performance, hardware quality and useful software additions. Considering all these, HP is a good choice too.
We really hope our Dell vs HP laptops comparison helped you to choose the best laptop brand for you. Now that you have decided the brand to rely on, you can go ahead and check out the best laptops from the main manufacturer. Here too, you have two options. First, you can choose one of the best recommendations we have given above. Second, if you have a customized budget plan, you can go for something else from the big world of HP or Dell laptops.
See more comparisons – Lenovo vs. Dell.