Edit comment form of your WordPress blog and remove website text box to avoid spamming:
When you are running a website or blog which is self hosted wordpress or even if it is free wordpress.com blog then you might have face many comments from spammers to make Backlink from your website also to advertise their site on your blog through a easiest way and that way is commenting on your website. Therefore we have to remove comment from the wordpress comment form.
Usually we all knows very well how to avoid spamming from wordpress comment is to use a popular wordpress plug-in named  akismet– http://akismet.com/
But this plugins cant avoid all spammers because nowadays spammer becoming more and more intelligent and they are breaking akismet criteria of spam and still creating your blog/website with spam.
Normally the structure of any wordpress default comment form is like shown in figure :
It mainly contains 4 text boxes as follows :
1) Name
2)Email
3)Website (This is one who responsible for spam)
4)message
so it will be much better if we remove website text box from the comment for just by editing the comment form in the wordpress.
Now procedure to do so:
step1:
Goto  admin panel and click on appearance>> then select editor.
step2:
Under  editor select (comments.php) to edit.
step 3:
Remove this code from that php thats it now save the file by clicking on update file:
Code:
<p><input type="text" name="url" id="url" value="<?php echo $comment_author_url; ?>" size="22" tabindex="3" />
 <label for="url"><small>Website</small></label></p>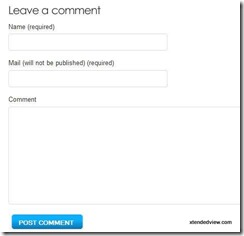 now see the comment form this is antispam 🙂
So in this way you can easily control spamming by comment on your wordpress self hosted site or even with free wordpress blog.