Millions of parents are opting to purchase a tablet for their children. Many see it as a source of entertainment, while others find the value in them using it to read and study. When it comes to choosing which tablet to purchase, it can leave many parents with a lot of questions. The market for tablets, regular size and mini ones is growing, making the decision even more difficult.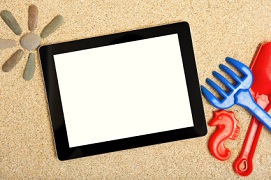 Before making the leap to purchase any tablet that you come across, give it some thought first. The time you spend researching tablets will help you find the best match for your child and will be worth it in the long run. Here are some tips for choosing a tablet for your child:
Determine usage. The first thing you want to do is determine how your child is going to use the tablet. Are you purchasing it with the notion that they will be using it for surfing the Internet, or will they mainly be playing video games? The more you have an idea of what you want it to be able to do, the better you can narrow down requirements that the tablet must meet.
Read reviews. There are plenty of reviews online for tablets. Do a few online searches to see if you can see real life reviews of parents who have purchased the devices for their child. You can also ask friends to see if their child has one and what they think about the device they chose. Find out if there is anything they wish they had known before making that purchase.
Hardware and software. Any tablet you purchase will need to be good with touch-screen capabilities. It will also need to have a battery life that will give them enough time to use it without feeling that it's constantly on the charger.
Protect it. Tablets are fragile and children aren't always careful with them. Make sure that if you are going to invest in a tablet that you also invest in a good case to help protect it. There are some that have been designed for kid usage and will help the tablet stand up to children better.
Set controls. Choose a tablet that will allow you to set parental controls. You will want to have the ability to block things that they should not be doing. Whether particular sites online or continuously purchasing apps without permission, there are things that every parent ends up wanting to block.
Use monitoring software. Just as you would monitor your child's computer, consider tablet monitoring software when picking out a tablet for your computer. At this time, there is only monitoring software for iPad or Android tablets.
Choosing a tablet for your child may seem like a difficult task at first, but once you spend a little time following the tips above it won't seem so challenging at all. You can also always speak with the sales people at technology stores. They can usually point you in the right direction of one that is fitting for your child's age and what it is that you want to use it for. Before you know it, your child will be busy playing, reading, and researching all on their convenient tablet!
Kelly Austin works with a team of writers at PeekTab to help parents make responsible choices when it comes to providing their children with tablet computers. It's always important to keep an eye on what all they're doing, installing software to monitor a tablet puts a parent's mind at ease. Follow Kelly on Twitter @KellyAustin86