The way we secure our homes is changing. As technology evolves, so do our home security and door access systems. The introduction of the smartphone door access system has revolutionized the locksmith industry and allowed for various new options for consumers. You must be wondering why there's been such an influx in these kinds of systems and what it means.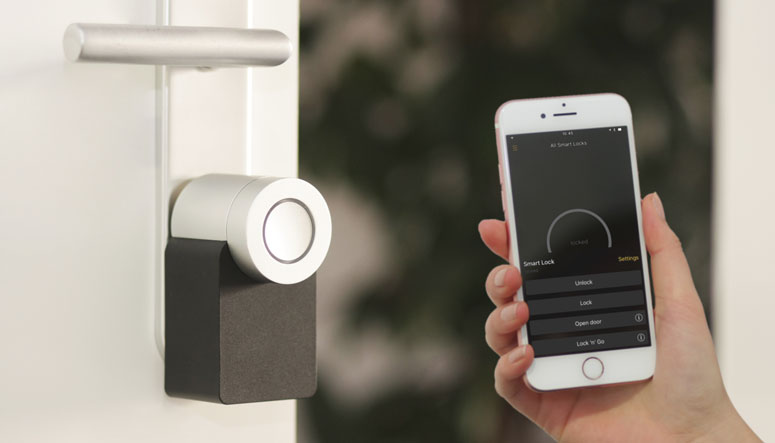 The article will answer all your questions, and you can learn more about door access systems in the post below. Here's everything you need to know about smartphone door access systems and how they can benefit your property.
User Friendliness
Smartphone door access systems are extremely user-friendly. The only thing you need to do is download a smartphone app and set up an account. Once you do that, you can use your smartphone to unlock your door and lock it again. You can also check the status of your door lock from anywhere using a remote connection. Additionally, these systems provide additional security features, like:
remote monitoring of who enters/exits, and
track who opens/closes your doors at any given time.
Accessibility
A smartphone door access system is not just for convenience. It can also give you peace of mind knowing that your home is accessible to all your loved ones.
People with disabilities often face challenges when it comes to accessing their homes. It usually happens if they live in an area where they don't have a wheelchair ramp or elevator to get up and down the stairs. A smartphone door access system allows them to enter their home without asking someone else for help. It allows them the freedom and independence that anyone desires when living on their own.
Seniors are another group who will benefit from this technology because it makes life easier for them too.
If you're a senior citizen who lives alone, the chances are good that something can go wrong at some point during a given day. It could be forgetting keys or losing track of time while shopping in an unfamiliar city. If you have a smartphone door access system installed at home, these concerns disappear instantly.
No more worrying about losing track of time because the app automatically logs off after a few minutes without activity. No more forgetting where you last left those keys. Just check out which room they're hanging on by using a navigation service, like Google Maps. All told, there's nothing more frustrating than having an important place like home be inaccessible. But luckily, now there's an easy solution.
Security
Door access systems are more secure than keys, making them ideal for keeping your family safe at home.
Keys can be lost or stolen, and hackers can also copy them. Also, the process of duplicating a key is simple. Someone just needs to take a photo of your key as you unlock the door, then use it to create a new copy that can unlock your door. This method works because modern locks use millions of possible combinations. So if one person learns one combination, they can easily duplicate it in others by copying their old key and memorizing all possible combinations.
The benefits of using an electronic door access system include:
you don't need to carry around physical keys;
the system is hard for others to hack into;
your family will feel safe knowing that intruders would not gain entry into their home with just one key.
Integration
Another benefit many people enjoy about having a smartphone door access system is that it can be integrated with other smart home devices. For example, you can integrate your door access system to work with the voice assistant devices like Amazon Echo or Google Home. That way, when someone presses their button and says "Alexa," they'll gain entry automatically without worrying about unlocking their phone first.
Similarly, if you have any kind of smart lock installed on your front door, you can also integrate that into your smartphone door access system. This way, when someone gets close enough for their phone's Bluetooth connection with the lock to kick in, just uttering those magic words will unlock everything instantly.
You might also want to think about integrating your new smartphone door access system with other apps on your phone. It could include things like Spotify or Pandora Radio so visitors who come over won't get bored waiting at the doorstep. It could also mean checking social media feeds like Facebook Messenger while talking face-to-face, which would certainly make conversations more fun than before.
Functionality
As a homeowner, you're likely to have many people coming and going. So you may want to allow guests access to your house and restrict other people, like children or pets. You also may want expected visitors, like deliveries, who don't live there yet.
Additionally, you can use a smartphone door access system to grant certain approved individuals access at any time. It includes prospective buyers looking at your home for sale or neighbors you frequently see on walks through the neighborhood. The possibilities are endless!
Smartphone Door Access Systems are Gaining Popularity
Smartphone door access systems have become popular lately due to various benefits. They are easy to use and can be accessed from anywhere. They are also secure, so you will know who is coming into your home or business. In addition, you can integrate them with other systems such as alarm systems and smart locks. It means you don't have to buy separate equipment for each security system component. Instead, everything can work together seamlessly.
Another great benefit of smartphone door access systems is that they are functional. They let you control the temperature at home or remotely unlock doors so guests can enter without waiting outside while someone comes out to manually open them.
Smartphone Door Access Systems are the Future of Home Security
Smartphone door access systems are a great way to protect your home from potential intruders. They also offer many additional benefits, including ease of use, accessibility, security, integration, and functionality. These qualities make your house safer and more secure than ever before without breaking the bank.