If someone knocks your door and you don't know who it is how would you answer it? Most of us use the peephole camera to see who is outside without having to confront the person first.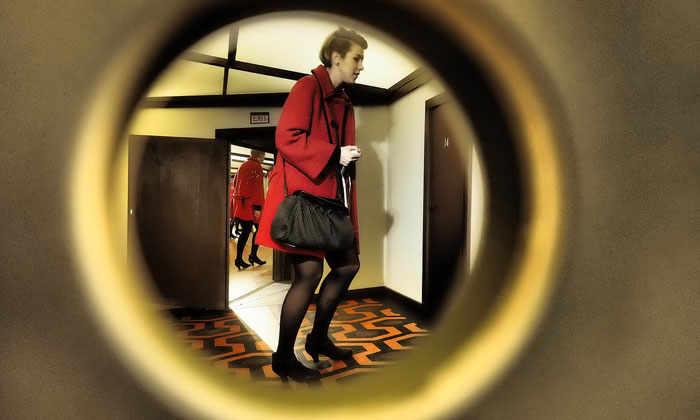 However, the visitor can see when you move in front of the peephole camera and you probably don't want that to happen. Depending on the quality of the lens you may not be able to get a good look at the visitor as well. A peephole camera allows you to avoid these limitations and let you see who is outside without having to confront the person.
A peephole camera replaces the existing doorbell hole and offers you better security. Let's look at the factors you should take into consideration while choosing a peephole camera that suits your requirements.
Factor to Consider when Choosing the Best Peephole Camera
– Type
There are mainly three different types of peephole cameras, standalone, detachable and fixed-on-door cameras.
Standalone cameras come with a doorbell and an LCD display to let you see who's outside. They don't have any external wiring and visitors cannot detect it. The detachable cameras offer wide viewing angles and allow you to install extendable display devices as well.
The fixed-on-door cameras are extremely small in size and they're fixed on the door. You can use them as an external surveillance system and save your recordings on an external device.
You should also decide whether you want to install a wired or a wireless peephole camera. A wireless peephole camera can sync with your laptop, tablet or other devices without any problem. You can connect a wireless peephole camera to your home WiFi network. It can also send you notifications and video footages of the visitors when you're not home.
Wired peephole cameras usually come with their own display which is mounted on the other side of the door. These cameras are standalone cameras and they don't need a WiFi network to work.
– Installation
You don't want to spend too much time installing the camera and want the installation process to be easy. If your camera requires you to remove the old peephole lens first, the installation is going to be tricky and time-consuming. Some of the cameras need you to replace your doorbell.
To avoid messing around with wires too much, you can also use an external power source, such as a battery. However, it is best to use the house wiring to make sure that you never have to worry about the power. Choose a peephole camera which is easy to install and works right out of the box.
– Smartphone Integration
Just having a peephole camera might not be enough for you. You might want to sync it to your smart devices and answer the door from your Smartphone.
With smart integration, you can enjoy a number of benefits like automatic notifications, wireless connections, video footages, pre-recorded messages, intercom features, cloud storage, etc. With smart integration, you can monitor your house even when you are away.
– Memory
Most peephole cameras can record the video footages of the visitors. The low-end models rely on a memory card or a hard drive for recording. It can get little annoying to manage space on your hard drives. High-end models upload the footages on the cloud and you never have to worry about freeing up space on your hard drives.
– Screen Size And Picture Quality
With a peephole camera, you enjoy a wider viewing space and a large display as compared to a standard peephole. Make sure that you get one with at least a 3-inch display to be able to see the visitors clearly.
You must check the resolution of the display and the camera before you purchase one. There is no point buying a peephole camera if you only get to see the blurry pictures of the people who visit your house.
– Low Light Capabilities
Your camera must be capable of performing well even if there is not much light outside. You must be able to look at the visitors who visit your house during the night. A number of peephole cameras are infrared capable and they produce clear pictures during the night. Without the low-light capabilities, security cameras cannot serve the purpose completely.
– Power Source
Peephole cameras are often powered by a battery. Look for a camera that comes with a high-performance battery which is rechargeable or one that works directly with your house's power supply. You don't want your camera to stop working suddenly, that's why it is necessary for you to know about its power source.
– Additional Features
Smart door viewers come with a number of advanced features, such as knocking sensors, multi-device sync, recording visitors, motion sensors, 2-way communication, etc. Look at the additional features that you expect in your camera.
– Fitting
You need to ensure that the camera fits your door well. You can measure the thickness of your door and the size of the peephole to make sure that the product you buy serves the purpose.
– Budget
You should consider your budget before you go ahead and purchase a peephole camera. Peephole cameras are available at different prices and features vary according to the price of the product.
The above-listed points will allow you to make the best decision while purchasing a peephole camera for your house. Your peephole can take your security to the next level and it is not limited to showing you who's waiting outside through the lens. With the right smart door viewer, you can keep your eye on your door without even being there.
Final Thoughts
Peephole cameras offer a number of advantages like allowing entry to selected people, get a view of all heights, keep the elderly and kids safe, and answer the door from your bedroom and much more. The above list will help you choose the right peephole camera for your house.
This buying guide will make your buying decision easier and also allow you to make sure that you're not missing on any essential features. If you find this guide helpful, comment below and please don't forget to share it with your friends.