Whatever we say about the influence of technology and its applications in our daily life, some people, especially government authorities, seem to prefer printed documents to digital ones. Because of this, it is preferable to have access to a printer so that you can create printouts of necessary documents – it appears that the printed document is not dead yet!  As there are thousands of printers available on the market, choosing the right one can sometimes be tricky. However, HP has a variety of printers to choose from. The HP Envy 120 is not a normal printer but a multifunction document processor, which can make printouts, copies and scan document. Now, let us have a look on this awesome device.
Also read: How to print directly from Android device
Design
HP Envy 120 has broken down the usual concepts of an all-in-one printer that force conventional MFPs to look like a BIG CUBE. Simply we can call it the most 'stylish All-In-On Printer we have ever seen'.  When compared to older models of multifunction printers, it is a much smaller than you expect – sized a bit bigger than a Blu-Ray player. On top of all that, you will not recognize this device as a multifunction printer at the first glance. In technical jargon, the Envy 120's dimensions are 4.3*16.9*3.2 inches. The sleek, black finish makes this printer a modern accessory to your office decor.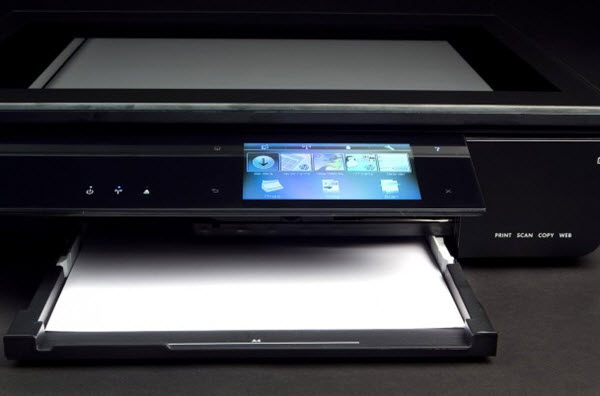 The control panel of the device is sized around 4.3 inches. There is also a lid on the top of device, which helps to function as a scanner. Once opened, the device transforms into a traditional scanner. The paper tray of Envy 120 is placed under the control section, which consumes less volume and has less capacity for keeping sheets. You can refill sheets in it and push back, using buttons, to keep the device compact. The printer takes the paper from that tray and notifies you when it has used all 80 sheets. There is also a superb feature to keep printouts neat without letting them fall to the floor; sadly, this feature can support only 30 sheets.
Features
True to its name, the Envy 120 comes with a set of envious features. As specified earlier, the Envy 120 incorporates a 4.3 inched touch screen control panel. The panel gets the power of light when switched on and there are various icons available, which in turn makes printing, scanning, and copying a whole lot easier. The screen has moderate sensitivity that avoids unintended touches. Along with operation controls, the panel also consists of a button to open the paper tray.
The Envy 120's connectivity is also easy. You can use this device for printing via different options such as USB, Wi-Fi, and Memory Card etc. Some additional HP features are also loaded. When you are using USB drive or memory cards, there is an option to preview images and documents in the 4.3 inch screen. In addition, you can use pre-loaded features to make a  printout via cloud, if you have connected the device using Wi-Fi. You can also print documents and images from your Smartphone or Tablet PC by means of Wi-Fi connectivity.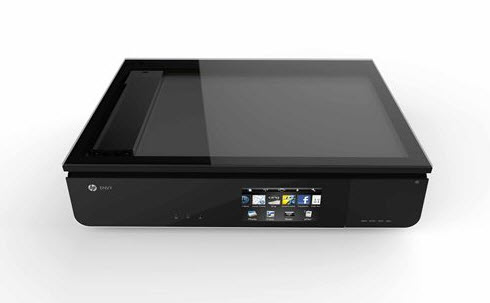 Something which should be mentioned about the HP Envy 120, is regarding the cartridges used. Even though major rivals have shifted to a four-cartridge system, HP seems to favour the two-cartridge system, having one black colour cartridge and primary three colours (yellow, cyan, magenta) in another cartridge. This device is using 60-Series cartridges from HP. These series cartridges are readily available on the market and you can even use websites like www.cartridgesdirect.com.au  to order printer cartridges which can be sent straight to your front door.
Performance
The HP Envy 120 seems to be a very economical printing machine when judged in performance testing.  However the paper tray does not appear to have a high capacity for printing a large amount of documents at one time. The device takes around 2 minutes for printing a photograph whereas it can print 2.2 pages per minute. When talking quality of printouts, the Envy 120 satisfies most consumers including school students, office workers and households.
Cons
Less capacity of paper tray and output receiver.
No Ethernet connectivity (can stop being used for networked printing).
No FAX Support.
Verdict
After analysing this printer and all its major features, disadvantages and designs, we should label it as a consumer electronic device, which also attempts to look pretty. Though there are some problems like low paper capacity, the device is still outperforms many printers in economical value and performance. After all, the device is priced at around $250, which may sound high for some of you! But features like Wi-Fi connectivity, HP's unique cloud printing etc are worth the money. Have you used this device? What did you think? Do let us know via comments.