According to the Internet Live Stats, the total number of blogs and websites on the web right now is more than 1, 775 000 000. Technology blogs are mushrooming, so it is getting harder to choose the best ones to read. Blogs are a great source of additional information and often more in-depth knowledge for students of various majors who want to gain a competitive advantage and succeed in their future careers.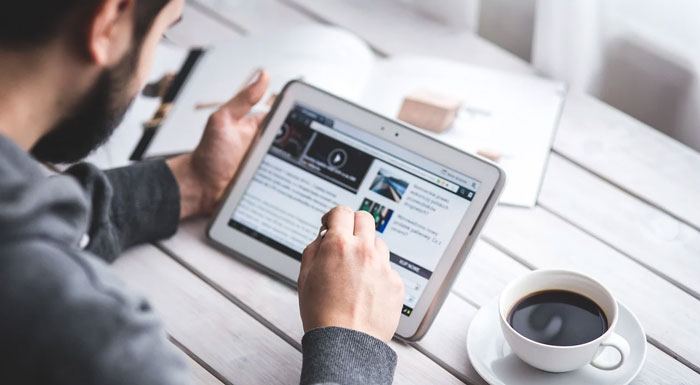 In this article, we've gathered a list of the best tech blogs in 2020 for students majoring in Computer Sciences.
TechCrunch
It is deservedly the most popular tech blog on the internet right now. It became a huge media source with a lot of text and video reviews. Here you can find an exciting podcast about the life of Silicon Valley, read about the most promising startups, and much more. TechCrunch is a giant info machine that keeps an eye on everything that is happening in the tech world.
Gizmodo
This blog is all about scientific infotainment. Gizmodo is a great combination of tech news and gadget reviews. The latter is very witty and sometimes contains obscene language. However, it is used so masterly that you will hardly regret reading the story. You can come across such articles as "It Pains Me to Report This Hot Dog Toaster Is a Piece of Sh*t" or "This Meditation Headband Made Me Feel More Like a Naruto Reject Than a Mindful Blogger," etc. The authors of this blog address the readers in a friendly and laid-back manner.
VentureBeat
Do you have a friend who is a total technology geek? Well, this blog can become one. VentureBeat talks nothing but the newest startups launched by guys from Silicon Valley. If you want to read strictly tech news with no add-ons, this is your perfect choice. Here you'll find fresh articles about new apps, VR & AR technologies, Facebook, game industry, etc.
Digital Trends
The name of the blog speaks for itself. This media source provides information about all the latest tech and digital trends. Besides, Digital Trends has an amazing "Original series" tab which explores all the topics in the form of a web series. The blog has a large number of reviews. You can read about the newly released laptops, phones, games, tablets, monitors, speakers, drones, and even cars.
Recode
Recode (acquired by Vox Media in 2015) collects news written by freelance journalists. It has a separate "Events" tab where you can find all the upcoming tech events with the detailed schedule and list of speakers. It has its own "Podcasts" section that covers political, social, and tech topics. But science is not the only topic available. You can also read about business and pop culture, food, etc.
ZDNet
ZDNet shares tech news 24/7. It provides analysis and reviews and tells about all the latest tech and IT trends in the world. The blog concentrates mostly on products for IT professionals. It is an excellent source of information for students seeking to research technology-related issues more deeply.
Hacker Noon
This blog highlights a wide range of tech topics. Here you can find all the latest news about AI, crypto market, coding, startups, etc. The blog publishes tech forecasts and the readers' stories. It is a huge international community of technologists. As a student, you can find many likeminded individuals, share your opinion, and ask for advice. You can write a piece of your own and share it with the tech community. If you have doubts about your writing skills but have a great idea to share, you can send your paper for editing and proofreading to essayservice.com or domyessay.com, where you can also get help with your college assignments.
CNET
CNET focuses on the latest technology breakthroughs and publishes detailed reviews of startups. You can also find a lot of researches about the impact of technology on our lives. CNET is more about tech philosophy. The blog tends to answer questions about the essence of technologies and why we all need them. There are also a lot of useful gadget reviews.
The Verge
The Verge is a multimedia platform similar to TechCrunch. Its goal is to show and, indeed, forecast how technology will change our lives in the nearest future. The Verge tech section highlights the latest news, apps, hardware, and startups worldwide. Here you can find precise reviews about gaming accessories, TikTok news, and more. The platform also has an entertainment section that collects the latest news from the worlds of pop culture, music, movies, television, and video games.
TechRadar
If you need tech reviews of everything in the world, that's your #1 choice. TechRadar has detailed reviews of laptops, cameras, mobile phones, new games, etc. Still doubting whether "the Last of Us 2" is worth playing? The latest review is already on TechRadar. Moreover, the blog has an amazing "How-to" section with tons of lifehacks.
The Next Web
TNW is one of the most popular tech sites in the world. Their reviews are very insightful and detailed. The topics they highlight are interesting and always up-to-date. For instance, you can start reading the "9 underrated marketing tips that turned Slack into a software giant" and then switch to "A look at the $17 billion stock portfolio of the Bill and Melinda Gates Foundation." The Next Web also has a lot of event updates and deals with the TNW conference.