Bars, as we know it, are usually very dimly lit to create a relaxed ambiance. This kind of ambiance is best when people enjoy their drinks, shed inhibitions and stay comfortable. If the lights are bright, customers will start feeling very conscious about the way they behave and how much they drink. Hence, it is best if the lighting is low and soft, without making it look too dark and dingy.
Even for home bars, the lighting is preferred to be soft and low. However, the bar space needs to have light enough for you to see clearly while mixing drinks, handling bottles and glassware, etc. So, how do you light up your bar keeping all of the above in mind? Here are 7 ways to choose the best lights for your bar.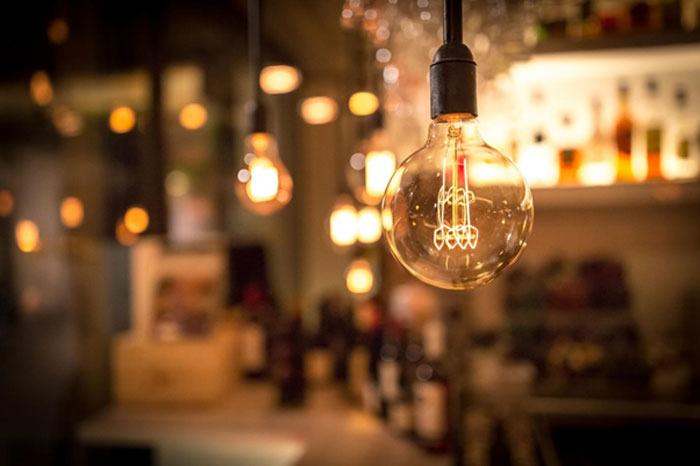 Source:  http://epicelectric.ca/best-lighting-kelowna-bar-shop/
Types Of Lighting That You Need To Consider
Be it a restaurant bar or a home bar, deciding the lighting of the space requires you to consider several elements. Based on these factors, lighting comes in three types-
Ambient Lighting- The kind of lighting is bright and comfortable so that people can find their way around easily. This kind of light is flooded and covers the entire space. During the day, natural light could provide the best kind of ambient lighting
Task Lighting- Keeping the rest of the space lit very dimly; there are few spots that are focused by a flood of light. This involves the space where one is cooking, mixing drinks, handling glassware or reading a menu.
Accent Lighting- The ambient light and task light apart; there are a few objects and elements placed to add that extra drama and funk to the place. These kinds of lighting include LED boards, LED symbols, colorful lightings, animated lightings, etc. It is there to accentuate the look and feel of a space. This kind of lighting could range from simple to creative and from a simple LED bulb to a floating lamp or levitating lamp. Floately is one of the best examples of Accent lighting equipment.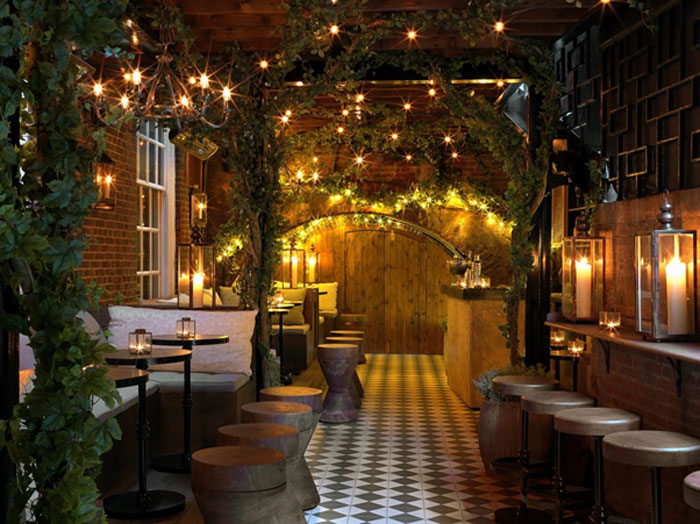 Source:  https://www.timeout.com/london/bars-pubs/bars-for-a-date-in-london
Shape Of Your Bar
Lighting a bar also depends greatly on the shape of the bar. There are four standard shapes in which bars are designed, be it at home or in restaurants. This classification depends purely on the counter of the bar. The rest of the elements such as liiquor shelf, wash basin, refrigerator, shelves for glassware, mixing counter, etc. remain the same. These shapes include:
Straight bar
L- shaped bar
Kegger bar
U- shaped bar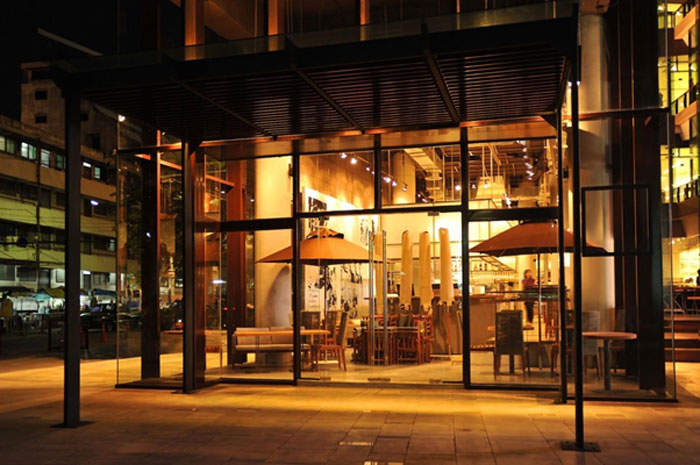 Source:  http://epicelectric.ca/best-lighting-kelowna-bar-shop/
Pendant Lighting
Pendant lights are single hanging overhead lamps that throw focus on the spot directly below. These lights are amazing if you place them over the bar counter. Depending on the shape of the counter, you can estimate the number of pendant lights required. It's better not to place them very close to each other as it will throw a lot of light making the whole space very bright.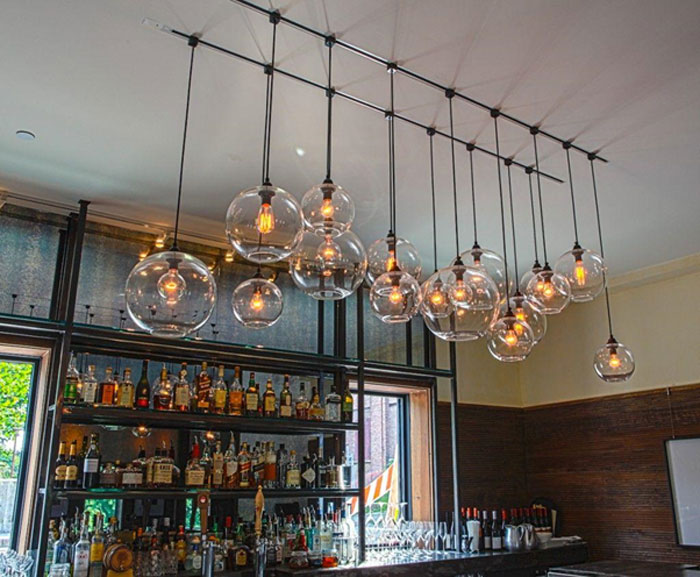 Source:  https://www.pinterest.com/pin/435441857694614905/
Multi-Light Pendants
Pendant lighting does not necessarily have to be single hanging lights. Multiple lights too can be clustered together to form the pendant lighting. Such lighting usually comes with a common base that is attached to the wall with multiple bulbs hanging at varying lengths. This kind of lighting is best suited for smaller bar counters since a single piece can provide enough brightness.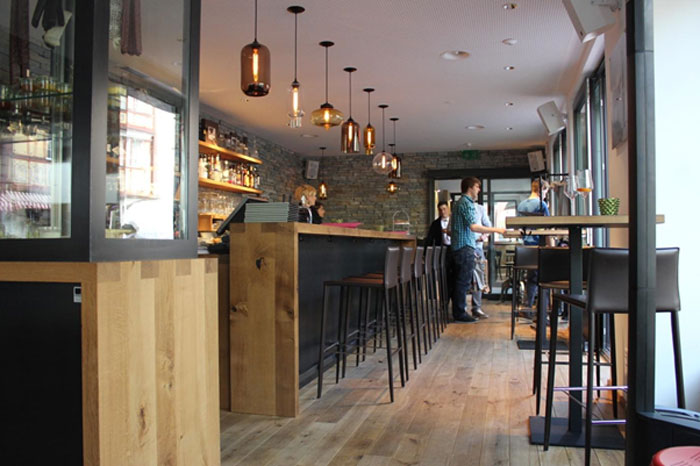 Source:  https://ormetbarranquilla.org/6508/16/
Chandeliers
Chandeliers are ornate-looking lighting arrangements that hang overhead. They throw amazing light and shadow, wherever you place them. This kind of lighting is perfect when you want to achieve the old school charm and elegance at your bar. You can place them at the entrance or the middle of the restaurant, especially if it is a small space.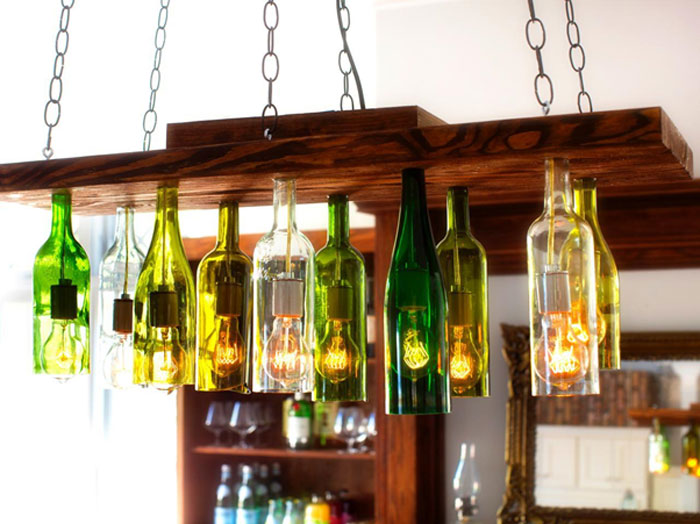 Source:  https://www.diynetwork.com/how-to/make-and-decorate/decorating/how-to-make-a-chandelier-from-old-wine-bottles
Track Lighting
True to its name, track lights are the kind of lights in which multiple lamps are fixed into a single straight line fixture. You can fix the lamps with warm white lights or bright white lights, based on the ambiance you wish to achieve. All the lights are hanging from the fixture through flexible rods that you can bend at varying directions. This is a single fixture that can provide multiple focus points.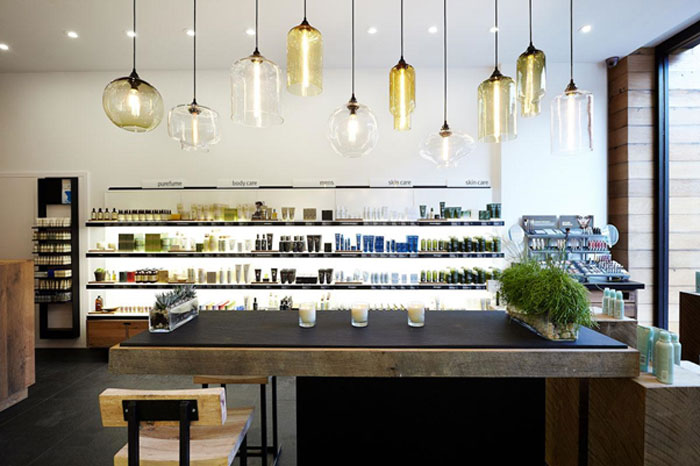 Source:  https://nimvo.com/20-gorgeous-examples-track-lighting-ideas/
Wall Lamps
Wall lamps are absolutely elegant and rustic lighting options for bars. These lamps are used majorly for accent lighting, providing a focal point of paintings or wall hangings. They are also useful to cover up that extra wall space. You can fit them with warm white lights so that they do not affect the ambiance of the bar. If you have ornate mirrors on the wall, wall lamps beside these mirrors will create a mystic look as well as good for vanity purposes.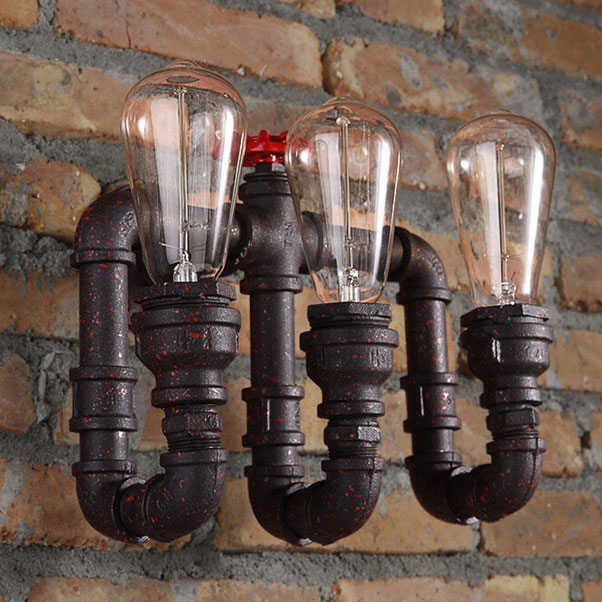 Source:  http://www.home-designing.com/vintage-retro-industrial-style-ceiling-wall-and-pendant-lighting
LED Strips- Lighting Liquor Cabinets
It is a well-known fact that LED light strips have made lighting the counters and shelves so much fun and easier. This is particularly true if your liquor counters need a little bit of spicing up. LED lights along the bottom of the shelves throw their glow on the liquor bottles, making the whole cabinet look magical. They also help in finding our way around the liquors stored. They fulfill both functional and aesthetic roles perfectly.
You can also use commercial electric LED strip lights to line up and decorate the bar counters, whichever shape they are off. Going for cool blue tones of LED strips will create the perfect aesthetic value to your bar!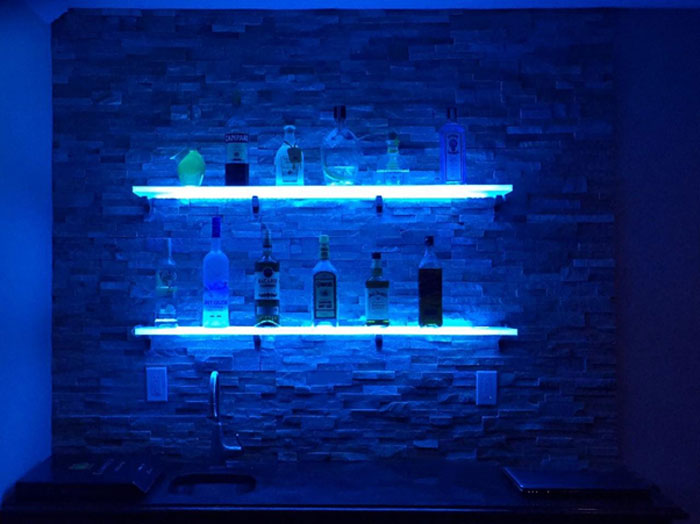 Source:  http://www.torchstar.us/glass-edge-lighting-kit.html
LED Discs
LED discs are another amazing option when you want to focus and light up a few specific parts of your liquor cabinet. Since they provide a more centralized light that looks like a spotlight, you can use them for counters/ shelves that contain your best liquors. LED discs with warmer tones also make for a good décor for the bar counter.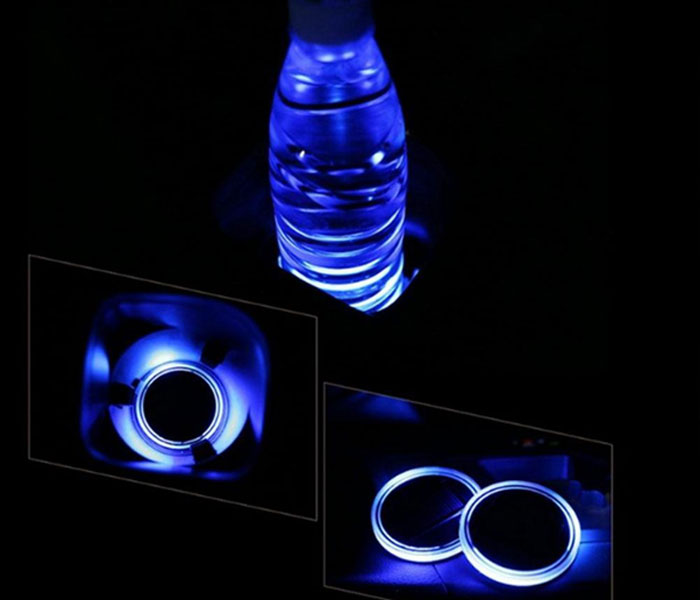 Source:  https://thatsnicethatsdifferent.com/product/solar-led-car-cup-holder-discs-set
Conclusion
Bar lighting speaks a lot of your taste and creativity. However, choosing the right lighting could be daunting at times. With these ideas, you'll surely come up with the best way to light up your bar! In no time, your bar will be up and running that speaks strongly of your personality and creativity!