As the Smartphone industry grows new apps are introduced in the market. These applications have not only provided us with a better smart phone experience but have also helped us improve our quality of life on many levels. The home improvement apps are an example which encompasses these benefits. No longer do you need a stager to present your home to the best advantage, you can now juggle with new ideas without the element of potential risks.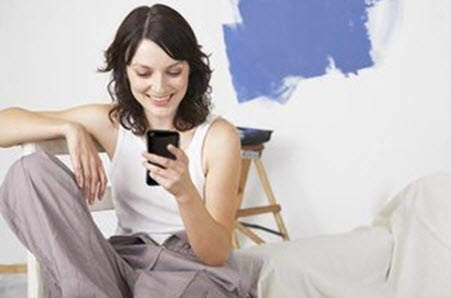 Apps help you choose the best color schemes for your rooms and the interior to go with it. Hence, not only do you benefit economically but also have the satisfaction of being self-reliant.
1) Houzz Interior Design Ideas
This app is the right inspirational catalogue for you if you are planning to carry out changes in your interior design especially. It encompasses over 150,000 pictures of designs for kitchens, lounges, porches, children rooms, and pools etc. added to this catalogue is the information regarding various products.
2) HGTV to Go.
This app has a collection of HGTV shows, quiet popular in interior designing. These shows have videos, tips and slideshow images that target home improvement projects. Crafts for home improvement have also been included in this series allowing for inspiration and creativity on your part when redesigning your interior.
3) Benjamin Moore Color Capture
Along with being one of the best color apps, it is also available for free. This app also allows you the freedom of selecting wall colors for your home after getting a virtual preview on your phone. It offers a wide range of color schemes which you can use to select the one that goes best with your interior and pleases your aesthetics.
4) Handy Construction Calculator
This app comes built in with calculators to estimate the cost of each and every aspect of your construction and remodeling project.
This app allows you to snap a picture of that part of your home that you want to re do and add details to it including measurements and angles, all set to be sent to your contractor
6) Sherwin Williams Color Snap
When confused as to what color to use to redo your walls, this app tends to suggest you with the best options, narrowing down your choice and making your selection procedure hassle free. With this app you can snap a picture of your current wall color and it gives you the best options to redo it along with colors that will mix well with the previous ones.
7) DIY Remodel Cost Calculator
This app is one of the most efficient cost calculators for your home improvement projects. The app requires the provision of the state or region, your room measurements, the details of your project. Once these are provided it estimates an adjustable budget which you can then analyze and make changes to.
This app is one of the most used one for home improvement projects. It comprises of a voice searchable catalog that shows prices of products as well. As many others, while it also gives various important tips and tricks for design, it caters to these with practical applications.
Whenever buying carpets and floorings for your home a vital need is that of measurements. This app efficiently calculates in standard or metric measurements, giving you the exact squared measurements and dimensions of your floor that needs to be carpeted.
This free app, is perhaps the most cost effective way of choosing your room flooring. The essence of this app is to let you preview your room with your considered choice of flooring, for example hardwood, and lets you then analyze as to whether it would go with your furnishings. Given the expensive purchase that has to be made for installing your room floor, a preinstall preview is always a good option.