Pantel Technologies recently launched a cheap and latest tablet TPAD 701C. This Tablet is working on most famous android operating system 4.0.3 Ice cream sandwich. It is based on the High end mobile technology and available at unbelievable price over internet. As from the previous failure in the latest Aakash 2 tablet- also known as ubislate 7 tabs, Penta is busy in making some cheap tablet to capture Indian market. Hope this tablet will get success in this era. After reading the specifications of this and then I compare the price, I shocked. And I am desperately feeling to buy it as soon as possible. But this is not yet available so you can pre book it online. Once it will ready for delivery you will get inform from the Pantel.

To see the complete specifications of this tablet please go through this post:
·         Penta TPAD 701C: best alternative to Aakash tablet:
 Also read:
·         BSNL Penta Tab PS703C- Android 4.0 at 6749/- INR, Full Tab Specifications
 Still some highlighted features of BSNL Penta TPAD 701C are as follows:
·         1 GHZ processor and 512MB DDR 3 RAM for best performance
·         Inbuilt eBook reader
·         Android 4.0.3 ready
·         Possible to upgrade to Jelly Bean Android 4.1 OS
·         Working with several GSM and CDMA internet dongle
·         Built in HDMI post to enjoy videos on your HDTV
·         Wi-Fi
·         Expandable memory
·         Android market
·         Capacitive touch screen
·         USB 2.0 On The Go support
·         VGA camera
·         This is go endless
As I said earlier please check our post that mentioned above to get all the aspects of BSNL Penta TPAD 701C.
 Offers:
Unlike BSNL Penta TPAD 701R this tab has not any offer from BSNL. But we can't say that there will be no offers at all.
Once special feature of this tablet is that, you can connect many GSM (2G and 3G) and CDMA internet dongle to it. It is officially announced by the Pantel.

How to Pre book TPAD 701C tablet?
Pre booking can be doe online from official website of Pantel technologies. As we already seen how to pre book BSNL Penta T-PAD 701R from internet.
To pre order the tab visit the following link:
·         http://www.pantel.in/product41-tpad__is701c.aspx
You can check out the highlights, offers, specifications and downloads if any available.
Click on the Prebook Bottom
You will see this form: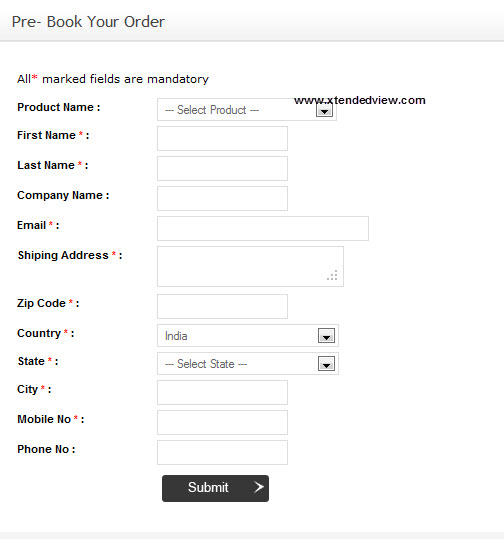 Fill your all details in the form such as your full name, email, complete shipping address and mobile number for contact. Please be sure to fill all these details correctly to avoid any miss communication.
After filling all details click submit. You will get a message as:
"Thank you for ordering T-Pad IS701C
Your booking ID is PENT0018xxxx. Please note this for future reference.
You will be contacted by email or phone shortly with the details of mode of payment and expected date of delivery."
If you have any quries you can contact the office or email too:
Pantel Technologies Pvt. Ltd 
E-33, Sector-63,
Noida-201301, U.P ,India
Customer Care : 0120-4805200
Technical Queries : 1800 103 7739
Email Id : customercare@pantel.in
Also there is online chat support available from the home page- http://www.pantel.in/ with the customer care executives. You can clear your order related doubt either by email or phone number or better by online chat.