In these months, Gmail web interfaces as well as its mobile applications have acquired a lot of changes and features in the core! Major ones are the addition of categorized emails – such as Personal, social, updates, promotions, forums etc. that has made the user experience never like before and of course easier than your expectations. Using the feature is much effective in managing different kinds of email because you do not have to search all your mails if you want to find out the personal mail, sent by your friends or acquaintance. However, we should also mention that not all new features of Gmail is not much productive, especially the new interface of Email compose window, which was integrated to the web-based interface of Gmail as a result Google's acquisition of Sparrow, one of the email clients for Mac-based devices.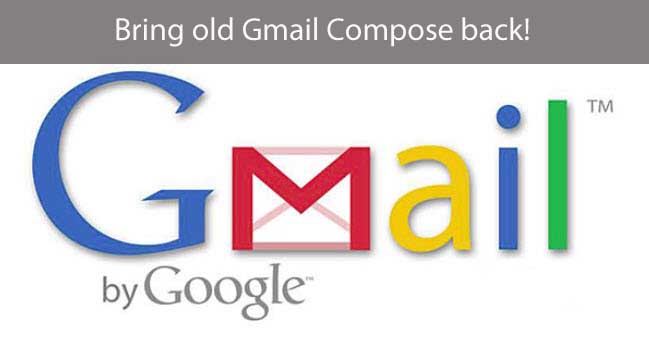 Obviously, the new compose window is one of the worst features (according to different user reviews) that Gmail has integrated to their interface! As in some of your cases, you might be having severe problems due to the shift to the new compose window, which works like a chat window, from the usual full-screen window of Gmail. Indeed, there are several issues with the editor due to the absence of tools for proper editing, formatting etc.  Although Gmail had allowed users to retain the old editor after the beta launch of new compose window, the feature was soon cut off from Gmail.
Therefore, currently, there is no way to get the old compose page back unless you are familiar with the Google Chrome extension for the purpose. Here, we like to introduce you an awesome Chrome extension, using which you can get back the old compose window of Gmail. Resembling its purpose, this free Chrome extension is named as Old Compose, which can be installed from Chrome Web Store in seconds. As we said, installation and usage of this extension is ultra simple, especially if you can follow our tips.
Installing Old Compose in Google Chrome
Just like you install any other extension in Google Chrome, for installing Old Compose, first, you have to go to the official Chrome Web Store page of Old Compose. Now, click on the add button to install the extension in your browser. It will not take more than two seconds for the extension to finish the installation procedure.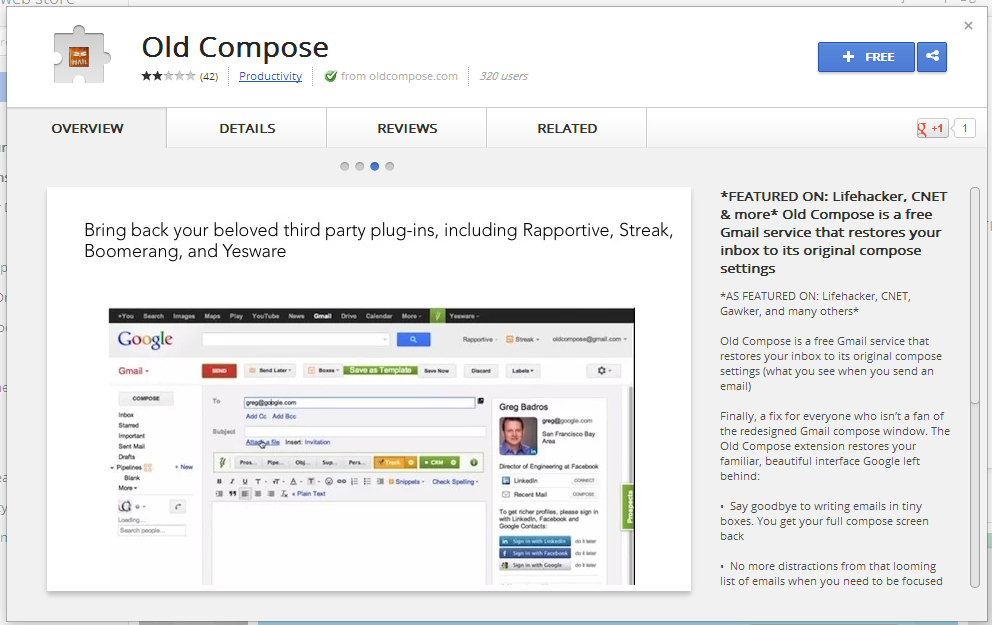 However, unlike other extension, you cannot see an icon or options page for Old compose except in the extensions page of Chrome. This means that Old Compose will be running in your chrome in background without interrupting your other tasks. Well, yes, we have finished the installation of Old Compose.
Effect of Old Compose
Now, to see the effect of the extension, you have to first visit gmail.com. Apparently, you cannot observe any change in the window. Now, click on the 'Compose' button to see the magic of Old Compose. Instantly, you can see your old compose page of Gmail in the window, just as shown in the following image.
Nevertheless, at least in some cases, the extension will not work instantaneously! In such situations, you will have to just close your Chrome browser and then start it again. Furthermore, after the installation, your Gmail account will be refreshed. So, what are you waiting for? Just give details and send your mail to regain the same of emailing experience. As we said you earlier, the extension will show no icons or options page but it will start working in the background every time you start your Chrome browser. And the extension will be activated when you access mail.google.com.
In addition, for the sake of user-friendliness, the extension does not require the frequent sign-up process for each Gmail account but it will work for each Gmail account you access through the Chrome profile, which is of course big deal! If in case, you are getting bored of this old way of emailing, and would like to get back the small-but-new space for composing emails, you can simply uninstall the extension from your Google chrome. Instead of just bringing the old mailing interface back, Old Compose is damn useful, especially if you have extensions in your browser such as Rapportive, which gives information about social networks etc associated with the email ID. Apparently, in the small compose box, using such tools is an extra strain. Hence, by retaining the old compose window, you can smoothen the running process of such extensions.
Video tutorial:

 Conclusion
We hope that majority of you would be interested in installing the extension in your chrome as you are bored of the small-and-weird compose box of Gmail. As far as we have tested, the extension works like magic and does not make any contributions to slowing down your Chrome browser. So, what do you think about this useful extensions? Isn't it awesome when the easiness of email composing matters? Do let us know your opinion via comments.