Every now and then, you have to download videos from platforms like YouTube, Vimeo, TikTok, Facebook, and more. Here is the problem, though. Not many of these websites allow you to download content at the desired quality. For instance, you can save YouTube videos to your device, but their quality will be nowhere near the original. Therefore, people have many reasons to get one of the best video downloaders for their PC or Mac.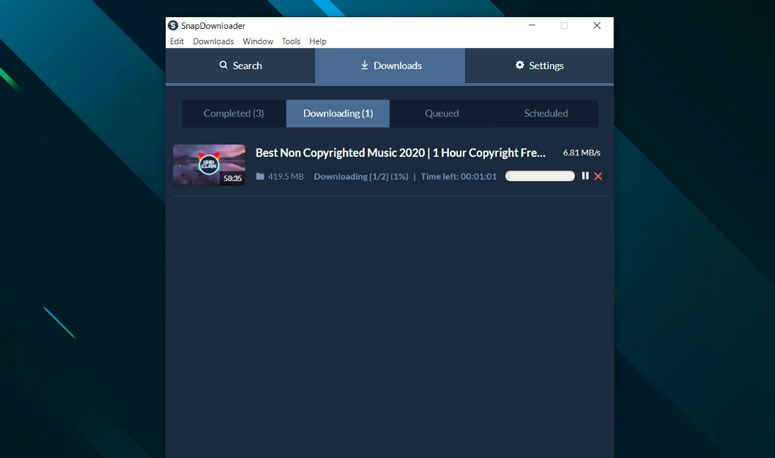 In this article, we would like to introduce and review a pretty robust video downloader app that we came across recently: SnapDownloader. As you know, we are not new to video downloader tools. In fact, we use a lot of them regularly. However, we found a few unique features in the SnapDownloader package that we wanted to mention the same in a detailed review. Without further ado, can we move to the SnapDownloader review and see what is in the package, right?
What Is SnapDownloader?
SnapDownloader is a desktop-grade video downloader utility that lets you download high-quality videos via platforms like YouTube, Facebook, Twitter, Twitch, and TikTok. It does not matter what you want to make available offline; be it a trendy TikTok video or an impressive documentary from YouTube; SnapDownloader will get the job done for you.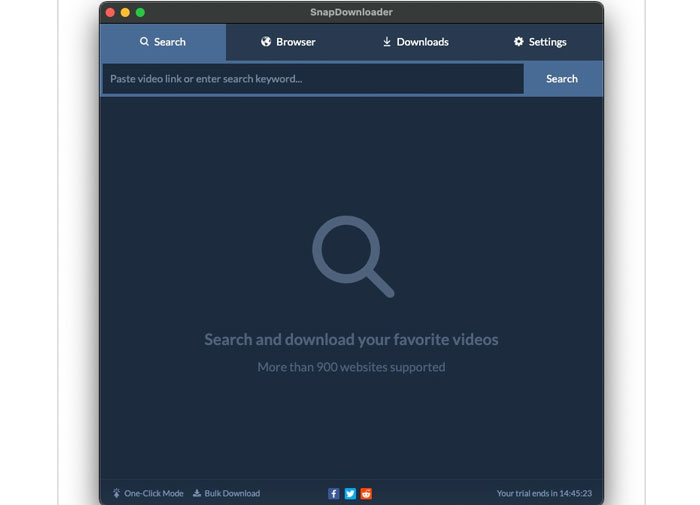 The best part? SnapDownloader is available for both macOS and Windows. You can, thus, enjoy the same awesome experience on both devices.
How Does SnapDownloader Work?
SnapDownloader uses a number of algorithms to download videos from platforms like YouTube and Twitch. Thanks to how efficient these algorithms are, you can have an ultra-smooth experience. For instance, if you want to download a YouTube video, you can simply paste the video URL on the search bar. SnapDownloader will automatically fetch the video content and start downloading it.
The well-designed app comes with a built-in browser as well. You can use the browser to visit your favorite video-sharing platforms like Twitch or TikTok. Then, once you are on the video page, you can download the content with a single click. In other words, getting started with SnapDownloader will be an easy thing — no matter your expertise with computers and tech.
The User Interface
As we said, SnapDownloader comes with a well-designed User Interface. It has been designed to offer best-in-class usability and features. The main UI consists of three sections: Search, Browser, and Downloads.
You can use the Search tab to paste the video URL or perform a multi-site search. We really loved how this part works because SnapDownloader arranges the search results quite effectively.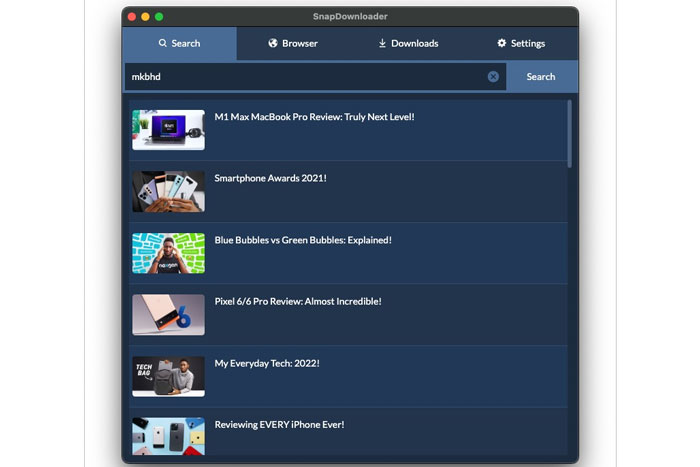 In another click, you can find the video and choose the downloading quality. There are also options to choose between chapters, trim, and schedule the download. In any case, you can download the video with the best possible speeds.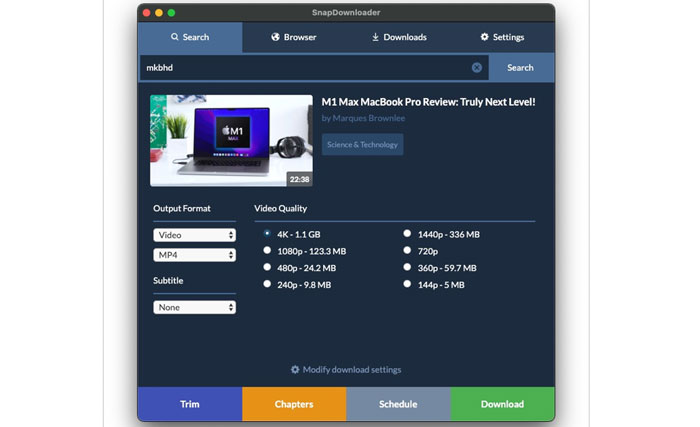 By the way, if you open the Browser section, you can see a mini browser UI in the SnapDownloader app. You have two options: one, you can use the shortcuts to popular websites like Instagram and TikTok. Or, you can enter the URL of the website.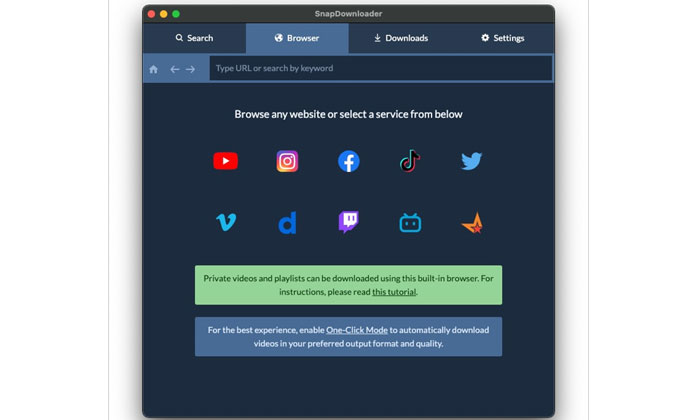 An impressive part about the browser is that it can help you download private videos with ease. You have to open the video in the browser, and you are good to go. For instance, if you want to explore Twitch videos before downloading them, the browser will come in handy.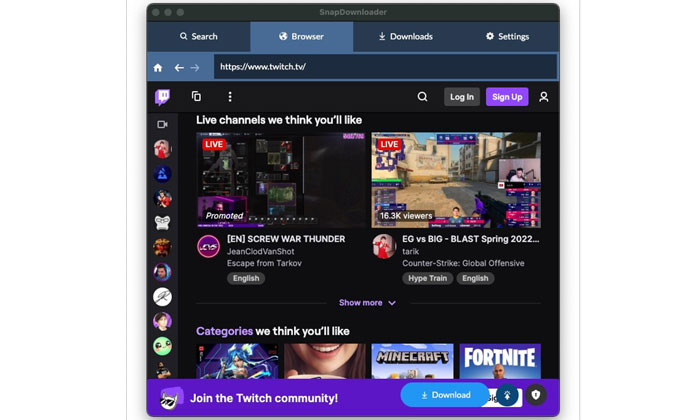 Last but not least, you can find all the downloads in the Downloads section. It is where you can track all the ongoing downloads and past ones. You can understand how SnapDownloader is dealing with the task.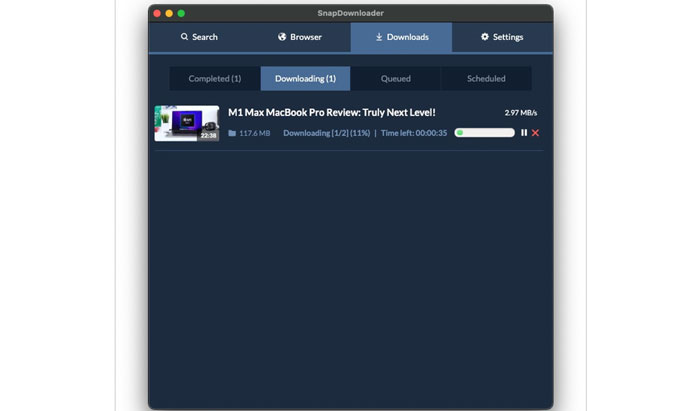 As you can see, the entire User Interface of SnapDownloader is snappy and effective. You can select between multiple options and control the quality of the final download. By the way, you can also enable the One-click Mode, which will automatically download videos from compatible websites.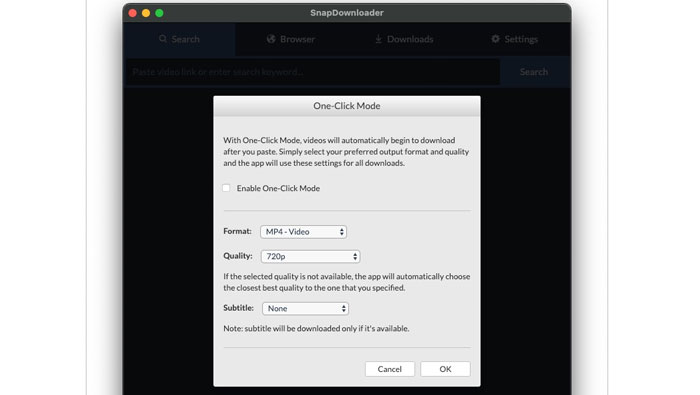 Some Noteworthy Features
As you have seen, SnapDownloader is a pretty decent video downloader for Windows and macOS. However, so far, we have looked at only the general features. Next, we shall explore what makes SnapDownloader a unique choice for video enthusiasts. Let's look at the core features that we found and loved in the package during the testing.
You can use SnapDownloader to get videos downloaded at up to 8K resolution. In addition, you have support for 4K, QHD, 1080p Full HD, and HD resolutions. You can choose the option when configuring the download. SnapDownloader also allows you to choose the right output format and type. Last but not least, you can get the subtitles embedded in the video.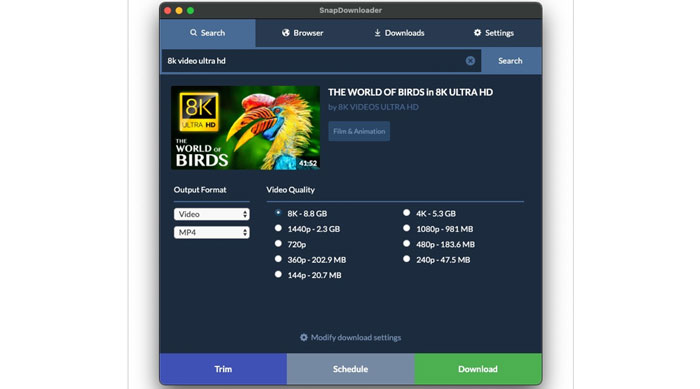 A great video downloader must work with a variety of websites. The case of SnapDownloader is no different at all. This TikTok video downloader app also turns into a YouTube and Twitch downloader in seconds. The total number of supported websites actually crosses 900, which is impressive. The developers do a superb job of adding support for new sites.
Built-in Converter and Trimmer
Sometimes, downloading videos from YouTube or Twitch is not enough. You may have to optimize the videos for other devices/purposes. Fortunately, SnapDownloader comes with a built-in converter and trimmer. It means you can use the same tool to convert a downloaded video. You can also cut the content into smaller, trimmed versions if you want.
Customizability and control you can get in the SnapDownloader app are amazing. In addition to features like batch downloads and scheduled downloads, you have options for VR videos and channel downloads. But, no matter what you download, SnapDownloader can arrange everything in the best way possible. It can even rename the files based on the metadata from YouTube/Twitch.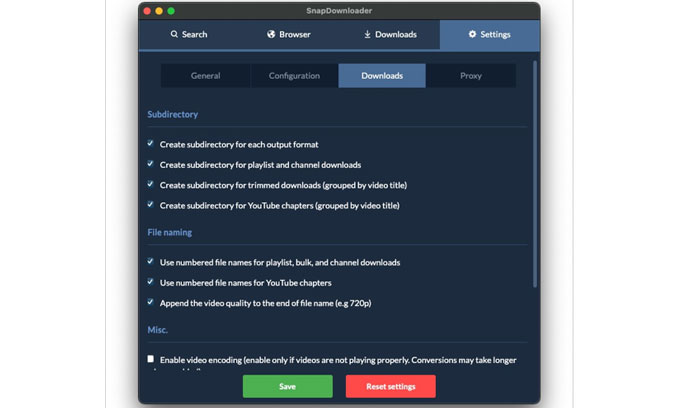 Pricing and Availability
As we said in the introduction, SnapDownloader is available for Windows and macOS. It works with the latest versions of both Operating Systems.
As far as the pricing is concerned, SnapDownloader follows a freemium structure. You can use the tool for three days with full features during the free-trial period.
However, if you want to continue using the tool, you need a subscription that starts at $7.99 per month. Or, if you want to go old-style, you can get a lifetime license for $29.99 per device.
If you ask us, the pricing structure seems reasonable, especially considering the features in the app.
The Bottom Line
After thoroughly testing SnapDownloader for several days and projects, we can recommend this downloader tool for beginners and professionals alike. It is no less than impressive that you can download 8K videos and enable batch downloads using a simple app like SnapDownloader. And, considering the amount of comfort and convenience that it offers, SnapDownloader is priced quite reasonably as well.