It's pretty sad that we don't have unified video file formats yet. Different platforms and devices prefer a file format over the other. That is the same reason why video conversion tools have become a necessity for most people. That having said, there aren't many good, lightweight video converters for Mac or Windows in the market. And, as an option, we have something called online video converter. In this article, we would like to introduce you to an awesome online video converter we came across — MaxConverter. In this review, you will have a quick overview of MaxConverter and how it helps you make audio conversion easier than ever.
MaxConverter – an Introduction
MaxConverter is an online media converter program that you can use for converting one media format to another. It does not involve any kind of installation or downloading. Instead, you can head straight to the official website of MaxConverter and start the conversion process. As we said earlier, MaxConverter is the best option when you want to do media conversion on the go. Of course, there are a few features that we'd loved in this platform and most of those features make MaxConverter one of the best ways to convert video and audio hassle-free.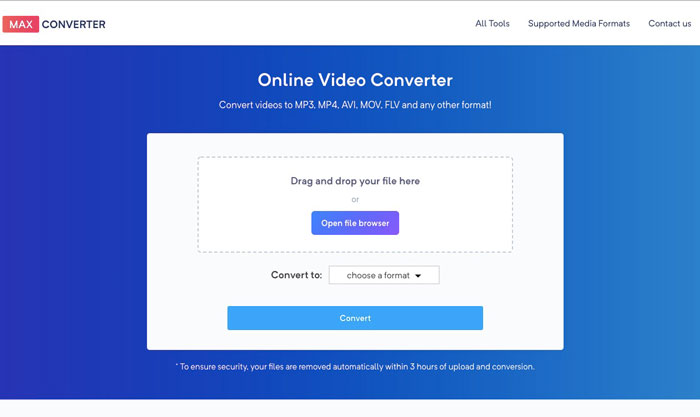 Just so you know, MaxConverter is actually a bundle of tools. You will find tools for audio format conversion as well. For instance, you can use MaxConverter as a WAV to MP3 converter as well.
You just need a click to launch all these features. Now that you have a clear overview of MaxConverter, we'd check out some exclusive features it offers.
The Conversion Process
MaxConverter offers one of the easiest methods to convert video files to other formats. You can convert any file to either video or audio format. For instance, if you have a video version of the song, you can easily get the MP3 or WAV version. Regardless the choice of formats, it feels really easy to do the conversion using the MaxConverter website.
Once you launch the official website of MaxConverter, you can drag and drop the file you want to convert. Or, it allows you to use the standard file browser. In the next step, you can select the destination audio or video destination format.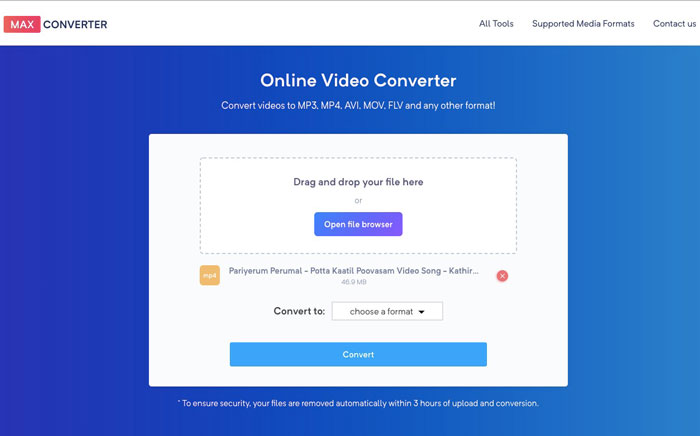 Once you're done, hit the Convert button to proceed with the conversion.
As you know, you have to upload and download content between the MaxConverter servers. It may take a bit longer if you have a slow internet connection. That having said, MaxConverter does the conversion job at amazing speeds. You don't have to worry about lack of performance here.
In short, we think the video conversion via MaxConverter is just awesome.
The Features We Loved
As we said, there are a few awesome features that we found in MaxConverter. You too can count on these features when it comes to quick and easy video conversion.
MaxConverter has one of the best UIs we've seen. From adding the video file to downloading the output file, everything is quick and easy. Even if you are completely new into the world of file formats, you would find it useful. So, the next time you want to convert a video into MP3 or other formats, you don't need to be one expert in the world of video formats.
You don't have to download or install anything in order to use MaxConverter. Instead, you can go ahead to the website, upload the file and download the converted content. Making things easier, MaxConverter does not require any registration or login. You can keep converting and downloading files as you like, without any limitations per se.
When it comes to file format support, MaxConverter really competes with the desktop counterparts. In this video converter tool, you can convert the video into 18 different formats in audio and video categories. This is great when you want to convert the video for some not-so-popular devices. In short, you will not have to worry about compatibility while using MaxConverter.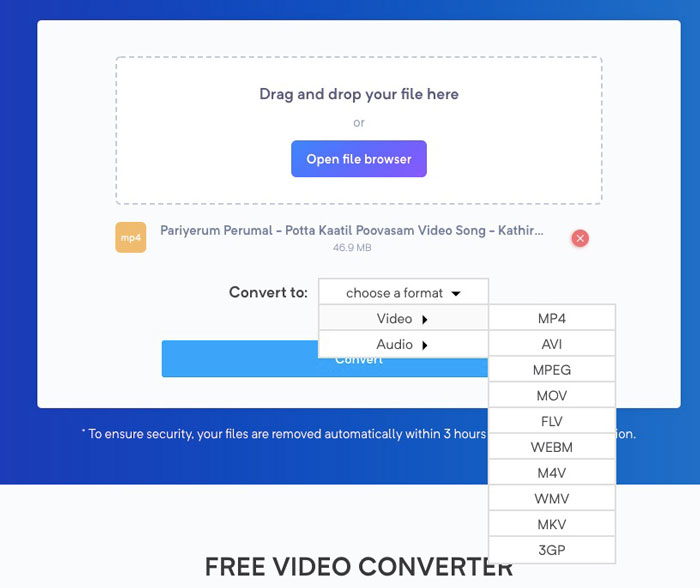 To use MaxConverter, you have to upload the content. However, the platform takes enough effort to make sure that your files are safe. All the uploaded files would be automatically deleted after three hours. It means that, even in case of any problem, your data will be kept safe. Even when you are converting some secretive files, you can stay confident.
Less Limits, More Freedom
Compared to other online video converters, MaxConverter does not put much constraints. You can convert and download as many video or audio files as you want. The service does not throttle speeds either. You will be able to utilize the best speeds your ISP can provide. It means that getting the final output would be easier than you thought.
Last but not least, MaxConverter is available everywhere, you know. You don't even need a computer to convert videos using MaxConverter. Simply log on using your mobile device and get the job done.
The Bottom Line
So, we have been using MaxConverter for a variety of video converting tasks. And, we can say that it is one of the best online converters you can get today. it should be iterated that such an awesome online tool has been made available for free. Without registering or logging in, anyone can go ahead and convert video files to audio/video files in convenient formats. And, as we said, MaxConverter is also bringing a few other tools in the package. For instance, you can convert audio and image files as well.