In the era of electric vehicles (EVs) revolutionising the automotive industry, offering eco-friendly alternatives to traditional gasoline-powered cars, one aspect that has gained significant attention is fast level 2 charging. As the world intensifies its efforts to reduce carbon emissions and combat climate change, adopting EVs has become paramount.
EV enthusiasts grapple with many significant challenges, from the constant worry of running low on battery power to the scarcity of charging options and the ongoing struggle to maintain a consistent EV charging routine. As the electric vehicle market experiences an unprecedented surge, the need for an accessible, dependable, and highly efficient charging solution has never been more pronounced.
Numerous electric vehicle owners have found themselves entangled in the vexing predicament of lackluster charging infrastructure and interminable wait times at public charging stations, significantly eroding the convenience initially promised by the electric mobility revolution.
Within the pages of this all-encompassing guide, embark on a journey to unveil Electrly's Level 2 Charger as the ultimate remedy. Electrly stands as a beacon of reliability, user-friendliness, and cost-effectiveness in EV charging solutions tailored specifically to address electric vehicle owners' distinctive challenges. Discover how Electrly revolutionises your electric vehicle experience while harnessing the advantages of lightning-fast level 2 charging.
Unveiling the Electrly Level 2 Charger
In the dynamic realm of electric vehicles (EVs), where the pursuit of convenience and unwavering charging reliability reign supreme, Electrly emerges as a holistic solution provider for EV charging stations. Among the diverse range of charging alternatives they provide, the fast level 2 charging solution that steps into the limelight.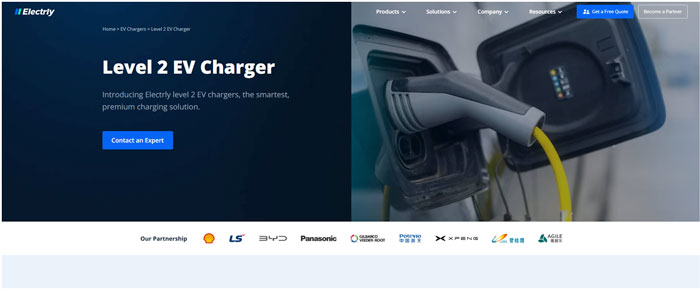 A Level 2 EV (Electric Vehicle) charger is a type of electric vehicle charging station that provides a higher power output than a standard Level 1 charger. The level 2 charger consumes power in the range of 3kW to 20kW. With 1 hour of charging, you can get a range of 15 to 30 miles. You can set up these chargers on AC input with a voltage of 240 V.
Prominent Attributes of Electrly's Level 2 Charger
Wireless Convenience for EV Charging
Experience a new era in electric vehicle charging with the Level 2 Charger, offering the unparalleled convenience of wireless charging. This groundbreaking technology transforms the way you power up your electric vehicle. With integrated WIFI or Bluetooth capabilities, users can effortlessly initiate, schedule, and manage payments for their charging sessions, all from the palm of their hand via their smartphones.
Safety Redefined
At the heart of Electrly Level 2 Charger is a commitment to safety. The charger is engineered with advanced safety features that prioritise protection against electrical hazards. It has the intelligence to proactively adjust its power output to prevent potential outages. Furthermore, it's built to withstand exposure to water, ensuring your charging experience remains secure even in adverse conditions. You can trust that your safety is the top priority.
Elegant and Customizable Design
Electrly Level 2 Charger embodies the perfect fusion of form and function. Its sleek and minimalist design effortlessly blends into any environment, enhancing the aesthetics of your charging station. What sets it apart is its versatility – you can tailor the charger's size and colour to suit your unique preferences, allowing you to elevate the look of your charging station while revelling in its state-of-the-art functionality.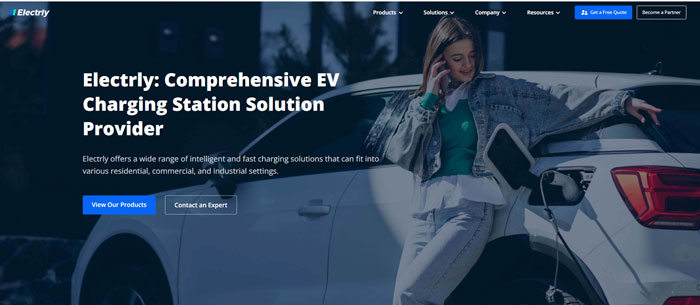 Precision Energy Monitoring
Equipped with a mid-certified electric meter, the Level 2 chargers provide unparalleled accuracy in energy monitoring. This precision ensures that you receive exact meter readings, empowering you with a clear and comprehensive understanding of the energy consumption associated with your charging activities. Take charge of your energy usage with unwavering confidence, knowing that every kilowatt-hour is accounted for accurately.
Electrly – One-of-a-Kind Service Advantages
Exceptional Investment Value
Our chargers undergo rigorous testing to meet and exceed industry standards for reliability and safety. Electrly offers these high-quality chargers at prices that stand out for their competitiveness, ensuring you get the best value for your investment.
No Mandatory Commitment
With Electrly, there's no pressure to make a substantial upfront commitment. You have the flexibility to experience the chargers firsthand by simply ordering a single unit, allowing you to explore their capabilities and benefits at your own pace.
Comprehensive Warranty & Support
Electrly stands behind their products with a generous 2-year warranty, providing peace of mind and protection for your investment in case of any defects or issues. Additionally, the dedicated after-sale support team is available around the clock, 24/7, to address any concerns or problems you may encounter with the chargers.
Bulk Purchase Savings
If you are a property owner or a parking lot operator planning to install multiple charging units, take advantage of significant discounts when you opt for bulk purchases. Electrly exclusive offers on bulk orders ensure you receive cost-effective solutions for your charging infrastructure needs.
Concluding Thoughts
Electrly Level 2 Chargers prioritise excellence, cost-effectiveness, adaptability, and compatibility. These chargers equip you with the tools to offer premium charging solutions to your clientele, ensuring they can enjoy the convenience and dependability of electric vehicle charging, no matter their unique EV preferences.