You might have checked the processes using the task manager and found iphlpsvc.dll there. Don't worry! It's a system process called IPHLPSVC Tuning that helps you configure and modify the internet connections.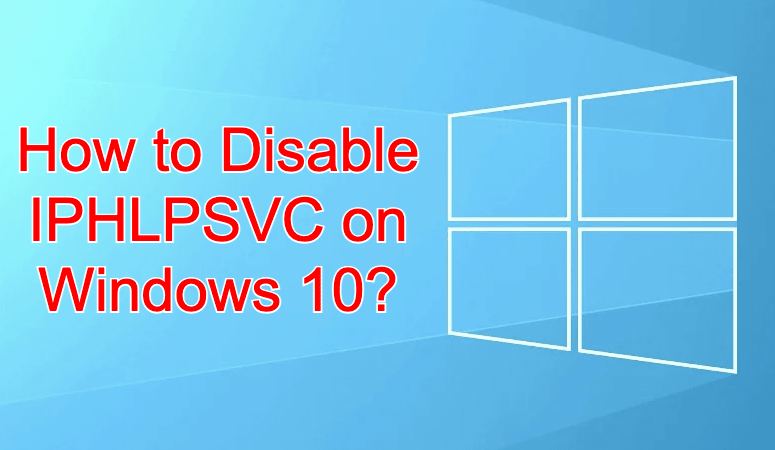 Here, we will give you an overview of this service. The unfortunate thing about it is the possibility to eat up the memory. If you see this process to take a whole lot of system resources, you can just disable that.
IPHLPSVC Tuning; Everything You Need to Know
As you read earlier, it is a service (Internet Protocol Helper Service) that helps you with modifying internet configurations (especially IPv6). Here, you will learn how to disable or enable the service.
Also Read:-
IPHLPSVC Tuning on Windows 10; What's it?
You already got the answer. We are not going to bore you with the same sentence. IPv6 connections require this service in action. You don't have to open it up manually. Being a system process, it will start on its own without you, having to do anything.
IP Helper Service: Is it Safe to Remove the Service?
You might have shocked yourself by seeing the memory usage of this service in Task Manager. On some systems, the usage goes beyond the limit and the performance may suffer. So the question arises, is it safe to remove this system service?
Yes, it is! You won't face any issues after removing it. Of course, it enhances the internet configuration. However, after seeing its adverse impact on the performance, you can disable the service without hurting the system.
How to Disable IPHLPSVC on Windows 10?
You can do this in different ways. We are going to describe all of them below. By deactivating the service, you will not be facing any issues.
Deactivate IPHLPSVC Using Services.msc
Services.msc is a management console for all the services on Windows. We are going to deactivate IP Helper using that.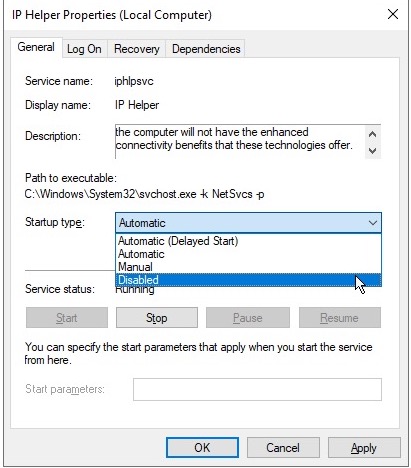 Hit Win key+ R to get the run dialogue box.
Inside the textbox, enter services.msc (you can also search for services.msc in the start menu).
You will get a list of all the available services. Look for IP Helper. Right-click on it and choose Properties.
Can you see a drop-down menu right next to Startup type? Click on the same to select Disabled (if you want to keep it turned on, opt for Automatic).
There you go! We hope you face no trouble following the steps given above.
Disable IPHLPSVC Tuning with the Help of Command Prompt
Command Prompt is a Swiss Army knife for people who know how to use it. Here, we are going to turn off IP Helper service with the help of CMD.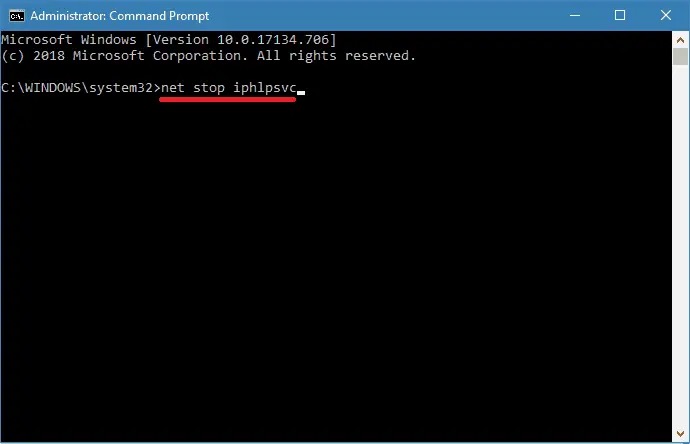 Press Win key to open the start menu and search for CMD.
Right-click on Command Prompt and choose Run as administrator.
A User Account Control prompt will appear. Click on Yes.
To disable the service, enter net stop iphlpsvc.
That's it! What if you want to re-enable IP Helper? Follow the first three steps and then enter net start iphlpsvc.
Deactivate IP Helper Service using Microsoft Service Configuration
Microsoft Service Configuration aka MSConfig is a system utility on Windows that controls programs on the startup. You can enable or disable programs, device drivers, and more.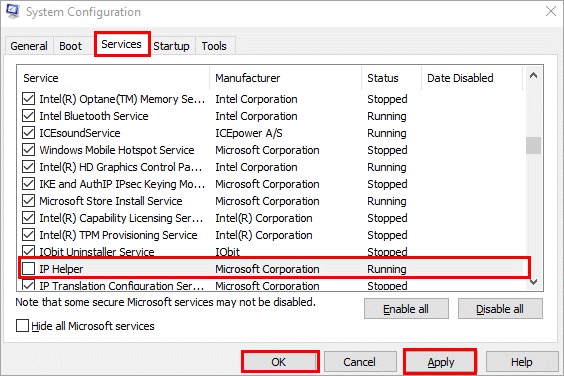 Inside the Run dialogue box (after pressing Win key+ R) or start menu, enter msconfig.
You will get a window with multiple tabs. Go to Services.
Don't panic! We know you have got many there. Look for IP Helper.
Once you locate that specific service, untick the checkbox for deactivation.
Hurray! That's all you should do. The service will no longer work on your computer.
Disable IPHLPSVC using Registry Editor
You know registry is a database of information about the working of hardware and software on your computer. With the help of registry editor, you can make necessary changes in it. However, we recommend you don't go there unless you are unaware of the changes you make.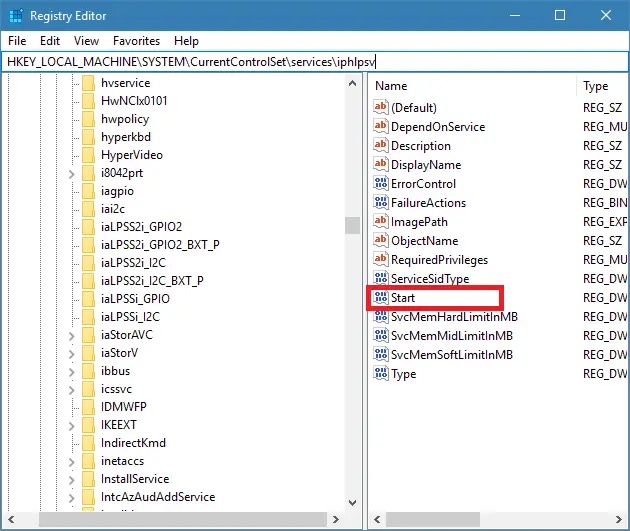 Press Win key+ R to get the run dialogue box.
Inside the textbox, enter regedit.
From the left pane of folders, you have to go to Computer\HKEY_LOCAL_MACHINE\SYSTEM\CurrentControlSet\Services\iphlpsvc.
Now, send your eyes to the right (to the main content pane). Double click on Start.
Change the value to 4 and hit OK.
Yes, you have successfully disabled the IP Helper service. Don't forget to restart your system for the changes to take effect.
Frequently Asked Questions
Do I need IPHLPSVR running to connect to the internet?
No, you don't need IP Helper. Yeah, it helps you deal with the internet protocol. However, you don't have to keep it running in the background to connect to the internet. Try disabling the service and you can still access the web.
Is IPHLPSVR in Windows 10 safe?
Looking at the massive memory usage, you may think that IPHLPSVR is malware. No, it's a system process to help you with the internet protocol. Whether you choose to keep it in the background or kill it, the daily functioning of the computer won't flinch.
What happens if I disable IP Helper?
You need IP Helper if you are a power user who tries to make tunnel connections. For basic users, disabling the service is not going to do anything bad. Are you running a VPN? Well then, you need to keep the service in the background.
Is IPHLPSVR needed?
For basic functions like media viewing and web browsing, you don't need IPHLPSVR tuning. However, to make tunnel connections or use IPv6 services or run remote databases, you must not kill it.
What is the use of IP Helper service?
IP Helper changes the network configuration only for those who use IPv6 or run remote databases. For a normal user, this service doesn't do anything significant. That's why we saym disabling it will not affect the day-to-day activities of the computer.
How to disable IP Helper?
You can disable IP Helper in multiple ways. The simplest way is via command prompt. Run CMD as an administrator and enter net stop iphlpsvc. Moreover, you can also go with Microsoft Configuration, Services.msc, or Registry Editor.
Conclusion
You know what IPHLPSVC Tuning is, don't you? Apart from the basic overview, we have given you methods to disable the service as well. You don't have to do all of them. Just choose one way and go with that. Do you know any other method to deactivate the service? Don't forget to spend a few seconds to scribble that in the comment section down below.